YouTube TV, a mix of live TV, video-on-demand and DVR features, is a TV- and movie-streaming service that uses YouTube's interface. It is available on smart TVs, streaming boxes, computers and mobile devices, and it includes local network broadcast channels, basic cable networks and original web shows.
YouTube, on the other hand, is a video-sharing website that offers a wide variety of videos, and allows users to upload, view, rate, share, add to favorites, report, and to comment on the videos. Unregistered users can only watch videos on the site, while registered users are permitted to upload an unlimited number of videos and add comments to videos.
Advertisement - Continue reading below
YouTube TV requires a paid membership for you to enjoy live TV from major broadcast networks, popular cable networks, premium networks, plus live sports and must-see shows, as well as DVR without storage space limits. So, you can record as much as you want without fear of running out of room.
---
Read About: How TV stations can use YouTube to change their game
---
When you sign up for YouTube TV, you get a free seven-day trial, provided the Google account that you're using has never been used for the service before. After your trial period expires, it costs $35 per month which you can cancel at any time as it does not tie users into annual contracts.
Each YouTube TV subscription allows for up to six separate user accounts, so each viewer can create a unique profile for customized suggestions and private DVR libraries. Up to three accounts can stream content simultaneously.
YouTube, meanwhile, offers users the ability to view its videos freely on the website and on web pages outside their website.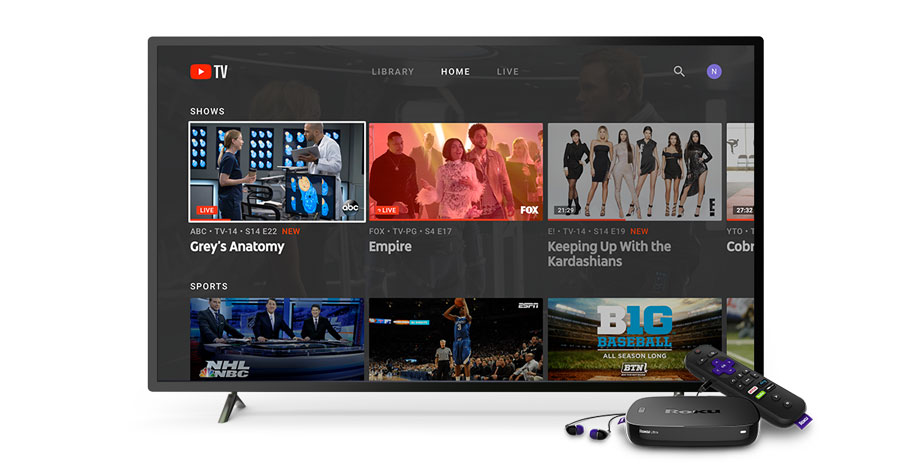 You can watch YouTube TV via Roku, Chromecast and Xbox One consoles, on Android, iOS, laptops and desktops. TV sets running the Android TV operating system, as well as Samsung and LG smart TVs from 2016 and 2017, can download a YouTube TV app. It includes up to 50 channels based on your region, and relays shows from YouTube creators, YouTube Red Originals, and trending YouTube videos.
Advertisement - Continue reading below
---
Related Article: YouTube is making it easier to live stream with real time interactions
---
YouTube TV is still rolling out around the U.S., and is currently limited to select cities, while YouTube is available in majority of the countries on the globe with more than one billion users and each day those users watch more than one billion hours of video.