In the world of software development and programming, sharing code snippets is a common practice for collaborating, learning, and showcasing solutions to coding challenges. However, plain text code snippets can sometimes lack visual appeal and fail to effectively convey the intended message. That's where Ray.so comes into play.
Ray.so is an online tool that allows developers to create stunning and beautifully designed images of their code snippets. In this article, we will delve into what Ray.so is, its features, and how it empowers developers to share code in a visually appealing way.
Advertisement - Continue reading below
---
Related: Here are the Top 5 Online Code Editors for Programmers
---
What is Ray.so?
Ray.so is a powerful and user-friendly online tool that enables developers to transform their code snippets into visually appealing images. It allows users to choose from a variety of syntax colors, toggle between dark and light modes, and even hide or display the background, giving them the flexibility to customize the appearance of their code images according to their preferences.
With Ray.so, developers can easily share their code on various platforms, including articles, websites, social media, and presentations, making it an invaluable resource for anyone seeking to enhance the visual presentation of their code.
Features of Ray.so
Code Beautification: Ray.so elevates the aesthetics of code snippets by rendering them as elegant images. This feature helps developers make a powerful impression when sharing their code with others.
Syntax Highlighting: The tool supports more than 50 programming languages, making it suitable for developers from various backgrounds and coding preferences.
Dark and Light Mode: Users can toggle between dark and light modes, enabling them to choose the mode that best complements their code image.
Customization Options: Ray.so offers various customization options, such as adjusting syntax themes, colors, and window themes, giving developers complete control over the visual appearance of their code snippets.
Ease of Use: Ray.so provides a user-friendly interface that allows developers to effortlessly create and share code images without the need for complex software installations or coding knowledge.
---
Related: Code Interpreter in ChatGPT: Use Cases and Quick Start Guide
---
How to Use Ray.so
Using Ray.so to create beautiful images of your code snippets is a straightforward process. Follow these simple steps to get started:
Step 1: Access the Ray.so website:
Open your preferred web browser and navigate to the official Ray.so website.
Advertisement - Continue reading below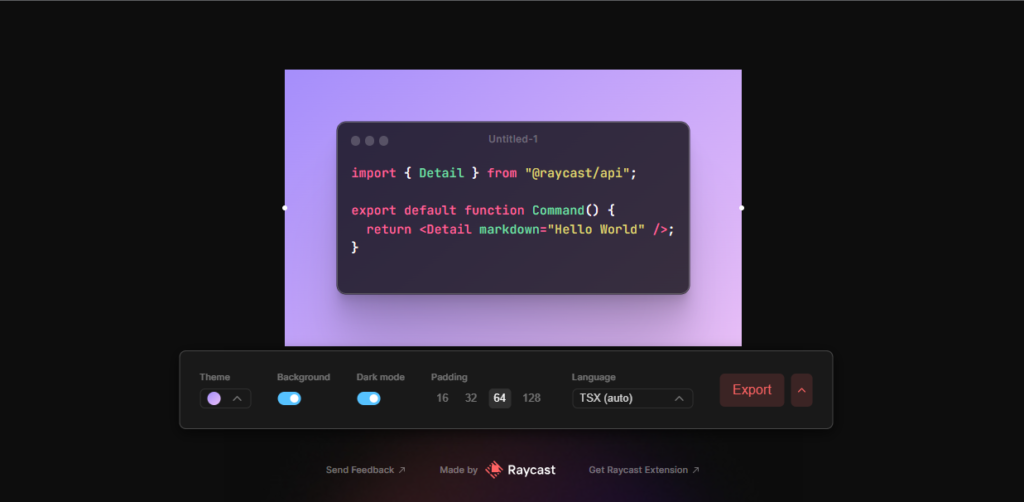 Step 2: Enter or Paste Your Code:
Once on the Ray.so website, you will be presented with a text area. Simply type or paste your code snippet into this area.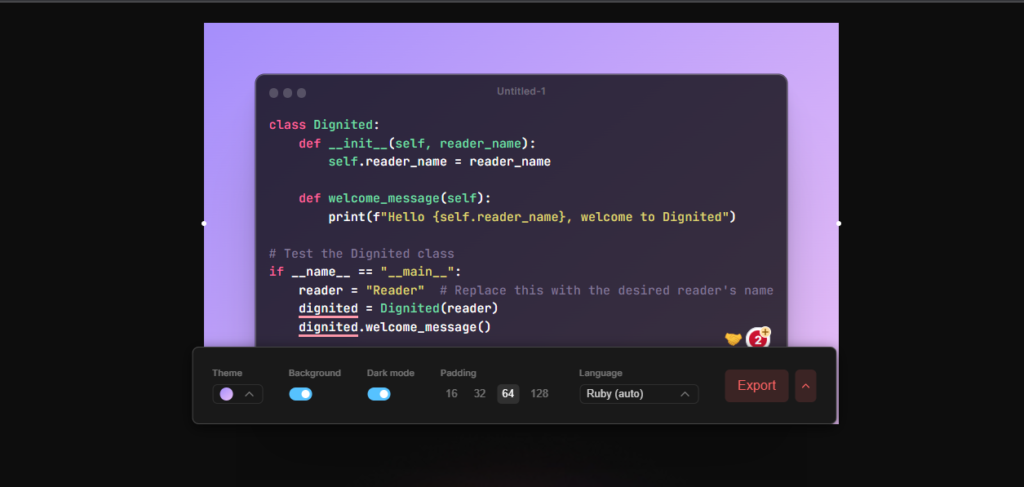 Step 3: Customize the Appearance:
Explore the various customization options available on the website, such as syntax colors, background display, and dark/light mode. These are found on the sticky bar as highlighted. The programming language is automatically detected but you can still toggle manually.
Step 4: Generate the Image:
After customizing the appearance, click on the "Export DropUp" menu button. Ray.so will instantly transform your code snippet into a visually appealing image.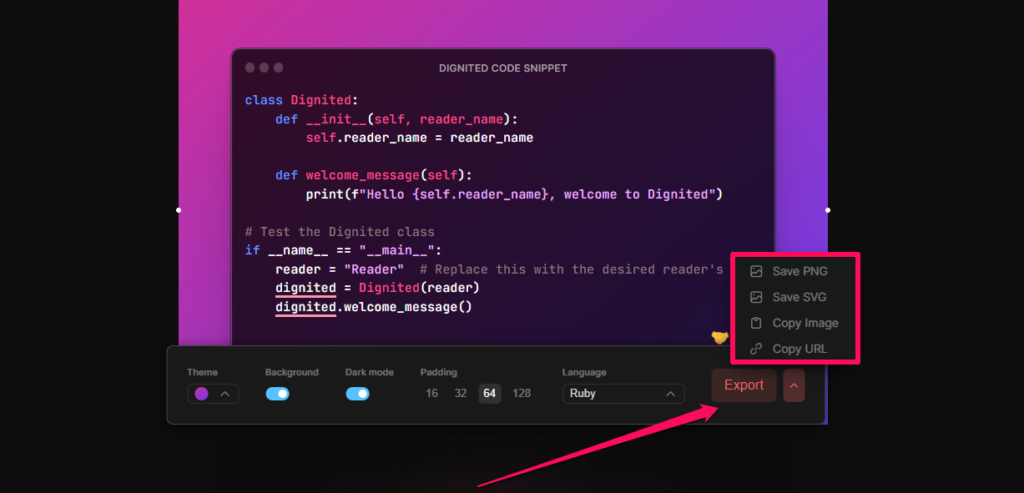 Step 5: Share Your Code Image:
Once the image is generated, you can download it or share it directly from the website to your desired platform or social media. You can also copy the URL and share it.
---
Related: Top 10 AI Code Assistants for Programmers
---
Conclusion
Whether you are writing a blog, contributing to an open-source project, or showcasing your work on social media, Ray.so empowers you to present your code snippets in a visually pleasing way, adding an extra touch of professionalism and creativity to your coding journey. So, next time you want to share your code with the world, consider using Ray.so and make your code stand out with style.