Google Slides is a product by Google that lets users create, collaborate, and share presentations and slides. It contains a variety of presentation themes, hundreds of fonts, embedded video, animations, and more. All of these make it very easy to create visual presentations.
In this post, we'll answer a number of questions about this product. These questions are curated from search engines and mirrors what real people want to know about this product. You should read it till the end.
Advertisement - Continue reading below
Other Google products similar to this include Google Docs, Sheets, and Forms. While Microsoft PowerPoint serves the exact same purpose but by a different maker.
---
READ MORE: A Comprehensive List of G Suite Products and Their Uses.
---
Google Slides: All You Should Know
What Does Google Slides Do?
You see those beautiful slide presentations used to present ideas, report financial results, pitch businesses, case studies, create a portfolio, do a photo album? Yeah, you can create all of these and more with Slides, and very easily too.
Google Slides provides users with pre-existing templates that serve whatever purpose they want to create a presentation for. However, you can choose to create a presentation from scratch.
Is Google Slides Free to Use?
Like the other Google products, Slides is free to use. It is also part of Google Workplace (formerly G Suite), the subscription-based package for businesses.
How to Create a Presentation On Google Slides
Follow the steps below to create a presentation with this product.
Advertisement - Continue reading below
Visit the Google Slides dashboard.
Click on the plus + icon on the page to create a presentation from scratch
To edit a template, browse through the collection and select your preferred template.

How to Download a Slides Document
When you're done working on a presentation on Google Slides, you can download the document in various formats. Follow the steps below to do that.
Click on File located at the top-left corner of the page
Click on Download
Select your preferred download format and the download will start immediately
Any Third-Party Integrations?
With Add-ons you can connect this product to very useful third-party apps and integrations like Adobe and Shutterstock. With the Shutterstock add-on, for example, you get access to stock photography without leaving Slides.
To see what third-party integrations are available, click Add-ons from Slides > select Get Add-ons > browse through the third-party apps available.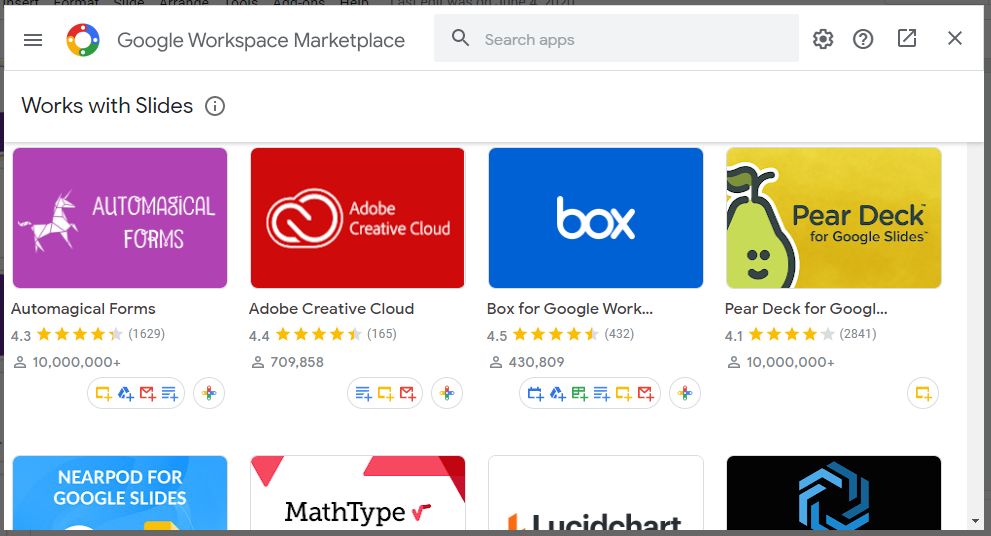 Also, since the app is on Zapier, you can connect it to over 3000 other applications on the platform.
Can You Create and Share Link?
Yes, you can create a link to share your slides or presentation with anyone. To do this, follow the steps below:
On the document you want to create a link for, click on the Share button located at the top right corner
You can either share with others via email or click on Copy to get the link for the Google Slides document
That's the basic thing you might need to know about working with Slides. Feel free to use the comments section if you have any more questions.