Facebook has announced five new tools aimed at making it easier for businesses to connect with people on the social network. Last year, in an effort to help local businesses connect with people in their area, Facebook launched local awareness Ads. Since then, businesses of all sizes have turned to local awareness ads to spread local messages. It's from here that they add five new tools to further make doing business on Facebook easier.
Pages For Mobile
Facebook has included a redesign of Pages for mobile, which allows people to make a reservation at a restaurant or book an appointment at a salon directly on a business's profile page. They can also see Stories, recent photos, upcoming events and offers from the businesses.
Advertisement - Continue reading below
Page Recommendations
This tool increases the visibility of Recommendations on Pages. Facebook users use Recommendations to ask their friends where to go, eat or shop, which can help businesses reach new potential customers.
Local section and standalone app.
Facebook is rolling out a new Local section in the Facebook app and a standalone Facebook Local app. This will be able to allow users to see businesses that are nearby.
Events Tool and Job application.
Facebook is also building out its Events tool and expanding its jobs application tool to markets around the world.
---
Related Article: How to Pitch your product or start-up to the Dignited
---
Better insights about your potential customers
When businesses want to understand more about the people visiting their Page, they go to Page Insights. And now Page Insights has a new tab with information for local businesses who want to understand more about the groups of people near their store. Local insights tell businesses the aggregate demographics and trends associated with the people nearby, so they can better understand and cater to the needs of the people in the area.
Advertisement - Continue reading below
According to Facebook, 1.6 billion people around the world have connected to a small business on Facebook and more than 80 million businesses use Pages.
Facebook has become a critical channel for many businessmen to reach new and existing customers, and as a result, it has come to capture a growing share of marketing and advertising revenue.
The company is also faced with increased pressure to protect users' data and privacy on the platform in the wake of the Cambridge Analytica scandal earlier this year, and there is growing awareness of the negative impact of spending time on social media.
Facebook last week added new tools to help users track the time they spend on Facebook and Instagram, which is owned by Facebook.
Under the settings page in each app, users can now select "Your Time on Facebook" and "Your Activity" on Instagram to see how much time they spend on the social networks each day and set time limits to curb their usage.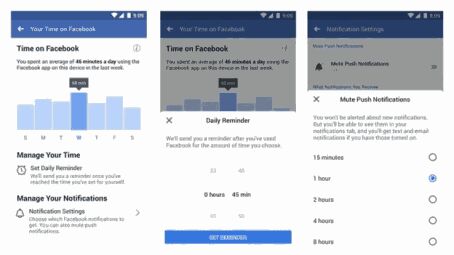 Updates to local awareness ads are now available globally through the API and will soon be available in Power Editor.
Advertisement - Continue reading below