Not only has technology revolutionize the way we interact, it has also greatly changed how we live, how we make payments, and how we purchase items every day. You can pick up your phone, connect to the internet and purchase electronics, gadgets, fashion items, book a taxi, make hotel reservations, purchase flight tickets and more.
The same can be done for food too. You can pick your phone, check out a couple of restaurants, their menus and order your favorite dishes without leaving the couch. The best part: it gets delivered to your doorsteps within minutes and you can pay on delivery. If you are ever hungry and you need to get food without leaving your home, here are the top food delivery platforms in Nigeria.
Advertisement - Continue reading below
1. JumiaFoods
Jumia Foods is operated by Jumia Nigeria and is one of the best food delivery platforms in Nigeria. Using Jumia Foods is quite easy. Simply visit the website or Jumia Foods app on your smartphone and select your location. A list of restaurants delivering to your location would be displayed. You can then proceed to select a restaurant, select the food you like, pay, and it would be delivered to your doorstep.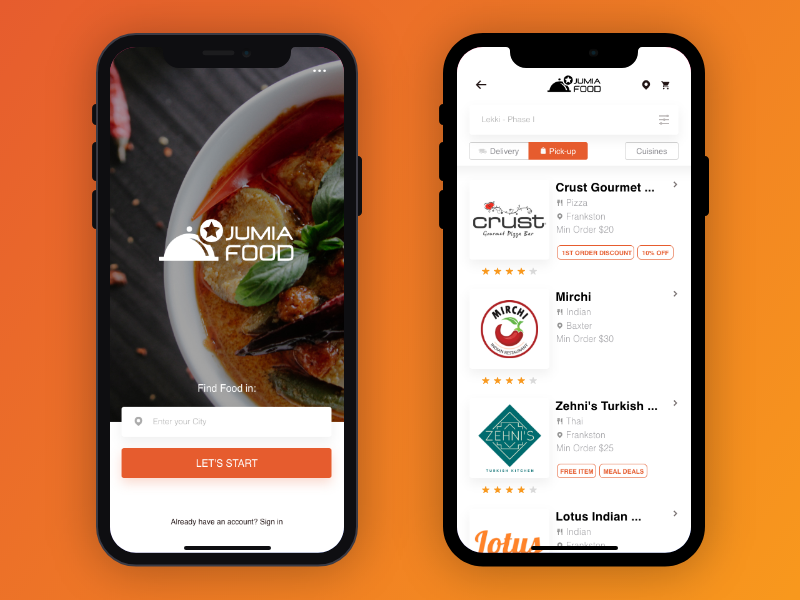 Jumia Food has a very wide database and directory of restaurants, so you can be sure to find whatever dish you want.
2. OFood
OFood stands for Opera Foods and is operated by Opera Software. The food delivery service is incorporated into its OPay super app. OFood lets you order a variety of local and foreign dishes and occasionally offer discounts on food you order.
To order food on OFood, download the OPay app and select OFood. Enter your location or the name of the dish you want to order into the search box.
3. GoFood
GoFood is another food delivery company that's operational in Nigeria. A visit to the company's website reveals a clean interface that makes it easy to order food from your favorite restaurant. Simply type in your location into the search box to begin. Alternatively, you can also download the GoFood app from the Google Play Store and order from the app.
GoFood also boasts of a wide variety of local and foreign cuisines from restaurants in its database/directory.
Advertisement - Continue reading below
4. Konga
While Konga doesn't deliver goods or have a directory of restaurants customers can order from, the Nigeria e-commerce giant does sell and deliver fresh fruits and vegetables. You can buy them online from the Fruit and Vegetable section of the platform's website and app.
5. AreaChops
AreaChops also operates based on OFood and Jumia Food's model. Visit the website or download the mobile app, enter your location, choose a restaurant from the list, select a meal you'd love to order, checkout and the god will be delivered to you. You can also choose to pay for your food on delivery.
Asides from these platforms, there are restaurants with their individual app and websites which you can visit anytime to order food and deliver it to you. One advantage of using the above-mentioned platforms, however, is that they allow you access thousands of restaurants all in one app. Also, you get to compare prices and get the best deals.