You can run away from a scary bull dog or you could run to save lives of infant babies, build a hospital or any other noble cause. The MTN Kampala Marathon is an annual event that attracts over 30,000 participants from across the region for 5Km, 10Km, 21Km and 42Km marathons.
The marathon hosts professional athletes such as gold medalist Stephen Kiprotich,  Phillip Kiplim as well as your ordinary everyday runner like myself. But whatever your status, the Marathon is a neutral ground for all of us to support a noble cause if not stay healthy. Marathoners are equipped with special RF ID tags placed on the running kits that keep track of time and distance each runner has spent.
Advertisement - Continue reading below
To check for your results particularly for last Sunday's run, visit champtiontravel.co.za and either search for your name or your race number tag given at registration. The site will show you the race category you went for, finish time, average speed(min/km) and your position in the race. For my case, I ran 10Km, finished in 1:10:35(not bad, right?) and I was the 968th out of 3,728 participants. There's obviously room for improvement and I intend to make it even better next time.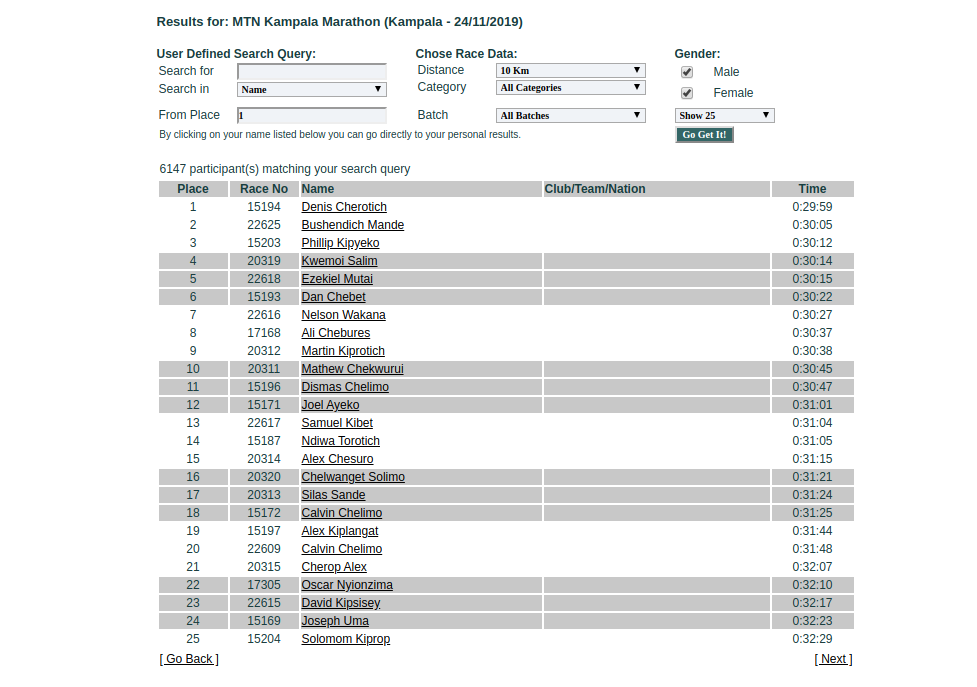 The Prize winners from this year's Marathon were  Phillip Kiplimo 02:13:56 for the 42.2Km men, Nyakisi Adero 02:41:11 42Km women, then Half marathon women -21.1KM were Jacob Kiplimo 01:01:53 and Juliet Chekwel 01:13:08 and finally Men's 10KM race was Denis Cherotich 00.29.59. Check how you stack up against the pros so you can train hard for next year's event. Good luck.
Image: MTN Uganda Facebook page