Microsoft 365 is a subscription-based (monthly/yearly) service that gives users access to Office tools like Word, Powerpoint, Excel, Outlook, Sharepoint, Microsoft Teams, and One Drive. It is very likely that – if you don't already use them – you will, at some point, need some of the tools of Microsoft 365 for work, school, or personal use. But while Microsoft 365 tools are considered to be a necessity, its subscription fee (subscriptions run $7 per month or $70 annually) is on the high side, which is a little too expensive for a lot of people. The stand-alone versions of Microsoft 365 (for Windows and Mac) start at $150. Fortunately, there's a way to use Microsoft 365's Office tools for free without paying a dime.
For Student And Teachers
If you are part of an academic institution (as a student, teacher, or faculty member) with an active school email address, you can access Microsoft Office 365 for free. What you get access to include Microsoft Word and Excel. And other classroom tools such as Microsoft Teams, OneNote, Access, and Publisher. All you need to do to get access is enter your school email address on Microsoft's Education page and hit Get Started. You should immediately be granted access.
Advertisement - Continue reading below
Use The 30-Days Free Trial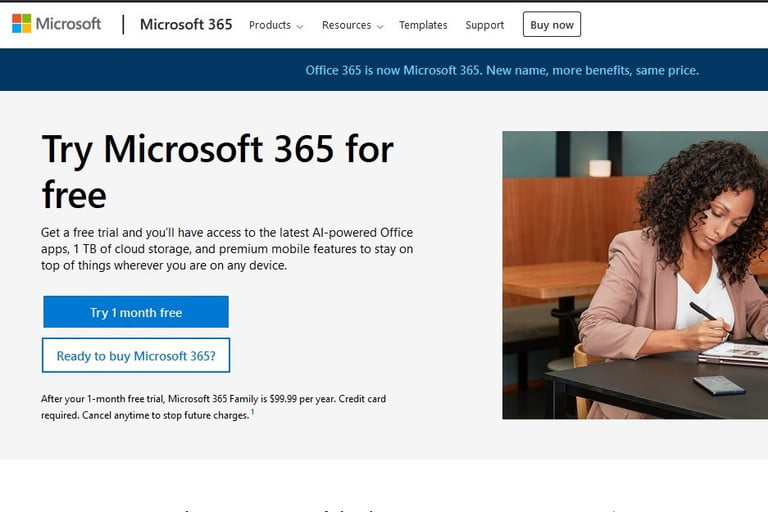 Well, if you're looking to use the Microsoft Office 365 tools long-term, then this option is not for you. Otherwise, you can take advantage of the free trial and use the tools for 30 days with full features. Just navigate to Microsoft's free trial page, select Try 1-month Free, sign up or Sign in, and you're ready to go. This trial package gives you access to the latest versions of Word, Excel, PowerPoint, Outlook, and more. You also get 1TB of OneDrive cloud storage for each user you share your account with (you can share with up to five other users).
Use Web Version
You can access some of Microsoft 365 apps (Word, Excel, PowerPoint, OneDrive, Outlook, Calendar, and Skype) for free online. However, you should keep in mind that using the free version will not offer you a robust experience like the paid version. Some of the major and latest features of the Office tools will be unavailable. Here's how:
First, visit Office.com.
Log in to your Microsoft account. You can create one for free if you don't already have one. A Windows, Skype or Xbox Live login is also a Microsoft account.
Next, select the app you want to use.
In conclusion, the free online version offers users the ability to share their files online and collaborate with colleagues and partners, in real-time. Just like what you get with Google's GSuite.