Spotify is shaping up to be the Ultimate King of Music streaming. In October 2017, Microsoft ditched their music streaming business, Groove Music in favor of Spotify. At Galaxy Unpacked 2018, Samsung seemingly went the exact same route. "We're excited to share that Spotify has been named Samsung's new go-to music service provider, which gives Samsung users a seamless listening experience between devices. You can look forward to a more meaningful music experience, thanks to integrations across a variety of Samsung products." Reads part of the statement on Spotify's Newsroom.
Also Read: Spotify debuts in Africa with a launch into the South African market
Advertisement - Continue reading below
This partnership is meant to span the entire Samsung product lineup, everything from smartphones and TVs, to tablets, speakers, and watches. Spotify says that this partnership with Samsung is aimed at reducing the friction for users to get Spotify up and running on multiple Samsung devices once the accounts have been linked. It allows Spotify to create a seamless music listening experience together for the user that would be hard for either of us to build alone. It's a great fit.
Many experts have expressed optimism for this new union, pointing out that this could be the silver bullet that finally takes on the tight integration between Apple products and Apple Music.
Samsung partnering with Spotify. Clever move for both

— Tom Warren (@tomwarren) August 9, 2018
Advertisement - Continue reading below
Also Spotify aligning itself with Samsung means they're really throwing down the gauntlet in their competition with Apple

— Lauren Goode (@LaurenGoode) August 9, 2018
The initial uptake of this news by the industry has been so positive that in the few hours proceeding the announcement, Spotify's shares went up to session highs. Maybe this is a sign of good things to come from this partnership going forward?
Spotify shares pop to session high after Samsung announces partnership with the streaming platform for its new smart speakers https://t.co/2zMH7Z785s pic.twitter.com/A102hLdHL2

— CNBC Now (@CNBCnow) August 9, 2018

With this new partnership, Spotify is becoming part of the set-up experience on a Samsung device from the very beginning. For example, when someone buys a phone, the user can easily discover the Spotify app on Samsung Smart Switch. And soon, Samsung Smart TV users will be able to play Spotify through the SmartThings app. This is a whole new level of integration for a third-party application into an operating system and should allow Spotify to be easily accessible and discoverable on Samsung Devices.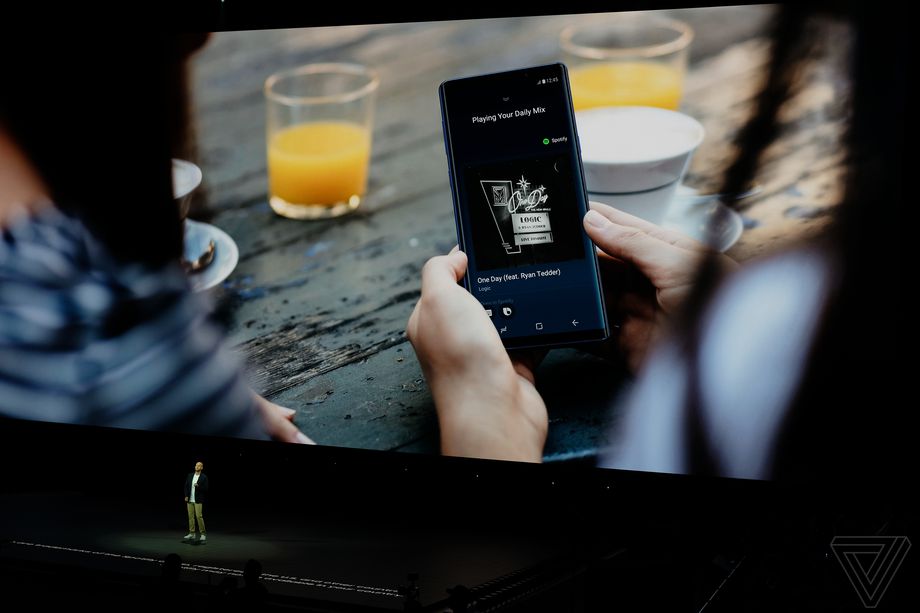 Advertisement - Continue reading below
Spotify will also become the default music option for Bixby — when users ask Bixby for a song, Bixby will look to Spotify, even if that person hasn't actually used Spotify before.
Spotify and the Galaxy Home
You'll also be able to link your Samsung and Spotify accounts to play music across all Samsung devices. The Galaxy Home that was unveiled at the same event should also pack a deeper integration with Spotify, hopefully giving it a life-line if it is supposed to stick up against the likes of the Google Home with its Youtube Music, Apple Homepod and Apple Music and Alexa's Amazon Music.
For a more detailed explanation of what the partnership means for Samsung users and Spotify, read the official release on Spotify Newsroom.
In-post images courtesy of The Verge