Today Orange Uganda launched the Huawei Ascend G526 4G LTE  Android Smartphone at the Golf course hotel Kampala which is the latest addition to supported mobile phones line.
The 4G device is the network's move to lure its mobile subscribers to its 4G LTE network it launched two months ago. Up until now, iPhone 5 and higher, Nokia Lumia 820, 920 were among the few devices that were supported on the 4G network.
Advertisement - Continue reading below
 The Huawei Ascend G526 runs on the latest Android OS, v4.1 (Jelly Bean) and comes with a Dual-core 1.2 GHz processor 1GB RAM, a  microSD up to 32 GB.  The device has a spectacular IPS LCD capacitive touchscreen, 5 MP, camera with autofocus and LED flash support. The Li-Ion 1950 mAh battery gives you up to Up to 8 h 20 min (2G) / and 3 h 40 min (3G) of talk time (Not yet verified by the TechPost).
With our preliminary tests with the device on Orange's 4G network, we were able to hit almost 40Mbps downlink speeds which gave us an awesome experience when we Skyped and viewed some YouTube videos.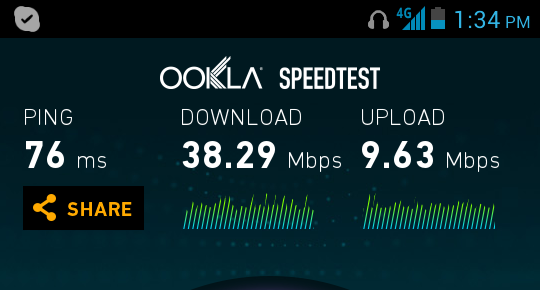 According to Ayo Sam Chris, the head of device services Huawei Uganda, his company "strives to satisfy customers with the latest technology at the most affordable price".
What's impressive about the 4G device and the Orange 4G network is that both can fallback to 3G and 2G networks. So should you happen to be in sites that don't have 4G coverage or should you want to put your device to 2/3G to conserve your smartphone battery, you can still stay connected.
The device goes for UGX 899,000 ($352) and is available on Orange Stores countrywide.
Advertisement - Continue reading below
You can follow the event on social media by following the Hashtag #HuaweiG526