Google has today rolled out a new Gmail update that will let you view and save attachments directly to Google Drive from within your message. Google announced the news on its official blog and showcased the new feature with an accompanying GIF.
Perhaps the one and only feature i've personally been waiting for, this feature will now enable you to view attachments and save files directly to Google Drive instead of your computer harddrive(though you still can do this) without ever leaving Gmail, making it easy to access them later from whatever device you're on—computer, phone or tablet.
Advertisement - Continue reading below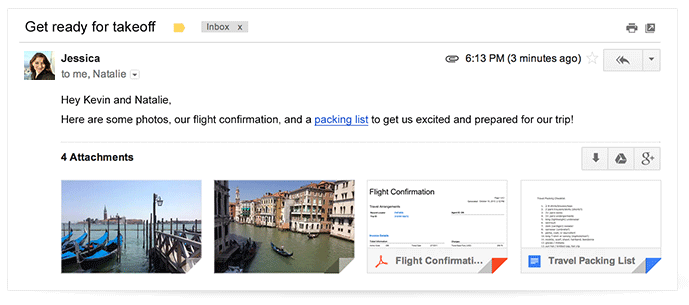 The update will not only make you preview your files with the help of small thumbnails, but also enable you to see the files on full screen without leaving the message itself when you click on one of those previews. You can navigate through several attachments the same way you flip through a photo slideshow.
Google says this new attachment experience is available on desktop and will be rolling out over the next week. When i tried sending myself an attachment, the feature hadn't yet arrived on my account.
Image Google blog