Twitter has introduced a 140 seconds 'Voice Tweets' feature. This, they did, to 'add a human touch' to the way the platform is used. Currently, the character limit on each tweet is set at 280 characters. This new feature can help users to pass more information in one tweet, or add context to the typed tweet.
Like the previous character limit on Twitter, each voice tweet has a 140 seconds time limit. Once this time limit is reached, a new voice tweet automatically starts to create a thread.
Previously, in 2017, Twitter increased the character limit per tweet from 140 characters to 280 characters. They did this because they wanted "every person around the world to easily express themselves on Twitter". This introduction of this new voice tweet goes further to emphasize that want.
Twitter also announced in its usual fashion that Voice Tweets, for now, will be limited to a group of people on iOS. However, in the coming weeks, everyone on iOS should be able to Tweet with their voice. Also, every Twitter user regardless of device will be able to see (hear) them and reply.
According to them, on iOS devices, the Voice Tweets play in a new window which is located at the bottom of the users' timeline. This allows users to keep scrolling their Twitter timeline and listen to the tweets simultaneously.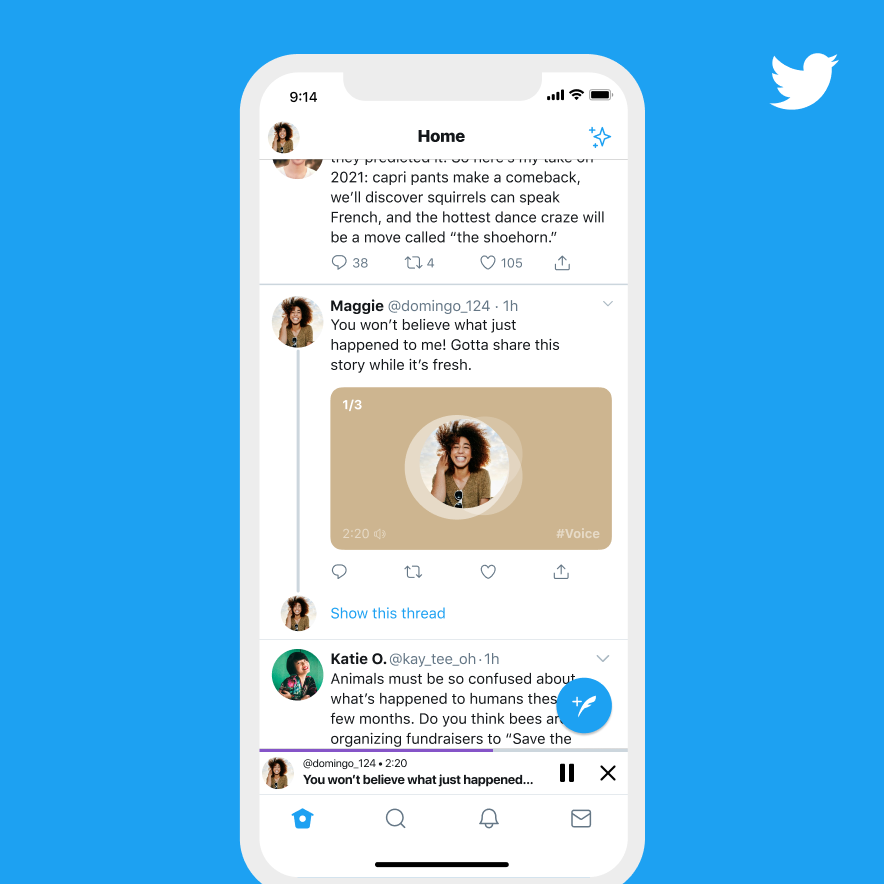 User segments that benefit the most from this new feature could include Journalists, sharing breaking news, or first-hand information from a protest. Storytellers, whose stories evoke more emotions when heard than read. Users, who have to add more context to their original tweets.
An important point to note, however, is that Voice Tweets on Twitter cannot be downloaded. The number of listens (tagged as "views") shows up just underneath the tweet. This is the same way the platform shows the number of views for tweets with video content.
Advertisement - Continue reading below
Overall, this sounds like a great feature that helps Twitter users be more expressive. As a result, time spent on the platform by users is bound to increase. This feature does not replace the normal text tweets. Instead, it complements it. So, so much more information will be passed across per tweet/thread.
Tell us what you think of the new Twitter Voice Tweets feature. Hit or Miss. for you?