Event ticketing software aids event organizers make and sell tickets, as well as in tracking and dealing with the participant list. Most platforms support the essential functionalities, yet some of them go past selling tickets by offering further developed highlights. Quicket is one of those platforms that we shall see how you can get started in this article.
As I aforementioned, there are many event ticketing platforms out there but let's see how to create one and sell your tickets with Quikcet. I guess the name comes from Quick Ticket.
Advertisement - Continue reading below
What is Quicket?
Quicket is a South African-based fast and effective online ticketing service for small to medium-sized events. Within minutes anyone can create an event profile and start. 
Quicket provides a fully self-managed ticketing platform with a focus on providing ticketing services throughout Africa. It is cloud-based and you can instantly start selling tickets, marketing, and managing your own event within minutes.
How to set up an event?
Quicket caters for larger events, integrating into the various payment solutions required for event management across Africa.
You need to create an account first; But if you sign up for an account in any country-specific, you can log in with the same details on another domain-specific Quicket website;
In this tutorial, I used the official one (South African) but they are all the same because you can still edit timezones, places, ticket currencies, etc though I would advise you to sign up with your country-specific.
There are 4 main steps and details captured involved, Organizer profile, Event info, Ticket types, and lastly, you will access the Dashboard to manage your event.
Advertisement - Continue reading below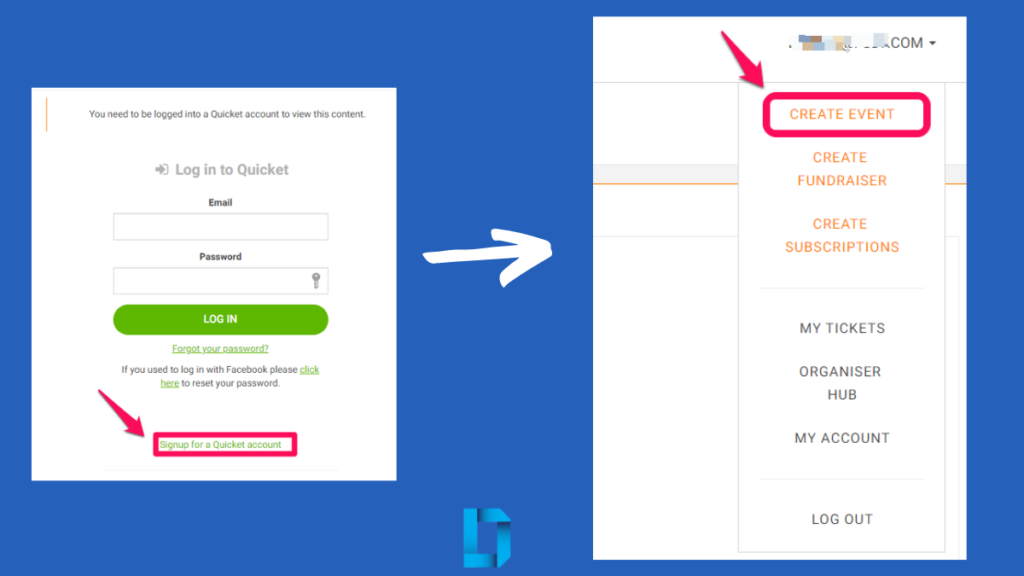 Create your organizer profile.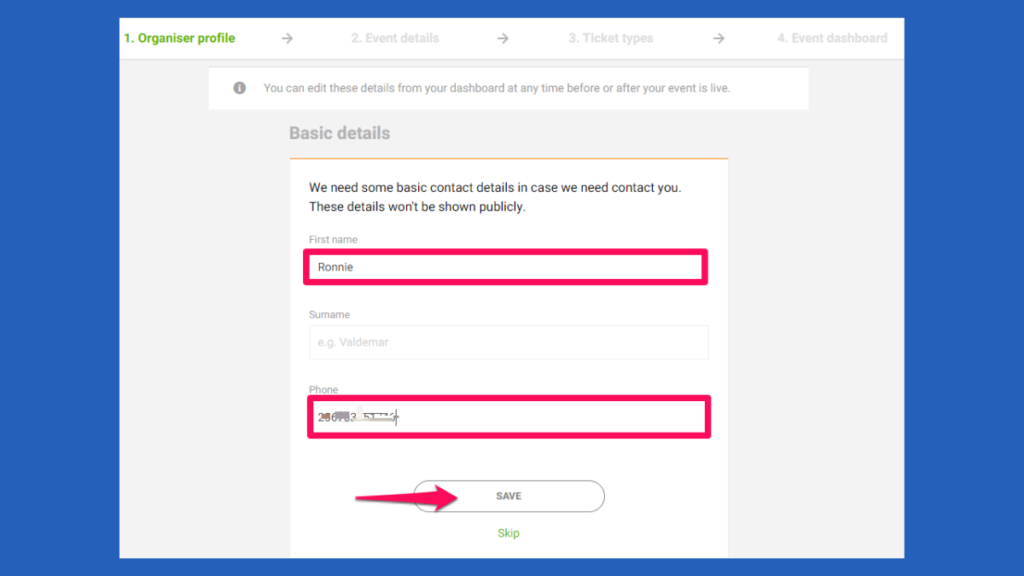 Press NEXT 4 times to reach the second screen: CREATE MY EVENT
Now enter profile details/organizer. Upload a personal banner and press Continue to event details, though it is not mandatory.
---
Also Read: 5 ticketing companies that are changing how we attend and pay for events in Uganda
---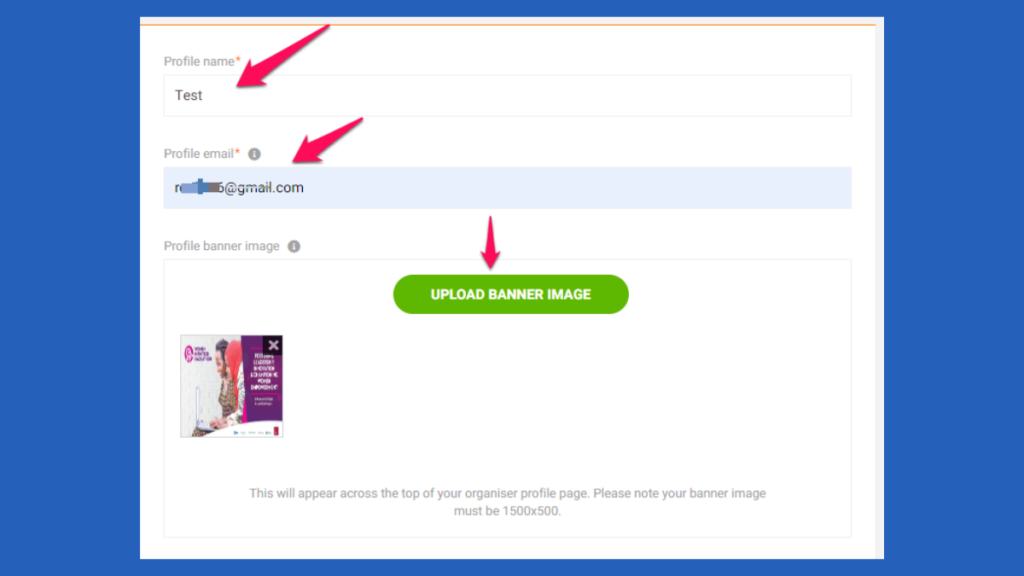 Now: Let's fill in event details as shown below.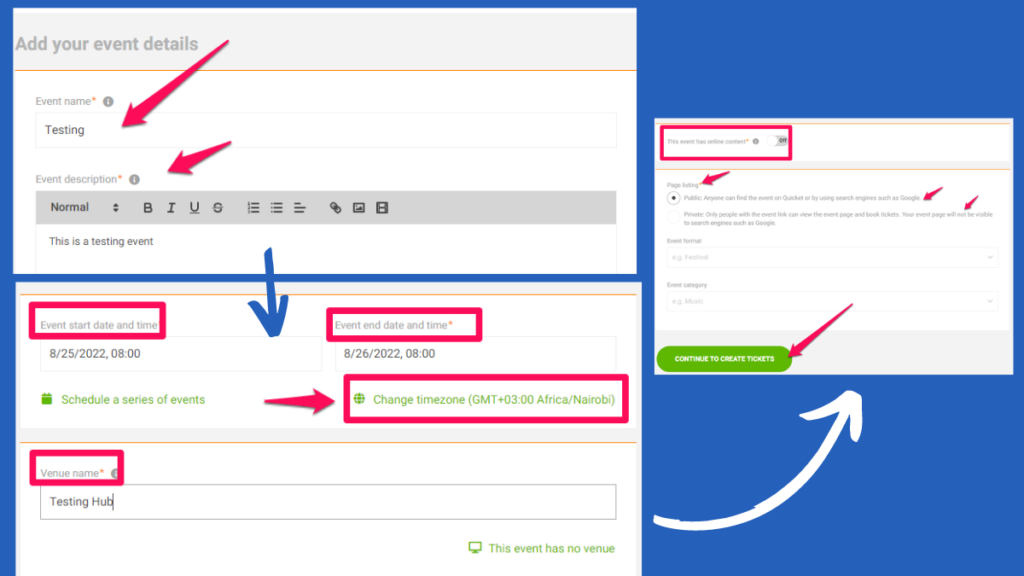 Choose available tickets depending on your event;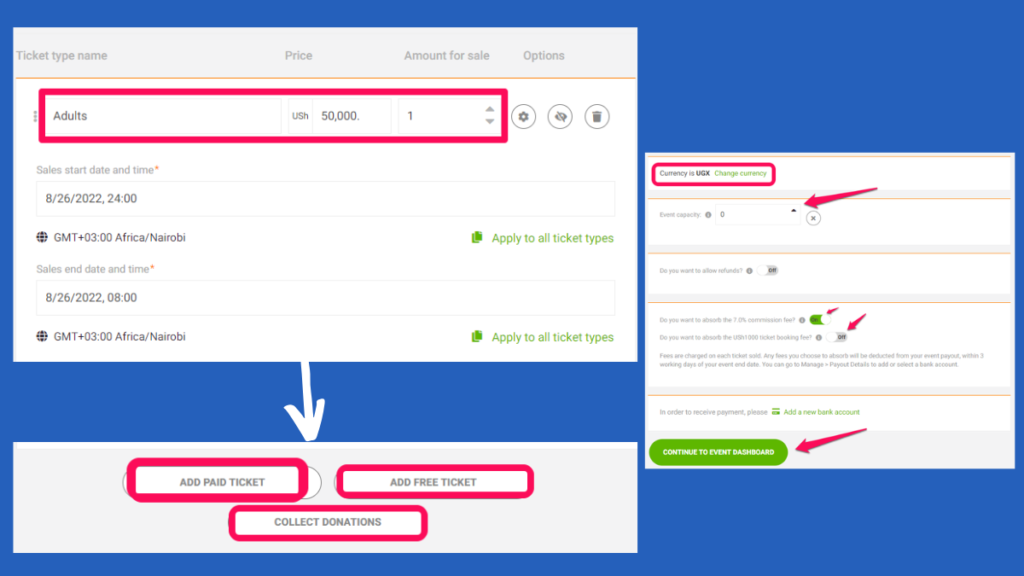 And boom, you have the dashboard; For event management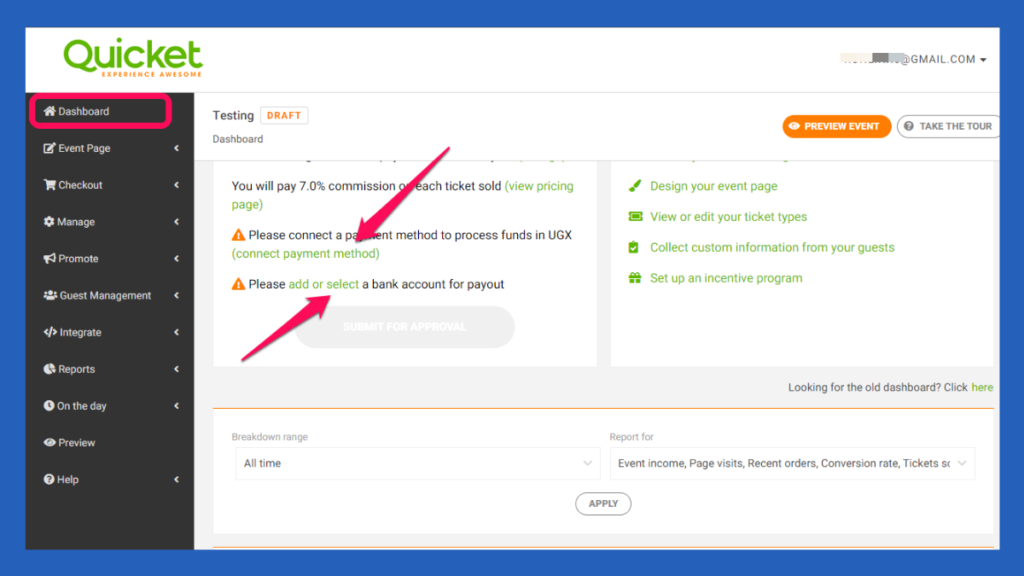 You are required to add payment options before you can submit your event;
Advertisement - Continue reading below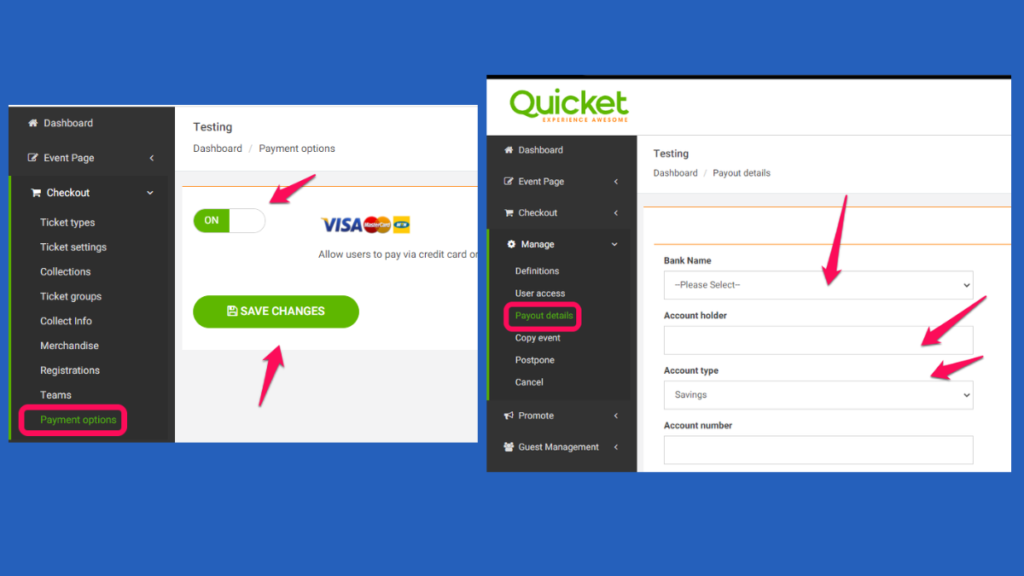 You can now submit your event if you feel you have everything and most importantly all the required fields right;
---
Also Read: Easy Ticket wants to simplify ticketing In Uganda
---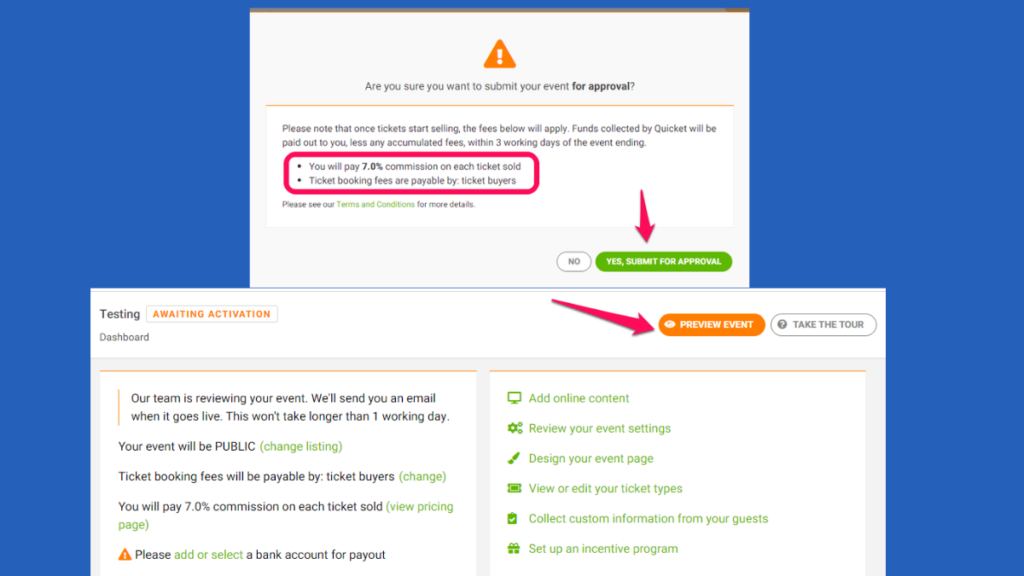 Finally, your event is alive; you can share the event link to your socials.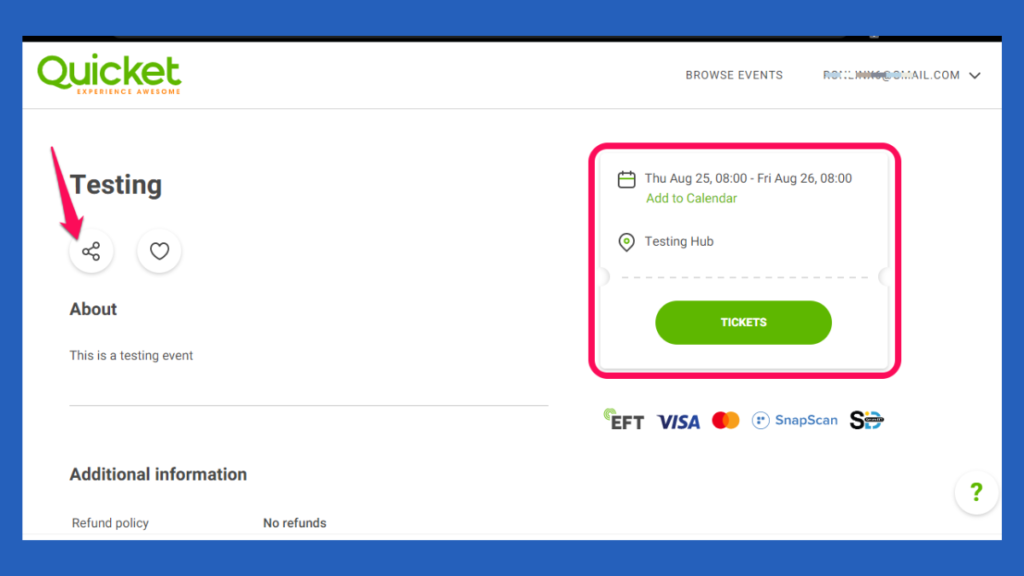 Tips
When creating an event, please endeavor to have at least these fields filled in even if you use any domain-specific site.
Event start date and time
Event end date and time
Fees
Venue name
Remember to select your timezone, it's very vital because by default it's in Johannesburg if you are using the SouthAfrican website;
Choose whether you want to go public or private so that your event is indexed by Google Robot.
Managing Fees
Some of the questions you will come across when creating your event are; Do you want to absorb the 7.0% commission fee? Do you want to absorb the USh1000 ticket booking fee?
Fees are charged on each ticket sold. Any fees you choose to absorb will be deducted from your event payout, within 3 working days of your event end date. You can go to Manage > Payout Details to add or select a bank account.
You should be able to select a choice as an event organizer at the end of the day because this is how this online service generates revenue.
My event is small:
Whether you're a first-time occasion coordinator or you've been in the game for quite a long time; whether you're selling under 10 tickets or in excess of 10,000 tickets, Quicket is intended to assist your little or small event to occur.
Advertisement - Continue reading below
Accepting their Cookies
Quicket makes use of cookies in order to function properly and to deliver a customized experience, such as showing you events in your location. You will have to accept them so as to have the best user experience depending on your location.
Develop Corner
Please note that the Quicket API is in Beta and is subject to change. If you have any queries or suggestions about the API please contact us.
In order to access the Quicket API, you will need an API subscriber key. To get a subscriber key you must first register on the Quicket Developer Portal . 
For any authenticated calls you will need to add a "user token" header containing the user token below.
Conclusion
Yay! You successfully created an event and tickets for sale and you can now manage your profile in the dashboard. This service is available in several African countries and can be of great help if you are an events manager.