In a region ruled predominantly by feature phones mainly by Nokia and budding range of low-end Android devices from global names like Samsung or Afro-centric brands such as Tecno, Solo, Windows Phone still has a long way to go.
In an industry where whoever has the largest and the most quality Apps ultimately rules the phone market, it's imperative that Operating System and Phone vendors assert their position with a host of locally made and internationally acclaimed Apps supported on their respective platform — or else risk annihilation.
Advertisement - Continue reading below
Microsoft has fought so hard with a couple of initiatives to have quality and locally relevant Apps in its store. These are the ones we think you must have on your Windows Phone device.
Whatsapp
A global sensation, Whatsapp App has been the deciding factor as to whether some users should or should not buy a certain phone. With well over 200 million users and 50 billions messages exchanged per day, the App is so popular that even Nokia has made it the selling point for its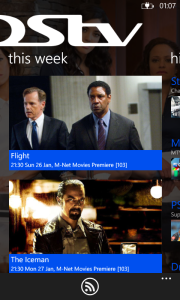 low-end feature Asha phones. SMS, a dying breed in the messaging industry, has been ditched by users who now find Whatsapp the only option to cut their phone bill to less than half.
DSTV
This app from MultiChoice Africa is your ultimate guide to DStv — the biggest digital satellite TV service in Africa. It features all the latest highlights, news and a full 10 day schedule of the satellite service. With this App, you can quickly select your favourite channels, set reminders for shows and share what you watch on social networks.
Skype
Skype, now a division of Microsoft, delivers the most consistent and fluid user experience on the Windows Phone platform. The company has remained true to its creed of providing free high quality communication to users across the world through the internet. Even though the App won't wow you yet for local calls thanks to slow and unreliable networks, it will deliver on consistent 3G when communicating to family and friends in the diaspora.
iROKOtv
Heralded as the Netflix of Africa, iROKOtv by Ascenso Telecom Solutions, will indeed turn your Windows Phone device into movie cinema. This is a free mobile app dedicated to full length Nigerian movies popularly known as Nollywood. The faces fierce competition from Afrinolly which we reviewed that didn't cut the red tape due to its functionality compared to iROKOtv app. We did stream some movies and boy, they're in HD quality. Only your phone data bill will limit you!
SuperSport
Africa is known to be a sporting continent world over. The Supersport app once again from Multichoice Africa brings a whole new sporting experience to your Windows Phone. With this App, you get all the latest news, scores and information on your favorite sports including football, rugby, cricket, golf and more. You can see what's currently airing, latest sports news among others. It's a must have for the sports enthusiasts.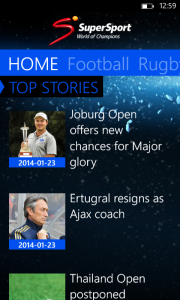 Advertisement - Continue reading below
 Spinlet
Spinlet will turn your windows phone into an music jukebox with millions of African and South African music at the fraction a cost. When we had our spin on the spinlet, we were really impressed by its design and easy navigation. All the music on the mobile App is free, so you can stream as much music as you like, but you will be interrupted by audio Ads akin to how Youtube does its video Ads. Fortunately the Ads are short (5 seconds) enough not to piss your off from the service. The music catalogue too isn't as diverse as the coverage of the App itself.
Ma3Route
If you stay in nairobi, this App is your companion during all your commutes to and from work. The app provides you with free crowd-sourced traffic information, matatu directions and driving reports right on your mobile device. Even though it falls short in design, it won't disappoint in functionality as you can rely on it for accurate update-to-date information.
Do you know of any Windows Phone Apps for the African user we missed out? Let us know in the comments
Image: technet