If you own a smartphone – Android or iOS – I am almost certain that you have either the WhatsApp or Telegram application installed on it, or even have both instant messaging apps.
Both platforms have introduced their web interfaces to let their users send and receive instant messages, media files, etc. on their laptops or desktop computers. WhatsApp introduced this feature to its user sometime in 2015, letting users sync their WhatsApp to their computer. Here's a simple guide to using WhatsApp Web.
Advertisement - Continue reading below
In this post, the focus is on Telegram. We will show you how you can use this cloud-based instant messaging and voice over IP service from your web browser, on your computer.
Before we get to that, you should note that asides using the web version, Telegram is also available for Android, iOS, Windows Phone, Windows operating system, macOS, and GNU/Linux.
How to Use Telegram Web
Step 1: First, from your web browser (Chrome, Safari, or Firefox is recommended) on your laptop or desktop, go to the Telegram website.
Step 2: Once the Telegram login page appear on the screen, select your country. Afterwards, type in your phone number. Once that is done, click on the "Next" button, or hit enter on your keyboard.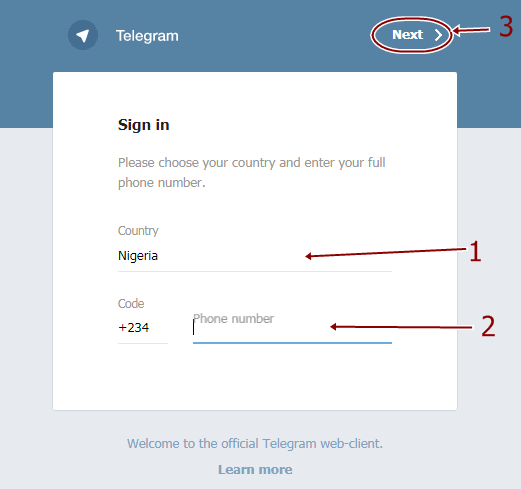 Step 3
Once that is done, a confirmation popup will appear asking you if the phone number you entered is correct, click on ok. A code will then be sent to you, enter the code. Hit "Next" after you've entered the code, you will be logged in into your Telegram account. Also, all the messages will sync across all other devices you've logged in to.
Mobile or Web: Which Should You Use?
Telegram Web will come in handy while you are at work. From your computer, you can toggle quickly between your office work and texting. With this, you cut out distractions as you no longer need to pick your phone from your desk every time you get a beep.
Advertisement - Continue reading below
But here's the thing, using the web feature has its limitations. You don't get to enjoy certain features available to you on the mobile app. Features like Telegram calls and the secret chat feature. Also, you can not invite friends or create new channels via Telegram web.
Conclusion
Finally, unlike WhatsApp that needs your mobile phone to stay connected to the internet for the web version to work, Telegram keeps your messages on its servers, so it does not need your mobile phone to stay connected to the internet for the web version to work.