In the not-so-distant past, cars were seen as a luxurious preserve for the rich in Kenyan society. This has however rapidly changed with the growth of the economy to becoming a necessity to many, especially the middle class. In the natural balance of demand and supply, several websites that deal with cars in Kenya have cropped up. This means you can now browse through a variety of catalogs from different sellers and easily find the car you want. Shopping for your dream car online in the comfort of your home is quite convenient.
You get to avoid the hustles of moving around hopping from showroom to showroom haggling about prices. Almost all websites that are selling cars online in Kenya have their asking prices stated with the car. You will also find that sellers have listed other car details, features, and photos of the car. Once you settle for one that you like, you can contact the seller and schedule when you can go view the car. In this post, we look at some of the more popular online websites that you can use to shop for a car.
Advertisement - Continue reading below
---
Also Read:
---
1. Jiji Kenya
This is perhaps one of the most popular online marketplaces that you can use to buy anything in Kenya. You can search and get anything from land, property, electronics, clothes, and even services like catering and CV writing. The best part about Jiji is that everything is categorized appropriately. When it comes to cars, their online catalog is unmatched.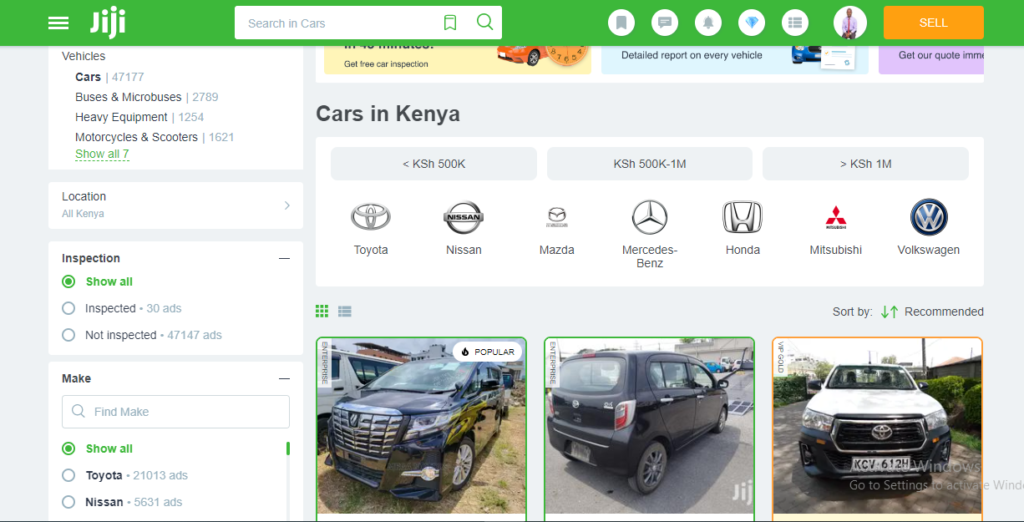 This is mainly because they offer free classifieds to both sellers and buyers. Jiji also has a mobile phone app that you can download from respective app stores. With Jiji, you can sort and filter your searches in a variety of ways. You can select the car manufacturer, year of manufacture, fuel type, engine size, color, and price range. And many more available classifications.
---
Also Read: iPhone 14: Here's Prices and Where to Buy the iPhone 14 devices in Kenya
---
2. Car Soko Kenya
Car Soko is yet another quite established online car dealer in Kenya. With a physical headquarter showroom along Limuru Road, Car Soko pride itself as to be "The Home Of Landcruisers". On their website, the "Cars For Sale" tab is not limited to Land Cruisers only, but all makes and models of cars. You can browse through the Car Soko website and find a car that suits your budget and specifications. As the info on their website suggests, you will also find that they deal with high-end SUVs ranging from BMWs, Range Rovers, Toyotas, and many more. Key to note that this is a dealer website and not a public marketplace like Jiji.
---
Also Read: Here Are the Cheapest Android TV boxes in Kenya
Advertisement - Continue reading below
---
3. Cheki Kenya
Cheki Kenya is an auto bazaar that is also in 4 other African Countries; Tanzania, Zimbabwe, Zambia, and Uganda. Cheki is currently in the process to rebrand to Autocheck. This is why if you Google search Cheki.com and click on the link you will be redirected to Autochek.com. The "Cars For Sale" section is well organized with options to sort and filter your car search based on prices, make and model, mileage, body style, color, and many more.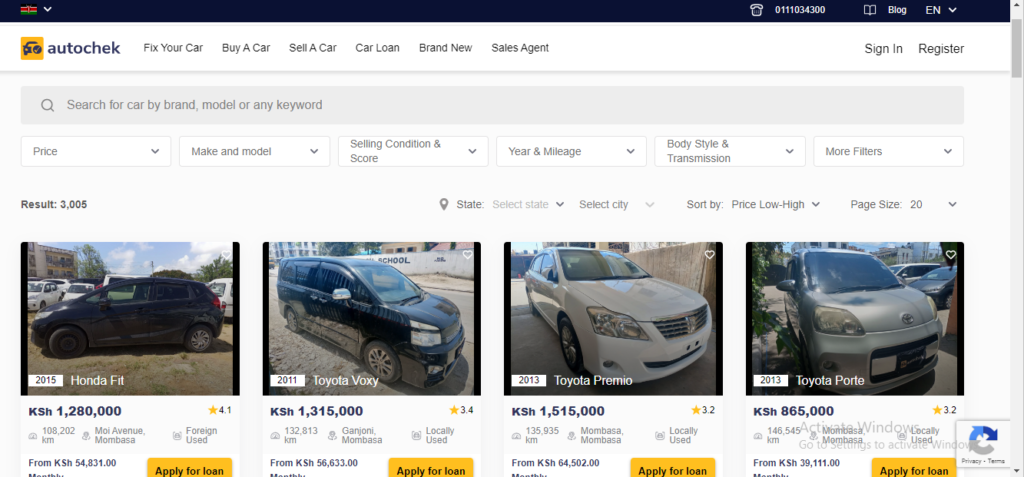 ---
Also Read: How to Get a Safaricom eSIM in Kenya
---
4. Facebook MarketPlace
Since Facebook launched its Marketplace in late 2016, the section has seen tremendous growth. The Facebook Marketplace boasts of helping Facebook users buy and sell items within their localities. It is an online platform quite similar to Jiji on the basis that you can buy and sell anything on the platform. Similar to the other platforms, the Facebook Marketplace has various categories that can help you to narrow down your search with.
The categories are vehicles, home goods, office supplies, and many more. In the cars category, you can filter your searches based on price, date listed, mileage, distance from you, and year of manufacture. Here sellers have the option to list their selling price or not.
---
Also Read: Here's Where to Listen and Stream Live Local Radio Stations in Kenya
---
5. PigiaMe
PigiaMe yet is another free multipurpose trading platform in Kenya dealing with a wide variety of goods and services. This platform is a partner site to the very popular online job search platform known as Brighter Monday. PigiaMe is also affiliated with the property website BuyRentKenya. As you may expect, they have a dedicated category for vehicles plus a tool that can help you refine your search.
---
Also Read: How To Register as an Airtel Money Agent In Kenya
---
6. Jumia Deals
As you may have guessed, Jumia Deals is affiliated with the giant tech company Jumia. Jumia was founded in Nigeria and is currently headquartered in Germany. "deals.jumia.co.ke" is perhaps the most well-structured website to search for your next car in Kenya.
Advertisement - Continue reading below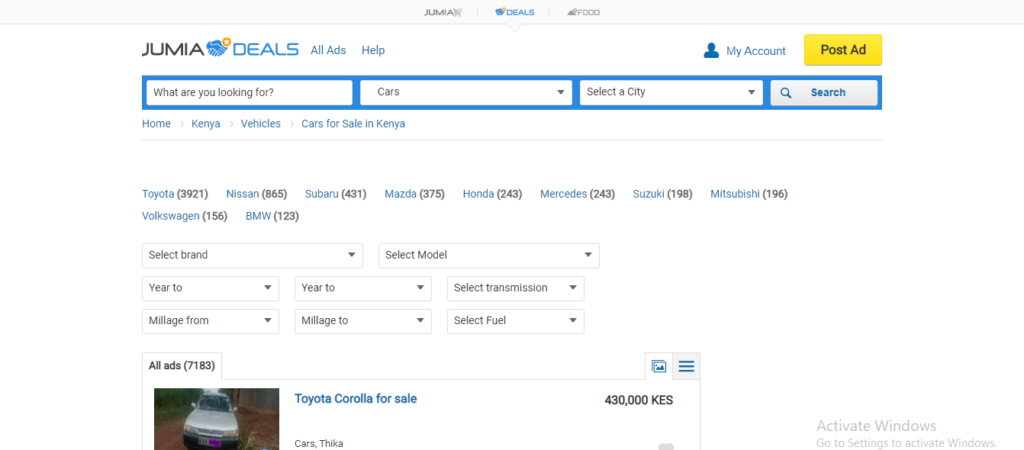 It also is arguably the 3rd best online car bazaar in terms of variety, behind Jiji and Facebook Marketplace. This website allows you to search and isolate your shopping targets in terms of location, brands, models, transmission type, mileage, etc.
---
Also Read: Kenya's Safaricom Officially Goes Live in Ethiopia!
---
Conclusion
Even though there exist many other websites where you can shop for cars in Kenya, it is our opinion that the above 6 will offer you the biggest variety to choose from. It is also very important that we emphasize that you do your due diligence to avoid being conned by unscrupulous business persons on any of the platforms above.
Featured Image Courtesy: Standardmedia.co.ke