Prowling around Twitter like a stealth tiger looking for an article to devour, a technical blog post to bookmark, a funny video to laugh at, a business-post to consume, a software engineer to follow, I came across a scam alert tweet from Total Uganda against a form of online scam someone is running.
It reminded me of our chat with David Okwii on how malicious individuals found a way to taking advantage of unsuspecting people and have gone as far as clearing out people's bank accounts thus leaving them in distress.
While you can't be 100% safe from online fraudsters, there are a few ways to steer away from possible swindles. Here are a few tips on how to avoid online scams.
Check Their Website and Do a Whois on the Domain
When an institution or company tries to sell you a product or service, make it a point to check their website first and confirm its genuineness. Many online fraudsters usually run a parallel website to the official one. However believable the look might be, scammers habitually don't go through the trouble of building their webpages to a level of quality.
They, therefore, use photos without faces or internet pictures, provide vague information in their 'About' section, and even lack provided contacts. Grammatical errors and scanty content should also be a red flag from the word go.
Copy the website URL and paste on the who.is website to get information about the owner/registrar of the domain, the date the domain was purchased, location of the owner, and other related useful information. A situation where the Registrar info is hidden/prohibited should be a red flag, to begin with.
Here is a snapshot of the who.is profile for the fraudsters running the free gas cylinder fraud from Total Uganda. Notice the registration date (July 2020) and for all, we know Total Uganda has had a website for decades.
Advertisement - Continue reading below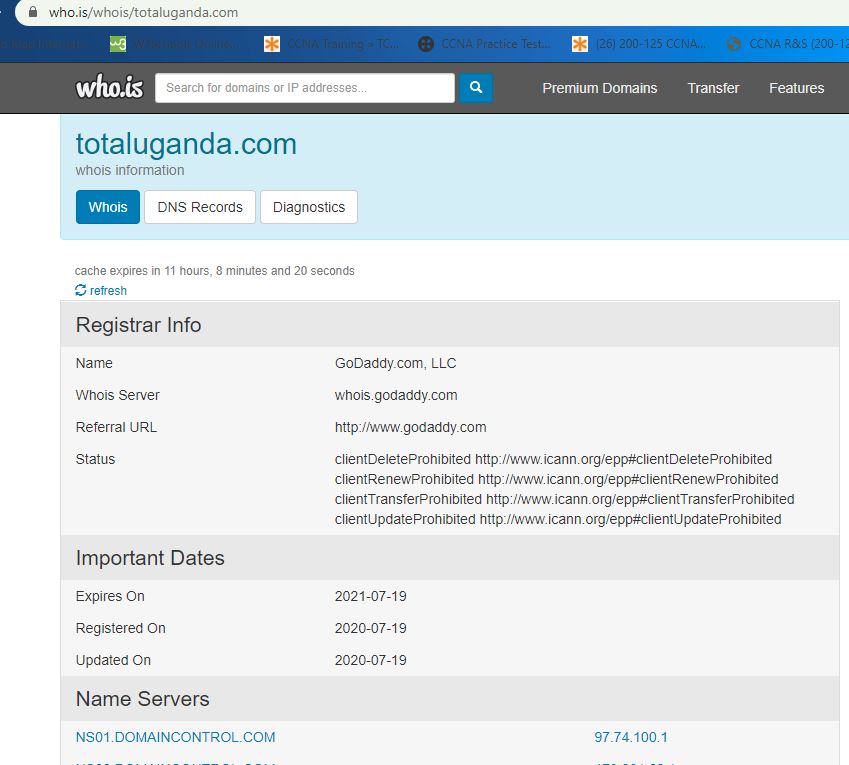 ---
Related Post: How to avoid credit/debit card fraud
---
Prior Payments and No Physical Meetups
Although this is not a standard rule for all online sellers, a genuine individual should not have a problem with meeting with a potential customer or having a physical address for pickups and stores. A person adamant in meeting physically should be the reason for concern. Even if they do not have an office, they cannot miss a physical address where they could show you the items before you buy them. Most of the fraudsters who decline physical meet-up request(s) also ask for money before delivery. This is always a warning sign especially when they cannot give you a physical receipt or evidence of a transaction.
Check for Online Reviews
Online reviews are an important source of information that can help you make a better decision before purchasing a product or subscribing for a service. An online fraudster can go as far as convincing you they're legit but the review section are usually where actual customers (people) share their experiences, warnings, and suggestions. In case it is a personal business page on social media, try to go through the comment sections and see what other people have to say about the particular individual and their products or services.
Genuine individuals often have customers appreciating them and confirming deliveries stuff like that. When their page does not have any reviews or customer feedback, maybe you should look for other alternatives or don't believe in the offer they're selling.
Check Social Media Profiles and Online Presence
Social Media has become the go-to place to find company profiles. In the event a company or institution doesn't have a website for reasons such as being fresh starters or slow in adopting digital solutions, you should check their online presence on other platforms.
Most online fraudsters use social media to reach their potential victims, even through ads. An individual/company selling artefact, for example, should have a visible online presence that is not too recent. Anyone who uses social media to find customers always put their work out first before sourcing for potential buyers. Therefore, you should be suspicious whenever you see a Twitter or Facebook page that has only 2 to 3 posts/tweets.
Bottomline
While it's easy to fall victim to online scams, it is possible to avoid it and the first step usually is to avoid free offers on the internet. Most especially offers that look too good to be true. Most scams exploit the humans' impulse to get a free or better deal for less. As such, it's better you adopt the principle of paying enough for what it's worth and finally be skeptical of anything that looks too-good-to-be-true, especially on the internet. Let's hope these tips help you easily identify scam content on the internet and social media pages. You can also share with us your experiences on this topic.
Advertisement - Continue reading below