Digital rivalries are great. Since the appearance of smartphone devices and the explosion of mobile apps, free chat/instant messaging apps have proven to be a cheaper alternative to telco-based text messaging via SMS. This often competition with retro-tech has led to fantastic experiences and value-focused options for consumers.
As of January 2021, Statista estimates that two billion users were accessing the WhatsApp messenger on a monthly basis. In our backyard, the Ayoba messaging app backed by MTN was gaining grounds and packaging locally-focused functionality. But does this app deliver value and is it worth switching to? Find out in Dignited's In-depth Ayoba app review.
Advertisement - Continue reading below
Registration
Simplicity was at the forefront when they were designing the registration flow of the Ayoba app. After downloading the Ayoba app, the onboarding process is as simple as entering your MTN phone number and putting the one-time pin(OTP) sent to your number to proceed to the next step. Enter your full names to finish the registration process and start enjoying features like group chats, exchange of graphics, video, and audio.
In summary, here is is how you register to use the Ayoba aap;
Step One: Download the app from Google Play Store or App Store for iPhones.
Step Two: Choose the preferred language you want to use the app in, enter your MTN number to receive the OTP.
Step Three: Enter your full names to complete the registration process.
Design, Interface, and Features
What stood out for me when using the Ayoba app has been the clean UI, ability to listen to music, and obviously the in-app ability to send and receive mobile money.
Advertisement - Continue reading below
Mobile Money Transaction on Ayoba
Here is how you can send and receive money from within the Ayoba App.
Step One: Select the contact you want to chat with. If you have chat history, tap their names and proceed. To start a new chat, tap the plus(+) (Start Chat) button on the bottom corner of the app and select your contact. Keep in mind, you can send mobile money even to a number that isn't registered or using the Ayoba app.
Step Two: Tap on the attachment icon on the right-hand side of the message box and select Money.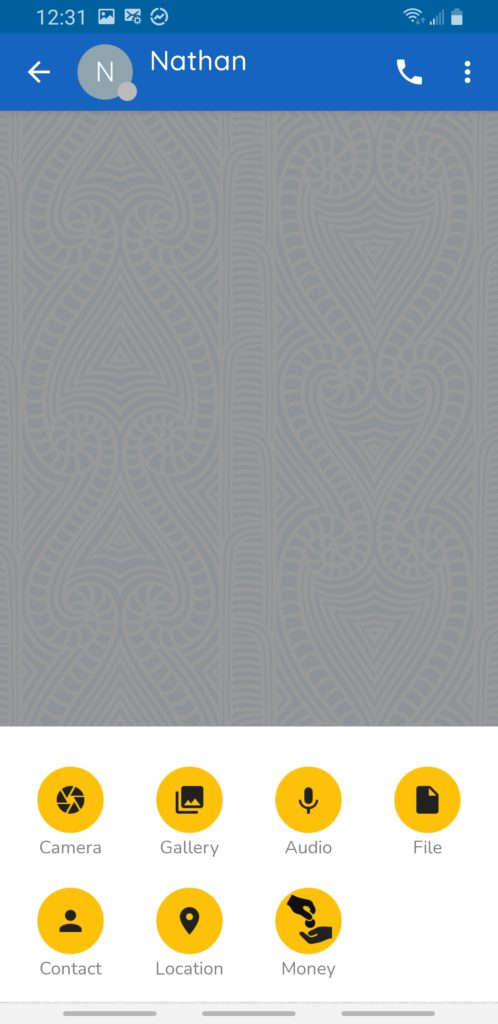 Step Three: Select Send Money and enter the amount of money you want to send. Type in the message you want the person receiving the money to get and hit the send button.
Step Four: A popup prompt to enter your mobile money PIN will suffice, enter your PIN to complete the transaction. The transaction history will be among your chat history with that contact and the same when you receive money from other contacts as well.
READ ALSO: A Beginner's Guide to Using the 'Ayoba' Chat App
Key Features of the Ayoba App Includes
Chat with everyone: Users can send SMS text messages with anyone in their contact list, regardless of whether they have ayoba installed or not. Messages to people who have not installed the app haven't been able to go for me.
Channels: Users can subscribe to channels of interest for locally relevant content across various categories. It includes categories like Sports, News, Music & Artist, health & Fitness, Careers, Education, Fashion & Beauty, and General Entertainment.
Local languages: Ayoba is available in the top local languages available in the continent. Swahili, Luganda, Hausa, isiXhosa, Arabic and Yoruba are just a tip of the icebaerg. There are a total of 23 languages supported right now within the app including English.
Security: End-to-end encryption means that messages in a conversation cannot be read by anyone else. To check if your message if encrypted, select the sent text and choose the option dots to view message details. You will find a bunch of details including the timestamp, message type and encrption status among the list.
Music: Users can now listen to curated playlists of their favorite music and artists on ayoba.
Gaming: Users can play a large selection of in-app games. There are a bunch of 2D games broken down into categories of Education, Strategy, Children, Role-Play/Simulation, Puzzles, and Action/Adventure.
FREE to use: It is free to use by MTN customers for up to 1GB every month, for every user.
App Permissions and Security
The question of data privacy and security has been a pressing topic when it comes to mobile apps recently. WhatsApp updated their privacy terms and conditions back in February and received wave of outlashes and condemnation from the industry and many people started looking for privacy focused apps.
Ayoba app on other hand comes with security-focused features which give you a sense of privacy.
Advertisement - Continue reading below
One of the features is end-to-end encryption where only the communicating users can read and view the messages. In theory, it prevents potential man-in-the-middle eavesdropping attacks from ISPs and the Ayoba team as well.
The App permissions themselves are so minimal which is a good sign that they won't be snooping around where they aren't supposed to be. The only mandatory access is to give the Ayoba access to your Contacts to help you connect you to your contact list.
You set up your own 4 digit PIN to encrypt the chat backups. It sort of acts like your decryption keys or cryptographic keys when you want to restore previous chat history.
But there is room for improvements and the introduction of new security-focused features. Maybe or maybe not a disappearing message option will an interesting feature to explore. Personally, I would be hyped for it.
But all in all, the Ayoba app is a handy alternative to many popular instant messaging apps. It packs a number of functionalities that are ahead of the competition; in-app mobile money transactions, free to use i.e. zero-rated on MTN network (even without having active data bundles), and the ability for MTN customers to reply to messages on SMS even when they don't have the app are some noticeable features.
Let us know in the comment section if you have been using the Ayoba App and what has been your highlights so far. What do you enjoy using and have you invited your friends to download the application?