WiFi 6 also known as IEEE 802.11 ax is now getting into more Tech products that ever before. From routers, to smartphones, smart tvs, laptops and tablets. WiFi 6 is the latest version of the wireless tech that keeps us connected without messy cables and wires. It supersedes WiFi 5 or 802.11 ac which is now the predominant standard in most WiFi-supported devices. WiFi 6 offers upto 3 times more speeds than its predecessor, better power efficiency and shines in congested areas with lots of devices.
So how can you tell if your smartphone supports WiFi 6. Frankly speaking, it's not straight-forward. I got a OnePlus 9 which supports WiFi 6 but there's no straight-forward way of telling that it actually does. Most ordinary people wouldn't even bother about WiFi standards in the first place.
Advertisement - Continue reading below
The easiest way to tell if your smartphone supports WiFi 6 is to simply check on its specs or specifications. You can get this from the vendor's own product page under the specifications tab. For my phone, I could confirm from this product page.

Related post: How to tell the WiFi version your Windows 10 and Linux PC supports
Another option is to check on GSMArena.com. They have the largest database of smartphones online. You can simply search your model in the search box and the specs will be shown to you. For my phone, these are the specs and under WLAN, you can confirm the WiFi version that's supported.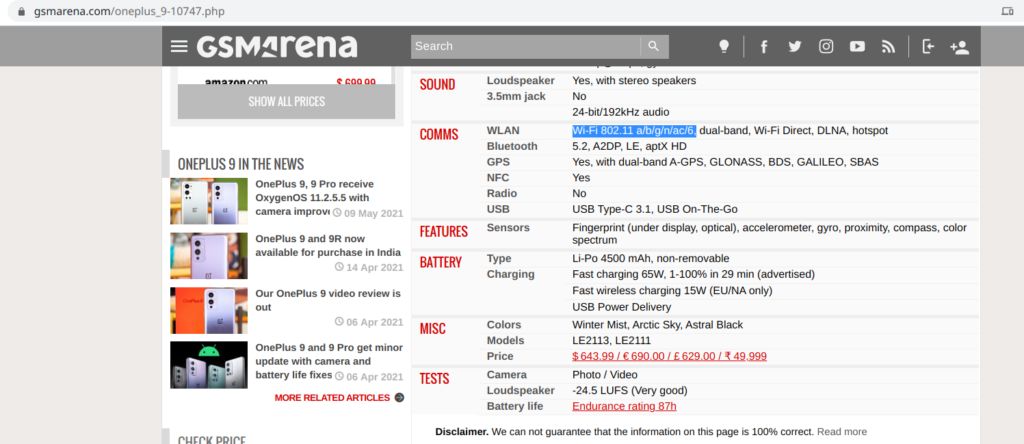 Should you upgrade to WiFi 6 (802.11ax)
Well most flagship smartphones today including iPhone 12, Galaxy 20/21, Pixel 5, OnePlus 9 already come with WiFi 6. So you don't have choice in matter if you already bought those phones. However, WiFi 6 is no good if your router and other connected devices don't support it. If your router runs on WiFi 5 (802.11ac) which is the majority of routers today, then there's no point of choosing a smartphone purely based on its WiFi 6 support. However, having WiFi 6 phone future-proofs you so that when you finally upgrade your router, you already have a device that supports it.
Read more: How to upgrade from WiFi 5(802.11ac) to WiFi 6(802.11ax)
We have made a Youtube tutorial of how to check if your smartphone supports WiFi 6. Watch it below;
Advertisement - Continue reading below
So there you have it; how to tell if your phone supports WiFi 6, the latest WiFi standard. If you know of any other way, let us know in the comments below.