If you're in the lookout for a budget Active Noise Cancelling(ANC) wireless stereo headphones, then the Taotronics soundsurge 90 or TT-BH090 are a great candidate. I have been using these headphones for a while now and I can tell you, I am pretty impressed by the sound quality, battery and general build quality of these ANC headphones.
With built-in mic and ANC technology, these headphones are not only great for listening to music playback but also for making online calls on Zoom, Microsoft Teams, Google meet etc. They were released at the beginning of last year during the Covid-19 pandemic and you can tell Taotronics paid attention to the ways work and play is changing.
Advertisement - Continue reading below
Alright lets dive into the Specs;
Model: TT-BH090
Active Noise Cancellation: Hybrid ANC Technology
Noise Reduction: 30dB
Bluetooth version: 5.0
Audio Codec: SBC, AAC
Playing Time: 35 Hours
Design: Foldable Design
USB-C Fast Charging: Fully charged in 45min
Additional Features: Over Ear, Lightweight, Soft earpads, Google Assistant
Release Date: 2020/1
In the box: TT-BH090 headphones, USB-C charging cable, 3.5mm audio cable, travel pouch, user guide.
In the box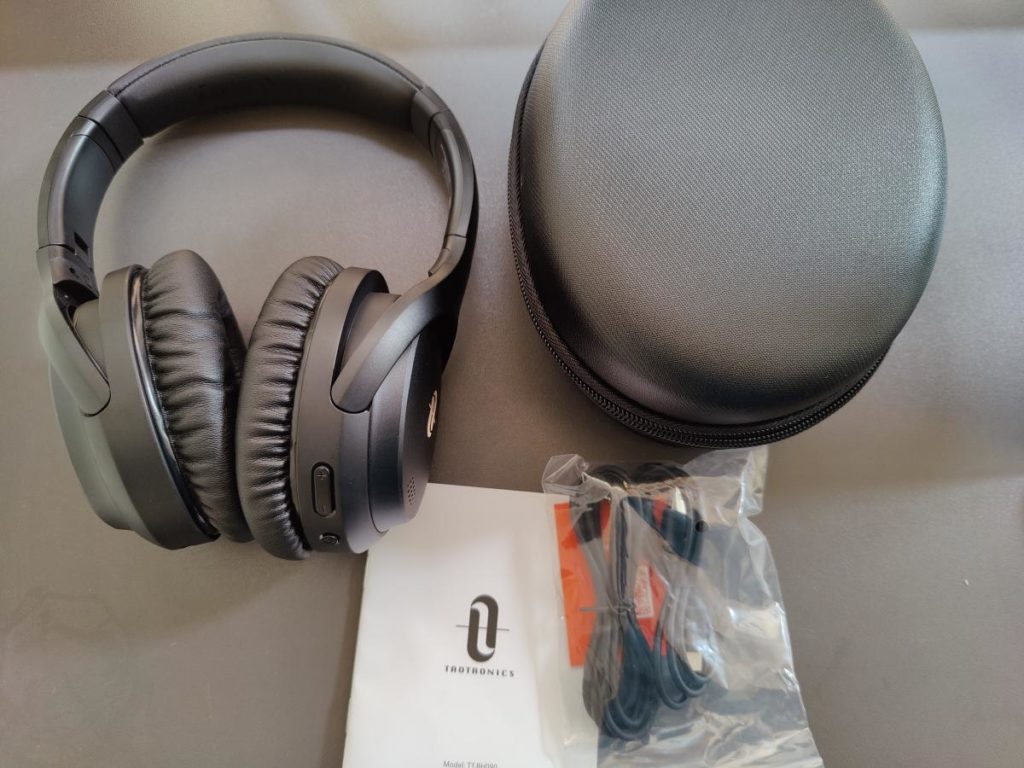 Out of the box, you'll get the Taotronics Soundsurge 90 wireless headphones themselves folded inside an oval-shaped black travel pouch. You'll also find a USB-C charging cable seeing as the headphones use USB-C port rather the soon obsolete Micro-USB interface. Additionally, you get a 3.5mm audio cable which you can use to listen to music with the headphones even when they have run out of battery. In 2021, the good-old 3.5mm headphone jack is rather becoming a relic, but Taotronics included it anyway just in case you need it. Finally, you get a quick user guide to get you started. All of this is inside a nice orange/white minimalist box.
Design and ergonomics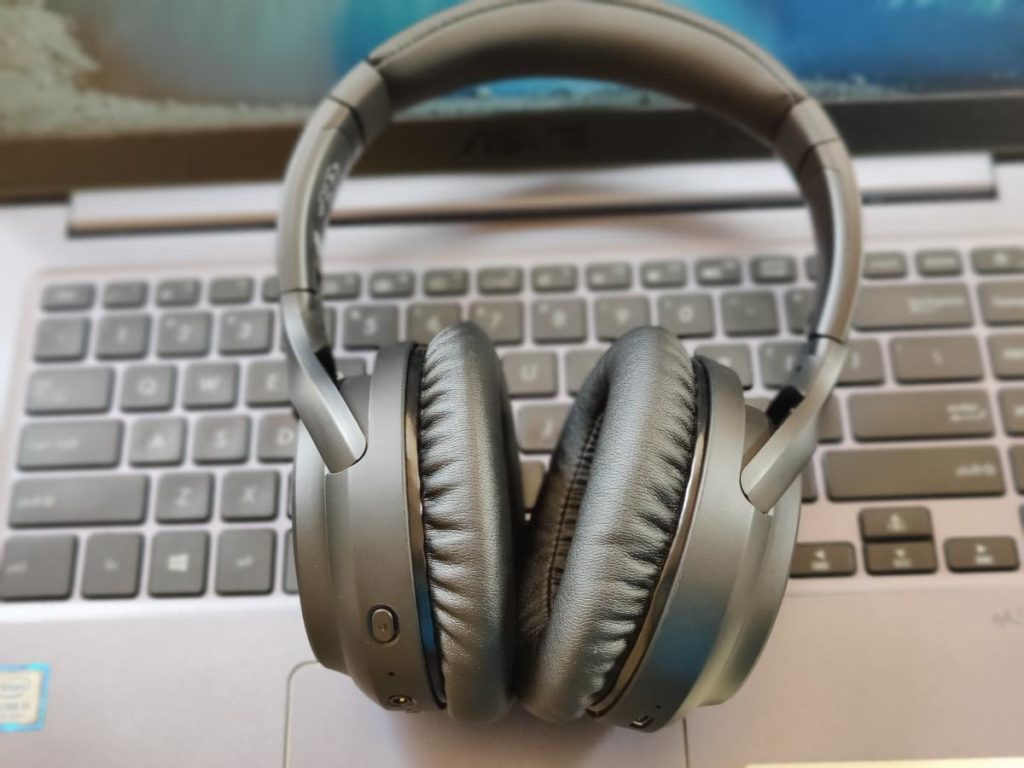 These wireless headphones follow an over-ear foldable design form factor, so you can fold them and fit them well inside their travel pouch. This makes for easy carrying and reduces on space. The headband is mostly made of plastic but has a metallic adjustable band on both ends. The earpads are super soft and comfortable on your ears and they turn 90 degrees flat on the surface. On the left earpad, you have a USB-C port for charging and a charging LED indicator. On the right earpad, you have volume up/down button, a multi-functional button for picking/rejecting calls and firing the Google voice Assistant, LED indicator, 3.5mm audio port, a microphone, ANC button, ANC indicator, noise cancelling Microphone(on both earpads).
The headphones overall feel slightly more heavy than most headphones I have used. They weigh about 10.3 ounces or 292 grams. But the build feels premium and durable.
Bluetooth Pairing and connectivity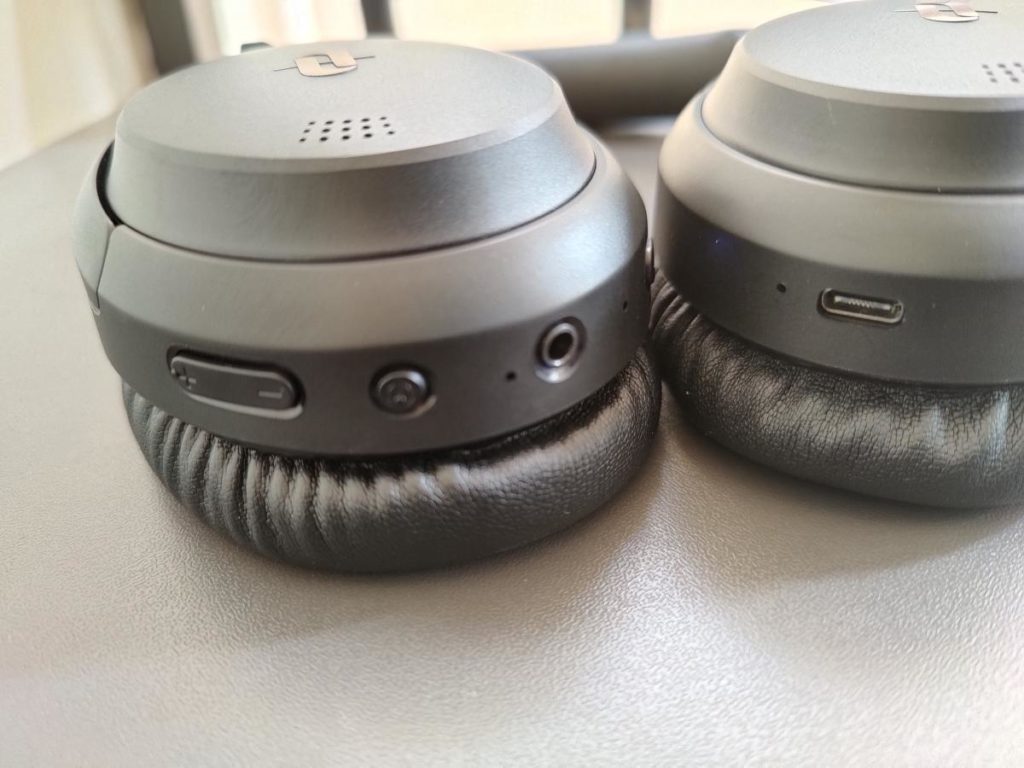 These headphones support Bluetooth version 5.0 which is the latest major version. Pairing is quick and snappy. Once you power them on, they appear as "Taotronics Soundsurge 90" on your pairing device. The headphones automatically pair with the last device they connected to as long as both are turned on with Bluetooth switched on.
Advertisement - Continue reading below
These headphones have a range of about 10m without obstacles. The range reduces with obstacles such as walls. However, I was able to still listen to music from the next room while my phone was in the other. They support SBC and AAC Bluetooth codecs which is pretty standard across most Bluetooth headphones.
These headphones are charged via USB-C port and they come with a USB-C to USB-A cable, so you can charge them using your standard phone wall charger. They have a 500mAh battery and can be fully charged in just 45 minutes through the USB-C fast-charging port. They'll last you about 35 hours on full charge. I was able to squeeze in about a full day of loud music playback. The headphones low battery alarm goes off at 10 minutes before automatically shutting off with the LED indicator light flashing red quickly and warning with "Low battery" sound tone.
They have good power management feature. For instance, they'll automatically turn off if there's no connection in the last 10 minutes with "Power off" sound tone. This saves some battery power. If you've completely run out of juice, you can still use the headphones via 3.5mm audio jack. That's assuming your music playback device has an audio jack of course.
Sound quality
These headphones are powered by 40mm dynamic driver and sport Hybrid active noise cancellation technology. ANC blocks out unwanted background noise up to 30dB. They have an ANC switch you can turn on/off depending on the environment you're in. These headphones sound very clear. They don't sound too bassy or scream tremble. Even though Taotronic s indicates that the headphones have "deep bass", they didn't really reach that promised level according to my experience. Looking for more bass, then you have to consider Sennheiser or Bose headphones instead. That said, these Soundsurge 90 headphones still deliver good enough bass with crisp sound for their price. I have used them while commuting, in traffic jam and with the ANC switch turned on, all you hear is just the music.
Price and where to buy
The Taotronics SoundSurge 90 cost $55.57 on amazon.com. If you live in Kampala Uganda, you can get the same at Ugx 285,000 from Odukar Store with same-day delivery.