As the majority of Android TV users already know, you can use your Android TV to stream content from various service providers like YouTube, Netflix, Amazon Prime, Kodi, and Plex. However, many may not know that they can use their Android TV to browse the web. Unfortunately, Android TV does not come preinstalled with any web browser.
Nevertheless, there exist many dedicated web browsers for Android TV that you can install either directly from the Play Store or by sideloading. So, if you are looking for a web browser for your Android TV, look no further as we list down the best options there are for you. Without further ado, let's get to it.
Advertisement - Continue reading below
1. Puffin TV
Puffin TV is arguably the best-designed Android TV web browser out there, keyword: Arguably. For starters, this app is fully compatible with all android TV remote controls and supports streaming of music, and videos as well as web surfing. This app is also remarkable when it comes to page rendering speed courtesy of the quick JavaScript engine it runs. Additionally, Puffin TV can be downloaded from the Android TV Play Store hence easy to install with no sideloading needed.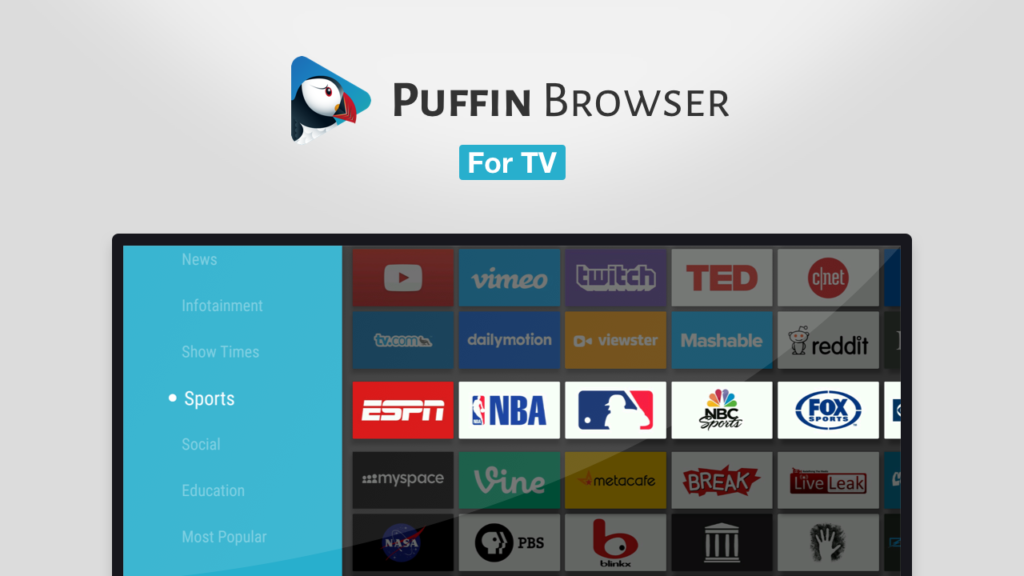 The only downside I can think of is the paid subscription fee. See, Puffin TV is free to download but comes with a Free daily usage limit. To go beyond this limit, you need to pay for a subscription. Unlike many other Android TV browsers which are basically repurposed mobile Android apps, Puffin TV has been built ground up for the best TV browsing experience. A notable distinguishing feature is the ability to create QR codes on your phone and send them to your Android TV eliminating the need to type in long URLs.
---
Also Read: How to install Android APK on Android TV box using Wireless File Manager
---
2. Google Chrome
Google Chrome is among the most popular web browsers in the world. Chances are you may have used it on other platforms; phone, tablet, or laptop. Unknown to many people, Chrome does not come pre-installed on Android TVs, unlike other mobile google platforms. Additionally, Google Chrome is also not available on the Android TV PlayStore for direct download. This is due to Google's stringent requirements on what qualifies as a TV app. To install chrome on your Android TV, you need to download it from third-party sites and sideload it hence the interface will be similar to the mobile versions.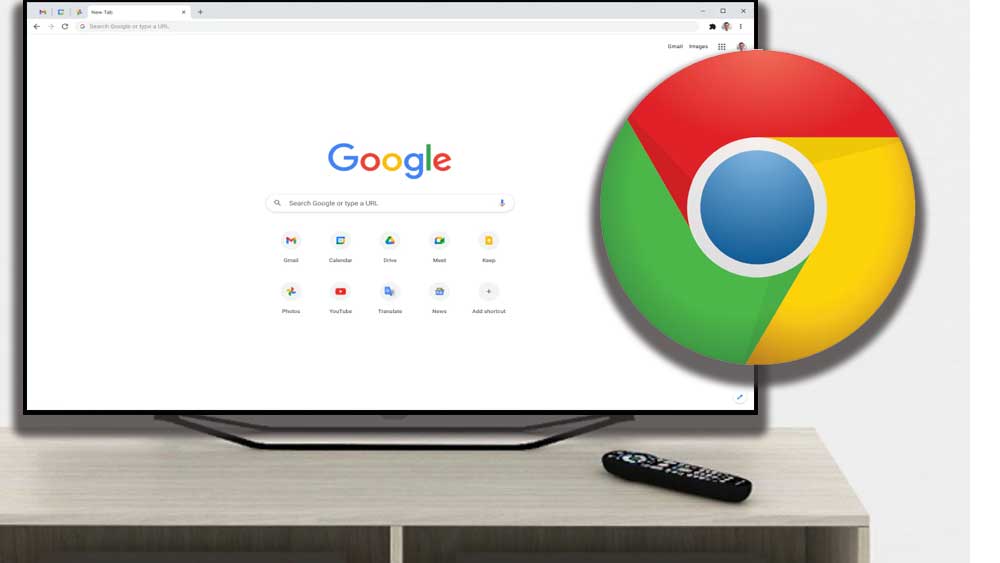 My experience with Chrome on android TV was not very pleasant. For starters, there is no overlay navigator. Also, you may get stuck scrolling from time to time, voice search fails sometimes, and the keyboard does not pop up at other times. On the upside, you get Chrome sync which allows you to bring in bookmarks, passwords, browsing history, etc from your other devices. key to note is that Chrome on Android TV is not optimized for use with TV remotes. You will need a wireless mouse and keyboard for chrome to be usable.
---
Also Read: Must-have apps for your Android TV
Advertisement - Continue reading below
---
3. Firefox
Firefox is another very popular desktop and mobile browser that can be sideloaded onto Android TVs. This is due to the fact that there is no official Android TV version of Firefox available on the TV Play Store. However, there is a dedicated version for Android TV that is built using APIs with a card-like interface with a scrollable navigator. To search, you may enter a URL, use voice commands or open any card from the many available cards. Similar to Chrome, Firefox on Android TV allows you to sync your Firefox accounts to bring your clipboard, passwords, and preferred websites to your homepage.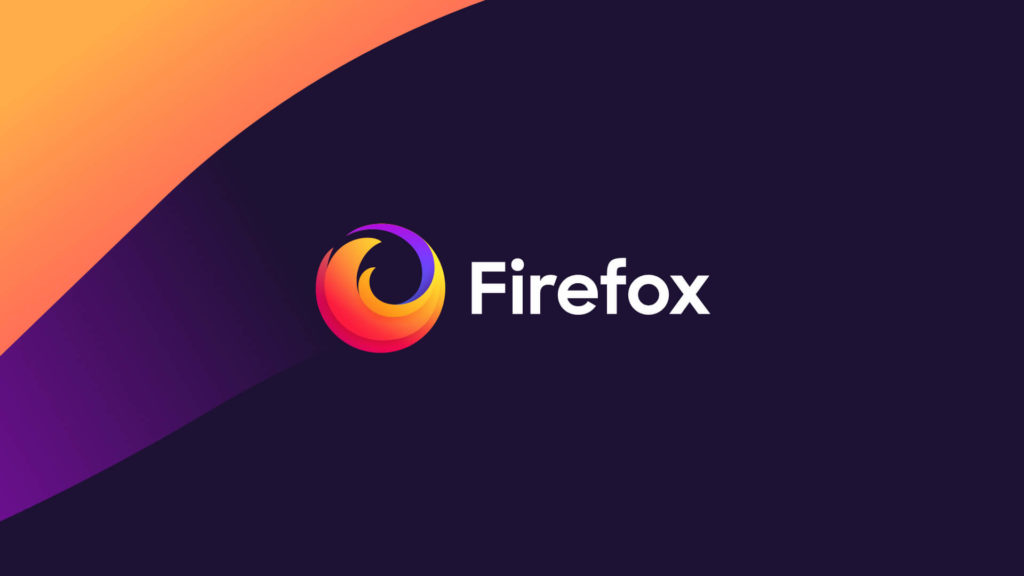 Additionally, unlike Chrome, Firefox extension support is also available on Android TV which is one of its core benefits. Many Firefox users on Android TV have noted that Firefox is noticeably quicker on YouTube than the official YouTube app, who would have thought? Another pro with chrome is that Mozilla is extremely privacy-focused hence Firefox carries extra features to keep you safe online. Such key features include tracking blocking, adblocking, autoplay blocking, and cookies blocking among others.
---
Also Read: 7 Alternative App Marketplaces for your Android TV
---
4. TV Bro
TV Bro is another surprisingly useful Android TV browser that will work remarkably well with your TV remote. This browser is open source and works with Android's built-in web rendering engine (WebKit). This means you have access to the code and you can dig in to see how it works, and what data it collects to ensure it is safe.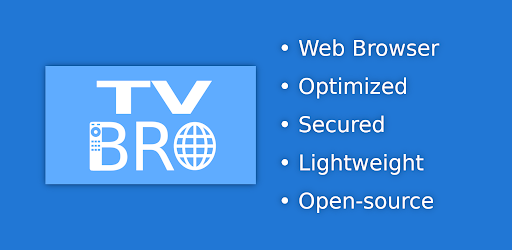 TV Bro can be easily downloaded from the Android TV Play Store and is well optimized to have extended features like bookmarks, tabs, shortcuts, history, user agent switching, and voice search via the remote. Additionally, TV Bro has an inbuilt easy-to-use download manager. All this for free. In my testing, I found this app to exceed my expectations. I'd say just go ahead and try out TV Bro on your Android TV.
---
Also Read: What to know before you sideload apps outside the Play Store
---
5. TVWeb Browser
TVWeb Browser is another decent native web client for Android TV users whose functionality is clearly spelled out by its name. This is a lightweight application that comes without any extra features, just the necessities. Heavy users may end up needing a little more from TVWeb Browser. With this Android TV browser, users can enjoy news, games, music, videos, and a lot more.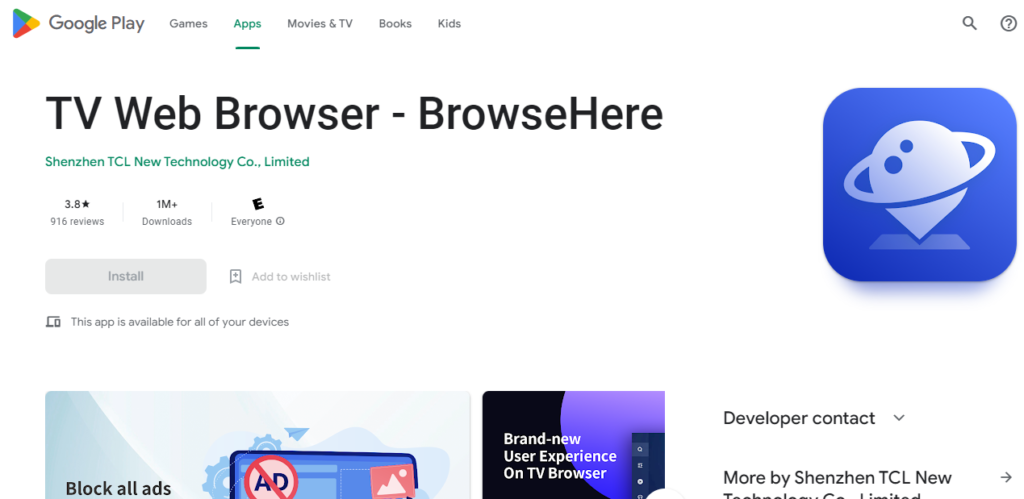 Key point is that this app is readily available from the Android TV Play Store for free and is compatible with your TV remote. Navigation on TVWeb Browser is quite straightforward. On the left side of the screen, you have your favorite search engines, settings menu, and bookmarks. Features-wise, you will enjoy browsing history, user agent switching, bookmarks, and integrated voice search.
Advertisement - Continue reading below
---
Also Read: What is Android TV? 10 beginner's questions answered
---
6. Jio Pages TV
Jio Pages TV browser comes from Reliance Jio, an Indian Telecoms giant that also has a similar app on mobile platforms. This Android TV app can be installed directly from the TV Play Store hence no need to worry about side loading. It is worth highlighting that this is the highest-rated TV browser in the Android TV Play Store and is free to use. Jio Pages TV also has a special section of curated videos with an excess of 10,000 videos from various categories like fashion, lifestyle, movies, etc.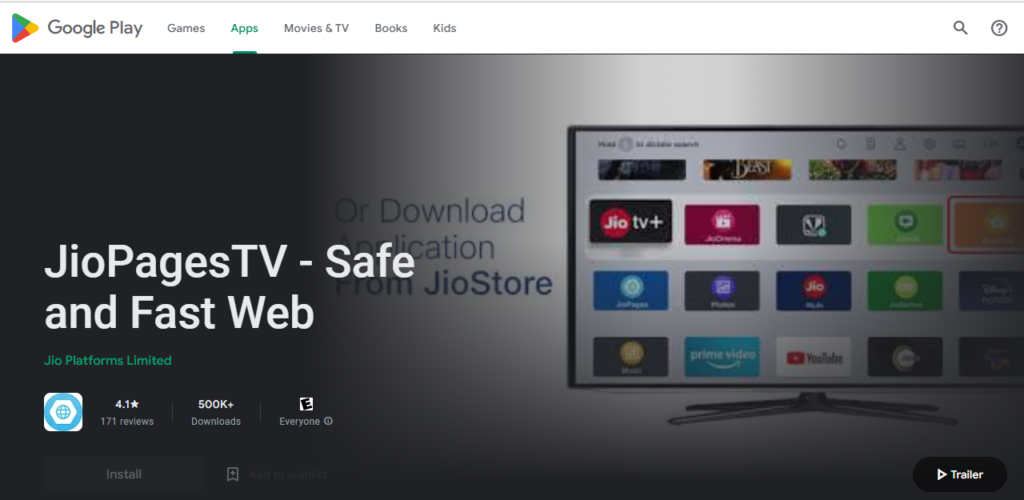 This Android TV browser also packs support for various regional languages. Featurewise, you will also enjoy the very useful incognito browsing mode, a built-in pdf reader, the news section, and a decent download manager. The integrated voice search feature will allow you to search the web via voice commands.
---
Also Read: How To Install Google TV on Any Android TV
---