Android TV operates very much like good old Android for smartphones. If there's an app that's not readily available on the official Play Store, you can always sideload it from trusted APK download sites. Look no further than APKPure, APK Mirror, Aptoide and APK Store or the legitimate app websites. A word of caution here though; not all apps are safe to download.
The process to install an APK file on Android TV isn't as straightforward as it should be though. The thing is, Android TV doesn't play nice with apps not sanctioned by the Play Store. Even after successfully installing the apps, you may not see them displayed with other apps from the Play Store. Rather, you will have to install another app (thankfully available on the Play Store) to be able to view them.
Advertisement - Continue reading below
As an aside, keep in mind that sideloading apps inadvertently sidesteps Google's Play Protect security features. But if you are cool with it, we can give you a walkthrough in good conscience.
Wireless File Manager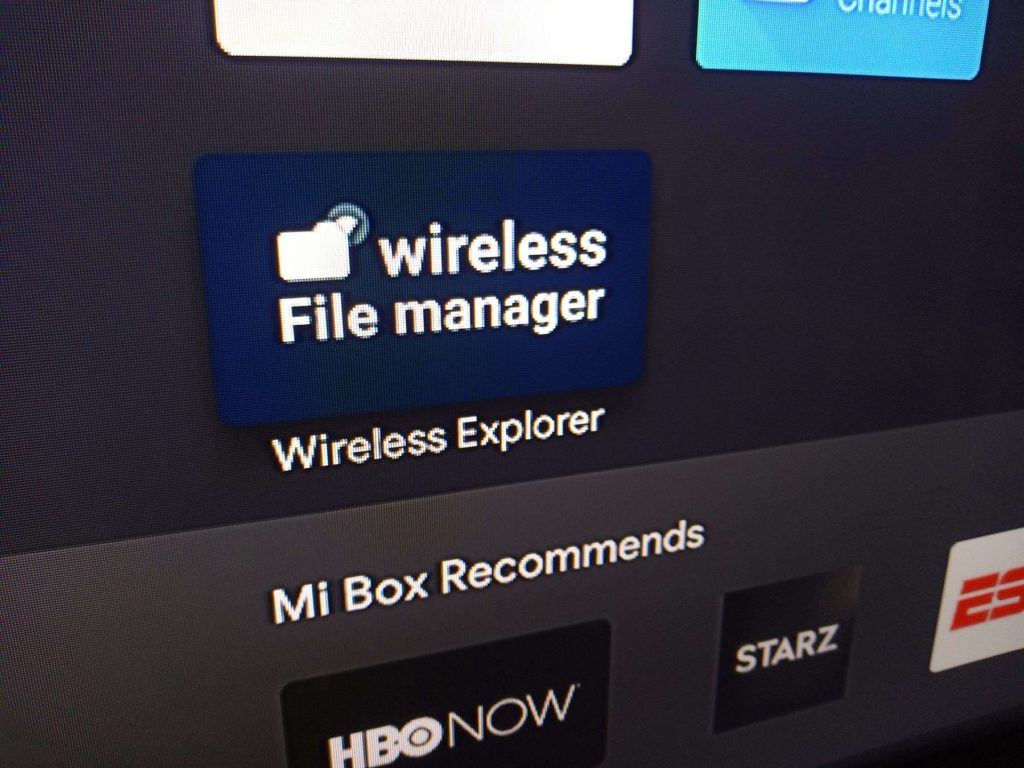 There are numerous ways to download and install APK files onto your Android TV. If you're tech-savvy, you can do this six ways from Sunday before your toaster pings. But what I was looking for though was an easy hassle-free way to install an APK not found on the Play Store. After scouring the Play Store and downloading a gazillion apps, we chanced upon the Wireless File Manager. It doesn't look like much on the surface, but it gets the job done quite efficiently.
Here's what to do.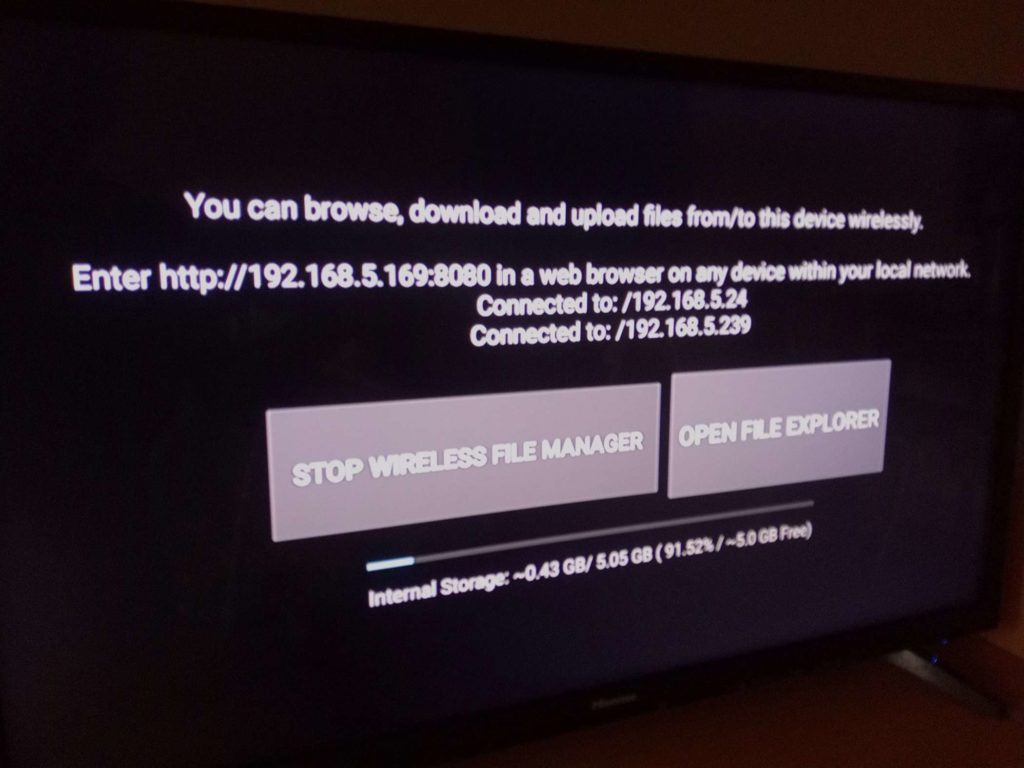 >>Download an APK e.g. Aptoid, a free alternative app store for Android TV and set-top boxes on your PC using your browser.
>>Install Wireless File Manager from the Play Store
>>Open Wireless File Manager. Follow the prompt to grant Storage permission.
>>Select Allow
>>Tap on "Start Wireless File Manager"
>>Enter provided URL (i.e http://192.168.5.169:8080) in a web browser within your local network. It has to be the same network on both PC and Android TV.
>>On your browser, navigate to 'Choose File' to upload the APK file to Wireless File Manager directory.
>>Hit send
>>Go to your Android TV and open File Explorer in your Wireless File Manager app.
>>Click on your now visible file APK to install. Follow all the prompts.
Enable Unknown Sources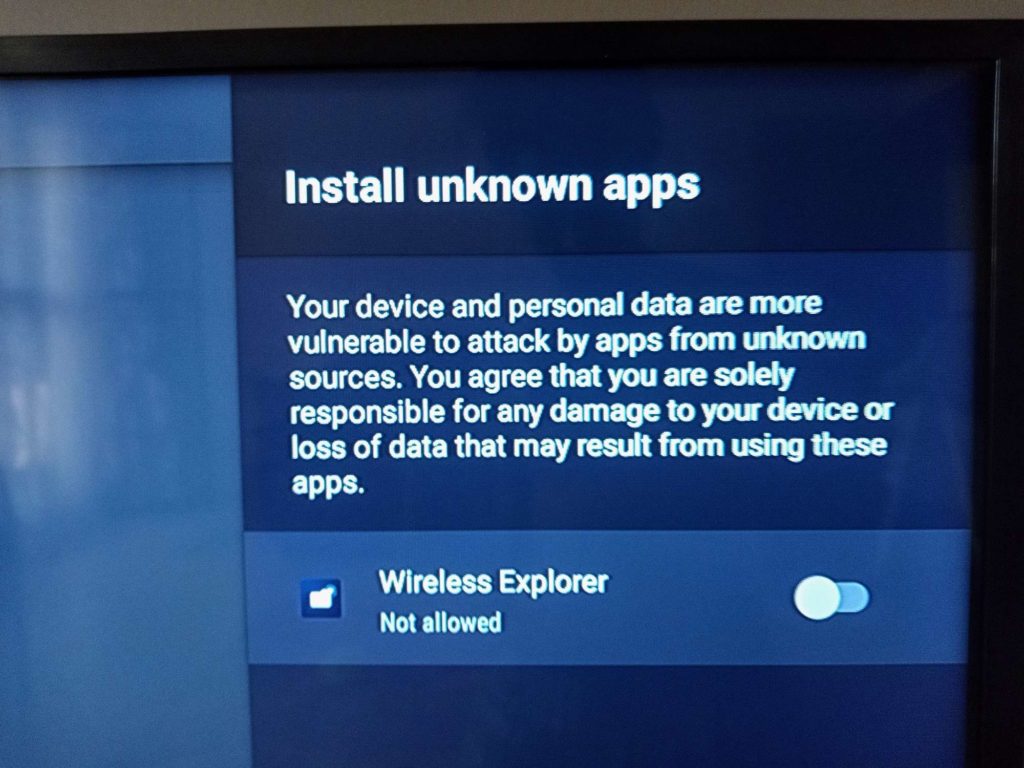 Even if you are going to make it a habit to invite unsanctioned apps through the back door, Android won't let you leave the door open. Android TV will only let you allow to install individual apps from unknown sources. Call it making a sober decision every time when you install an app. As such you have to agree that you are solely responsible for any damage to your device or loss of data that may result from using apps from unknown sources.
One more thing. You have to give the app you're installing one more permission. Often times, the app will ask to access photos, media and files on your device. Once you set it to allow, you're all set.
Advertisement - Continue reading below
---
Related:
---
Some other ways to install APKs from unknown sources
USB flash drive: Download the APK as mentioned earlier onto a USB drive and plug it into the Android TV box. Use a file manager to locate and install the APK.
Install third-party apps e.g. Aptoid which have their own repositories of apps you can install.
Transfer APK file via USB: It's not for the faint of heart
Photo by Panos Sakalakis on Unsplash