The Galaxy Watch 4 Series was one of the devices unveiled in Samsung's Unpacked Event and it also gets the title of being the first smartwatch to come with the new Unified OS by Google and Samsung – Wear OS 3 / Wear. You can check out what's new about the Wear OS here. Still retaining the circular watch face of the Galaxy Watch 3, the new watch has a more unibody look. Quite a number of improvements have been made to the new generation of Samsung's watch series so without further ado, let's dive right in.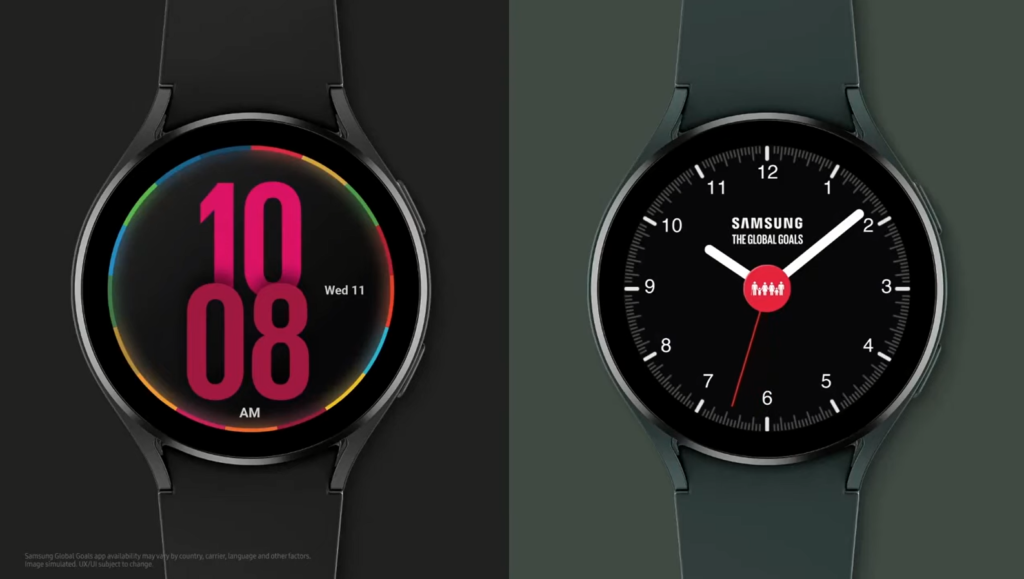 Right out of the box, the Galaxy Watch 4 comes with 40 different watch faces and a plethora of watch straps to choose from. You can continuously measure your blood oxygen level as you sleep to get the quality of sleep by how well you're breathing while sleeping and how constantly you move during your sleep.
Advertisement - Continue reading below
Samsung Galaxy Watch 4 Series Specifications
1.4-inches 450 x 450 pixel Super AMOLED display
1.2-inches 396 x 396 pixels Super AMOLED display – Classic option
Dual-core 1.18 GHz Cortex-A55 Exynos W920 (5 nm) processor
1.5GB RAM and 16GB storage space
361mAh / 247mAh non-removable Li-Ion battery
46mm (52g) and 42mm (47g) – Classic
44mm (30g) and 40mm (26g)
Corning Gorilla Glass DX
Qi wireless charging
Blood pressure monitor
ECG monitor
eSIM support (LTE connectivity)
IP68 certified (up to 50m water resistant)
Strap Colours – Black, Pink Gold, Silver and Green
MIL-STD-810G compliant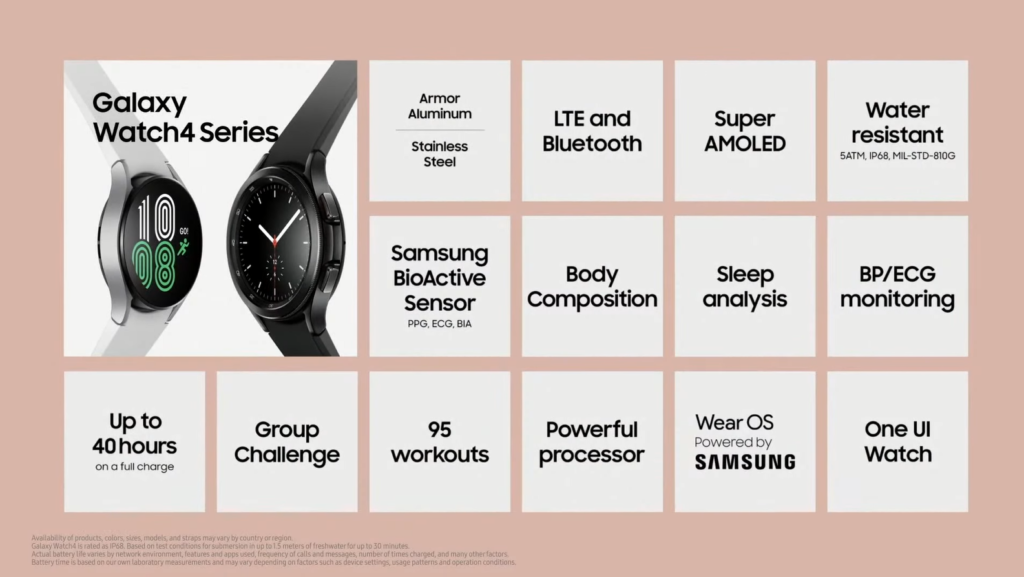 Body Composition
The new smartwatch would now be able to estimate your body composition using a new incorporated technology called Bioelectrical Impedance Analysis (BIA). This method uses a weak electrical pulse to detect the body's water composition, so low impedance translates to you having more water (as water has low electrical impedance) in your body which means more muscles since most body water is stored in muscles and vice-versa. This way you get a more accurate estimate of your biomass in comparison to just measuring your bodyweight.
How to Measure Body Composition on Galaxy Watch 4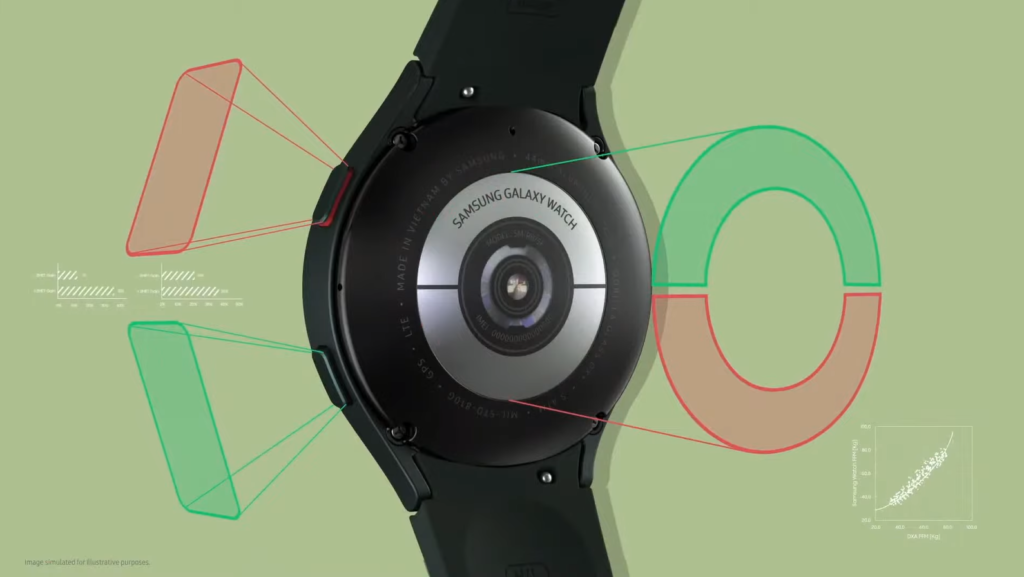 For this feature, you can see the newly added conductive disjointed ring on the back panel of the watch to get impedance readings from your body. To take a reading, just place your two fingers on the side buttons (electrodes) as shown below and your body composition would be measured and displayed to you instantly.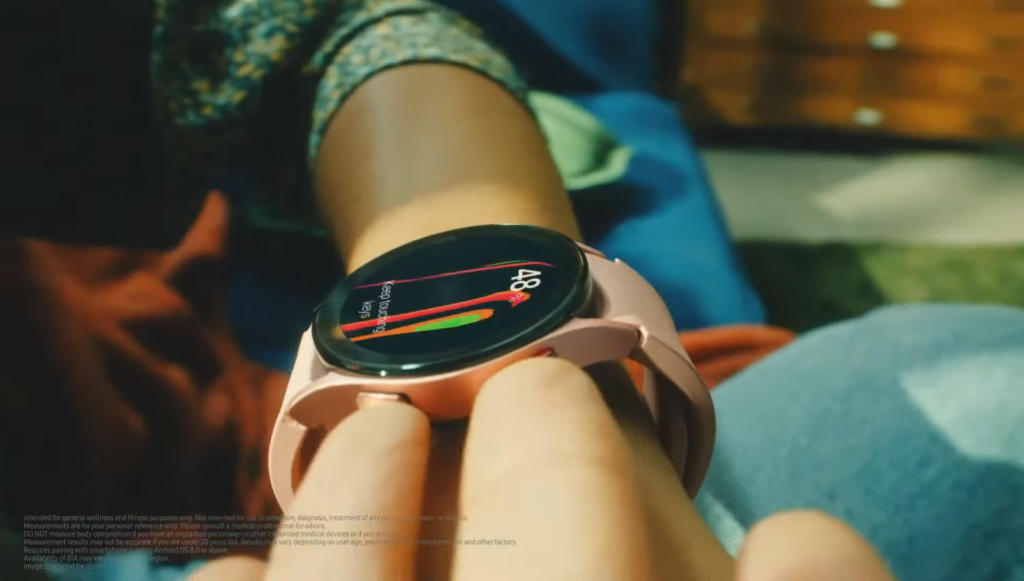 Blood Pressure and ECG monitoring
Apparently Blood Pressure and ECG monitoring are not available in all countries and with the Galaxy Watch 4, Samsung is bringing both features to more countries. Here are the countries where these two features are currently available.
Austria
Chile
Estonia
Greece
Ireland
Netherlands
Russia
Poland
Slovakia
UAE
Brazil
Czechia
Lithuania
Sweden
Azerbaijan
Croatia
Finland
Hong Kong
Italy
Norway
Germany
Iceland
Latvia
Portugal
Slovenia
Romania
Singapore
Switzerland
Belgium
Cyprus
France
Hungary
Korea
UK
Bulgaria
Denmark
Georgia
Indonesia
Spain / US County
Furthermore, like the previous generation of Samsung smartwatch, the Galaxy Watch 4 has LTE connectivity which gives you freedom from your smartphone while helping you stay connected at the same time.
One UI Watch
The Galaxy Watch 4 comes with an improved and simplified UI to make navigating the smartwatch easier. With two physical buttons at the side servicing as the home and back buttons respectively. You also have a bezel navigation system that allows you to control the watch by swiping around the circular bezel.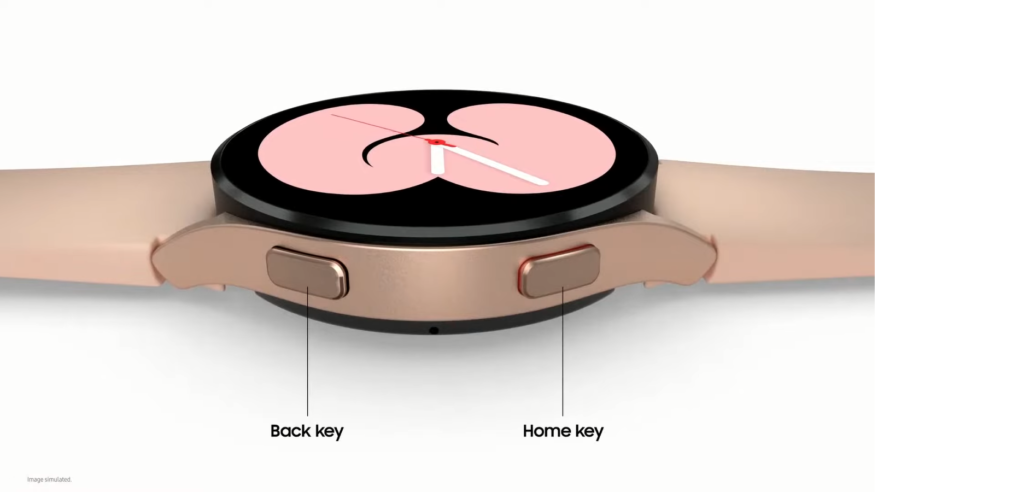 Also, you now have gesture controls that allow you to use your Galaxy Watch 4 without even touching it. You can answer a call by waving your forearm up and down or dismiss alert by shaking your wrist sideways.
Advertisement - Continue reading below
You've got all the features from the Galaxy Watch 3 like different workout modes, calory monitor, competitive fitness leaderboard to motivate you towards your goal and more.
Pricing and Availability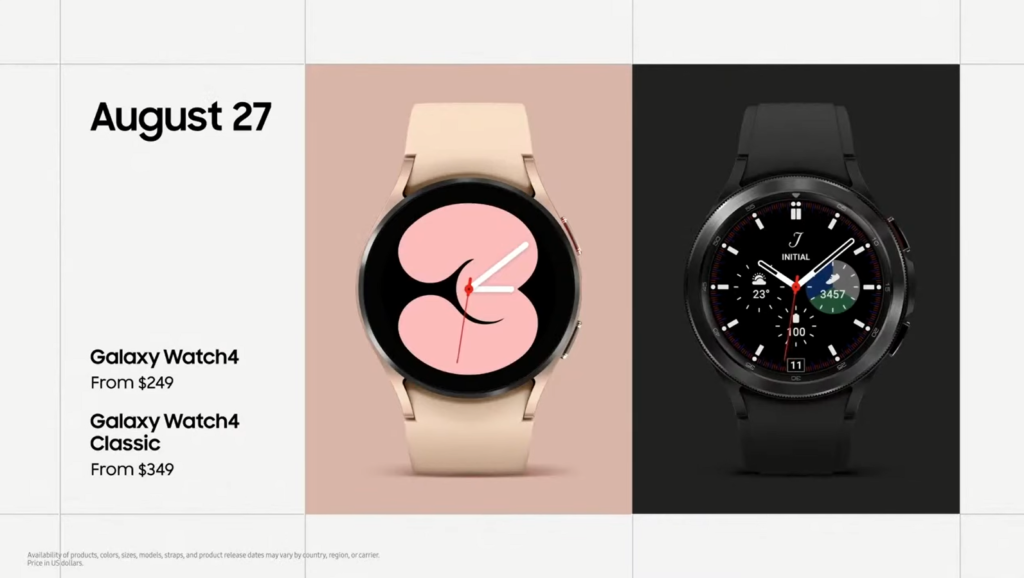 The Galaxy Watch 4 series won't be available until August 27 and will cost $249 for the ordinary version and $349 for the classic model. There is also a Galaxy Watch 4 Classic Thom Browne Edition which will not be available until September and will definitely cost more being limited Edition, however, the price has not been announced yet.