Yeelight makes some of the best budget smart lights today. You can get one for only about $9 on Amazon. I have been using Yeelights for a while now and they make up the majority of my house's smart lights. The Yeelight bulb works just like a conventional bulb. You simply plug it into the light fixture or holder and turn on the switch. It'll just work. However, if you want to use some of its smart features such as controlling it using a smart speaker or making it work with your other smarthome products, then you need to properly it up.
Alright, with me is the Yeelight Smart LED bulb. I have both the white and color versions. But the setup process is more or less the same. Before you get started, here's what you need;
Advertisement - Continue reading below
Download Yeelight app from the Google play store or Apple App store.
Yeelight or Xiaomi account.
Make sure Bluetooth is turned on your phone.
WiFi router with 2.4GHz frequency band. Note that it doesn't work with 5Ghz band. If your WiFi router is dual-band, then make sure it has separate SSIDs or WiFi names for the 2.4Ghz and 5Ghz bands.
Make sure that your WiFi router uses WPA/WPA2 WiFi security instead of the newer WPA 3 standard. This is a requirement for your Smart bulb to work.
WiFi router's DNS servers should be set to Google's public DNS servers; 8.8.8.8 or 8.8.4.4. This is helpful while troubleshooting if the default DNS settings do work.
If you're not setting up the bulb for the very first time, reset it first. To reset your light, switch it on and off 5 times until the light blinks.
Related post: How to fix Yeelight bulb not connecting to your WiFi Router
If you downloaded the Yeelight app and signed in with your Yeelight/Xiaomi account and you have correctly setup your WiFi router as stated above, then you're ready to start the setup process.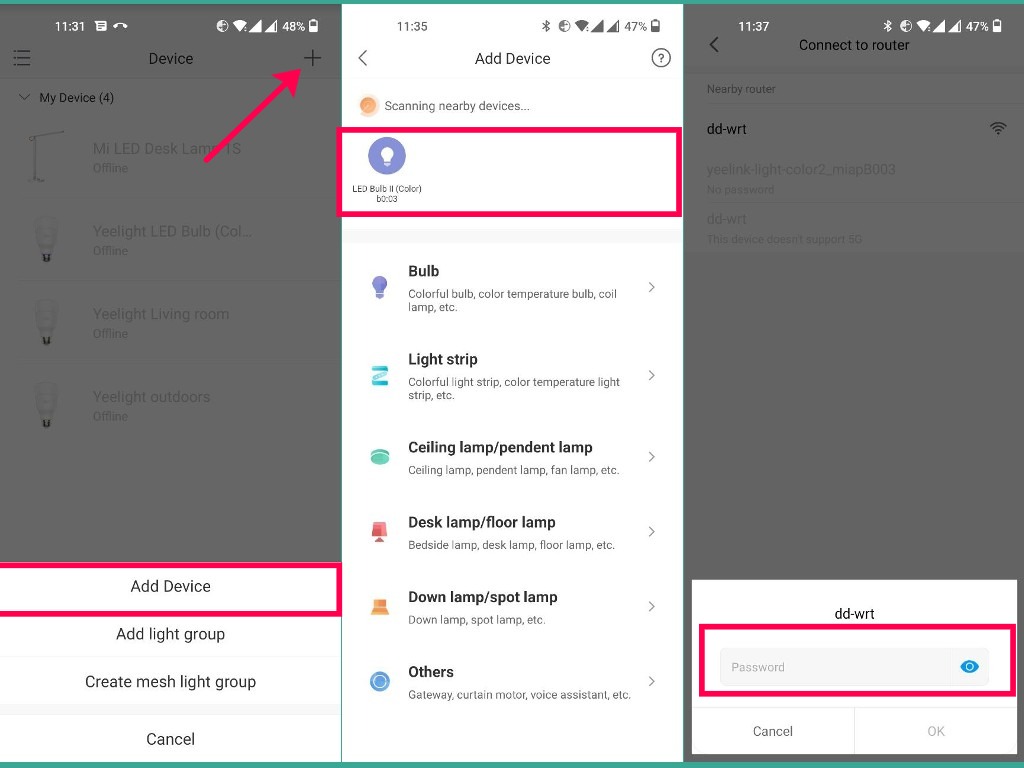 Open the Yeelight app and tap on the plus icon on the top right corner to add a new light. Select "Add Device" from the menu.
The Yeelight app will start scanning nearby devices to search for your new Yeelight bulb. If the light is not automatically discovered, try to reset it first by switching it on/off 5 times until it blinks.
Tap on your newly discovered light. Mine shows up as LED Bulb II(Color) b0:03.
Connect it to your WiFi router. Make sure you connect it to the 2.4GHz band. You'll be prompted to enter your WiFi password. Tap on next.
Connect your phone to the Yeelight's WiFi network. This WiFi network is created by the bulb. Mine shows something like "yeelight-light-color2-miapB003". Return to the app to complete the set up.
The setup should be complete now. You can go ahead and name your Yeelight. You can leave the default name such as in my case "Yeelight LED Bulb(Color)".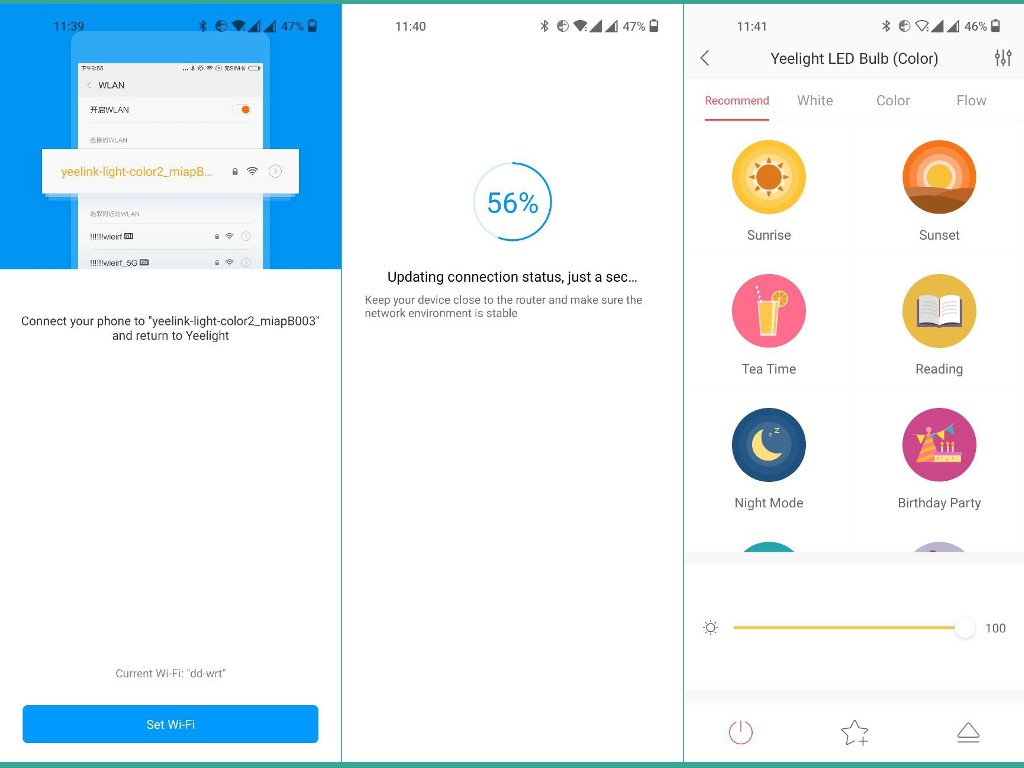 Now your Yeelight is properly setup and ready to be controlled from your smartphone. You can set up different light modes or scenes such as sunrise, sunset, tea time, reading, night mode, movie, romance and so forth. You can increase or decrease the brightness. You can change to different colors if you have the colored version. You can turn it on and off remotely wherever you are. You can connect to a smart speaker such as the Google home mini. These are the smart features you get when you correctly setup your Smart bulb.
Advertisement - Continue reading below