Last week, Multichoice which is DStv's parent company launched an internet service aimed at users without Fiber connection. Although multichoice operates in several African markets, the internet service launched only in South Africa.
Multichoice is diversifying away from traditional terrestrial and satellite Pay TV service into internet provisioning. The company which owns DStv, GOtv and online streaming service Showmax has over 20 million customers across 50 countries in Africa. The company has now launched an internet service in partnership with telecom giant MTN South Africa.
Advertisement - Continue reading below
DStv Internet is a fixed 4G LTE wireless access service, which means that customers can now get connected to the internet with a 4G SIM card and Wi-Fi router. This is an option for those who do not have fibre in their residential area but want to access the internet regularly using various devices in their home. 
DStv Internet packages and prices
DStv Internet entry package starts at 25GB with additional 25GB night-time data and a ZTE MF286R 4G router for price of R 225. Then 110GB and a ZTE MF286C router for R 499 and 250GB with the latter router for R 799. The ZTE MF286R 4G supports 300Mbps download and 100Mbps download speeds and connects up to 32 devices. The more powerful ZTE MF286C router supports 400Mbps download and 150Mbps upload with upto 32 devices.
25GB Anytime and 25GB Night-time data – R 225
110GB Anytime and 110GB Night-time data – R 499
220GB Anytime and 220GB Night-time data – R 799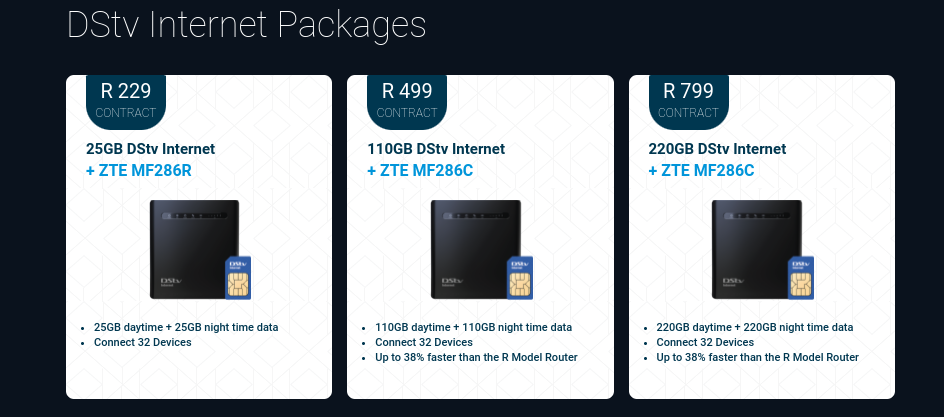 The DStv Internet offering also includes an exclusive new premium service called DStv Trusted Home, an AI-driven network security and Wi-Fi management solution developed jointly by MultiChoice's digital platform security subsidiary Irdeto, and Minim – the creator of intelligent networking products.
The DStv Trusted Home not only comes with an iOS and Android app that puts subscribers in control of their Wi-Fi connection, but it also protects consumers' home network from online security threats and malicious attacks and keeps children safer online with parental control features.
As part of the launch of DStv Internet, the first 20 000 customers will receive a free 12-month subscription to the DStv Trusted Home app. After 12 months, customers will have the chance to opt-out or add a monthly charge of R30 to their DStv Internet bill. 
Customers can also choose bundle options that include a DStv Internet data package with their DStv subscription, making it even easier to stream their favourite shows from the DStv App, and Showmax. To apply to DStv internet visit dstvinternet.multichoice.com or DStv walk-in centres across South Africa.
Advertisement - Continue reading below