The Galaxy Chromebook Go is the first Chromebook I have used. So this review is a lot more about my first experience with Chromebooks coming from a traditional Windows/Linux/Mac background. Chromebooks are mostly under-powered laptops aimed at education. But more recently, Chromebooks are breaking out of this niche market segment into the mainstream. So I bought myself the Samsung Galaxy Chromebook Go 14" from Amazon for $269.99. Could a Chromebook be your next laptop? Let's find out.
Chromebooks are powered by the Chrome OS operating system, which I reviewed for complete beginners. In a nutshell, Chrome OS is an internet-driven platform that's tightly integrated with Google's online productivity suite with the Chrome browser at the center.
Advertisement - Continue reading below
Read more: Chrome OS Review for Beginners: Is It More Than Just a Glorified Browser Now?
The Galaxy Chromebook Go comes in both WiFi and LTE models. The WiFi model is a standard Chromebook that connects to the internet primarily through WiFi connection while the more pricey LTE model uses a Sim card to connect to any 4G mobile network for internet access just like your phone.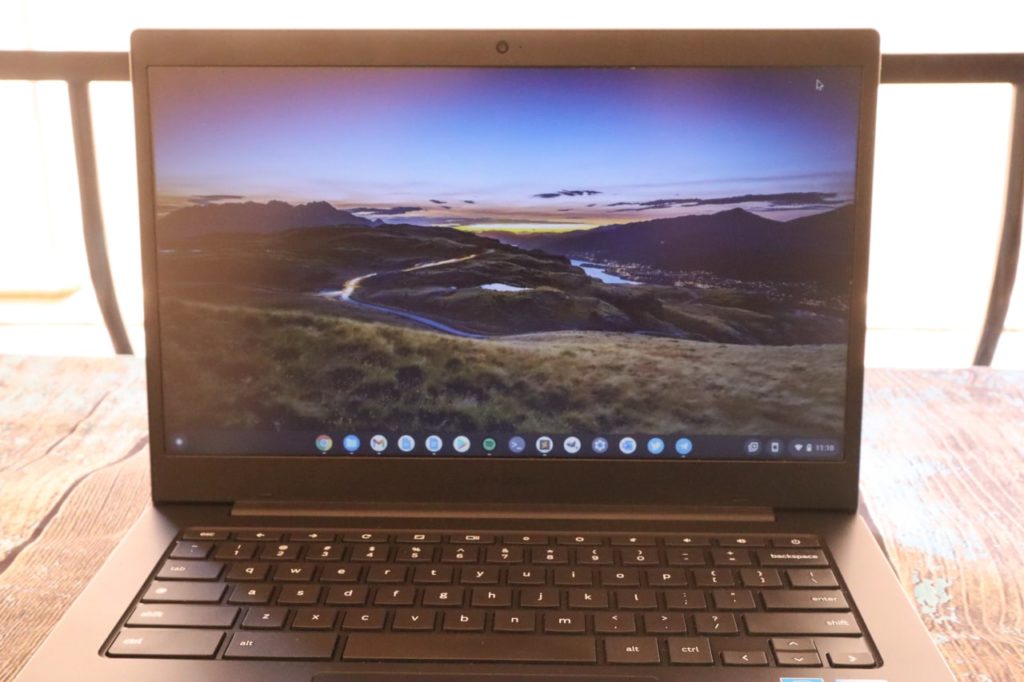 Chromebooks are minimalist laptops and this Galaxy Chromebook Go doesn't disappoint. It weighs only 3.2 lb or 1.45 Kg and measures 12.88″ x 8.88″ x 0.63″ with a 14" screen. So it's lightweight and slim enough to fit into your backpack.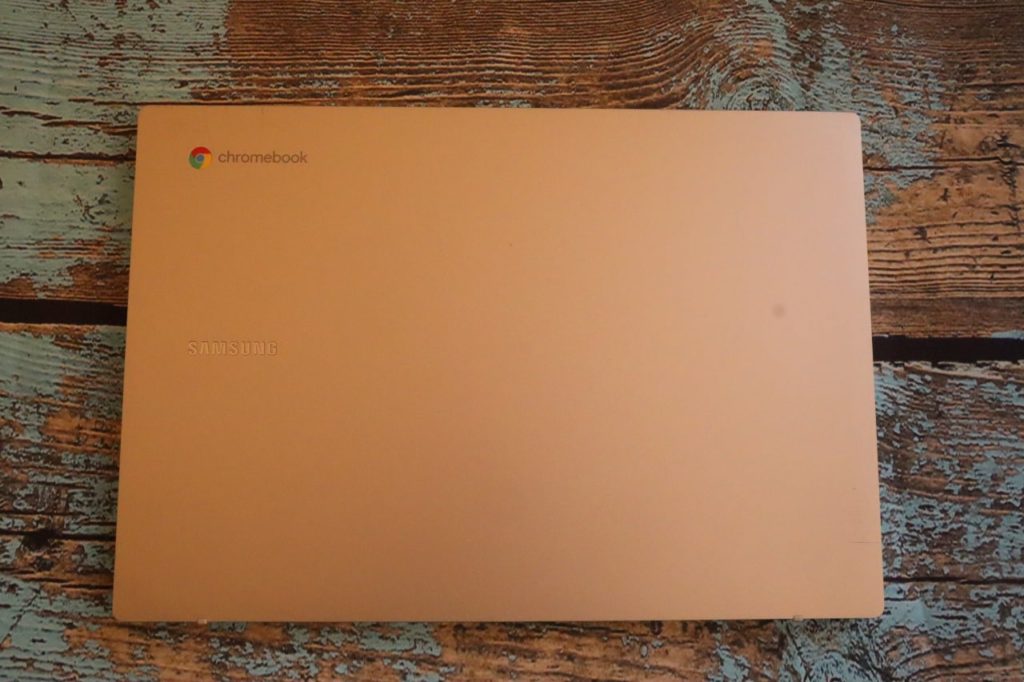 The outer body is made of plastic, but you can be excused for mistaking it to be metallic because it's got that nice silver aluminum feel. The hinge feels tough and sturdy with a 180 degree swivel. The keys on the keyboard are well spaced out, all printed in lower case. I like how wide the touchpad is relative to other laptops this size.
The laptop screen is 14″ with an anti-glare LED display with 220 nits of brightness. It has a 1366×768 resolution which is HD, but not Full HD. So this screen is not the best in class, but is good enough for the price you're paying. Samsung has also included a 1MP 720p HD Web Camera which is good enough for your online Zoom or Google meet calls. You'll need to be in a well lit area to get good picture quality with the built-in webcam otherwise you might need an external FHD webcam for better quality.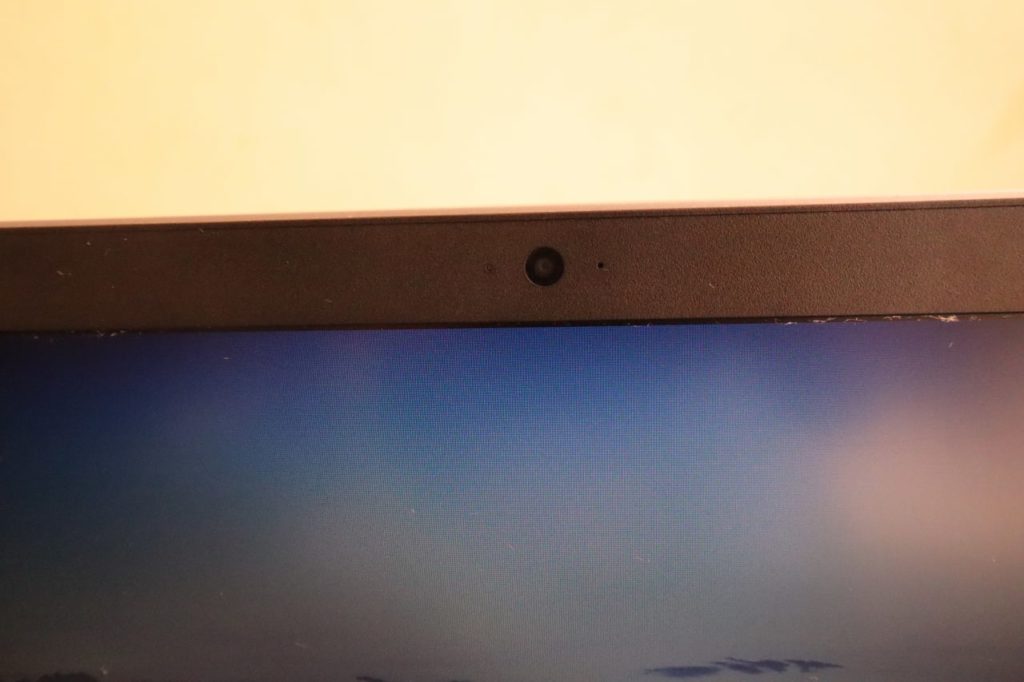 The two 1.5W (each) stereo speakers of this Chromebook are located at the bottom of the laptop. I am not sure why Samsung chose that location for speakers. Nevertheless, the sound output is not affected much by the location of the speakers. The sound output from causal playing of Spotify, watching YouTube and Netflix was actually good.
Advertisement - Continue reading below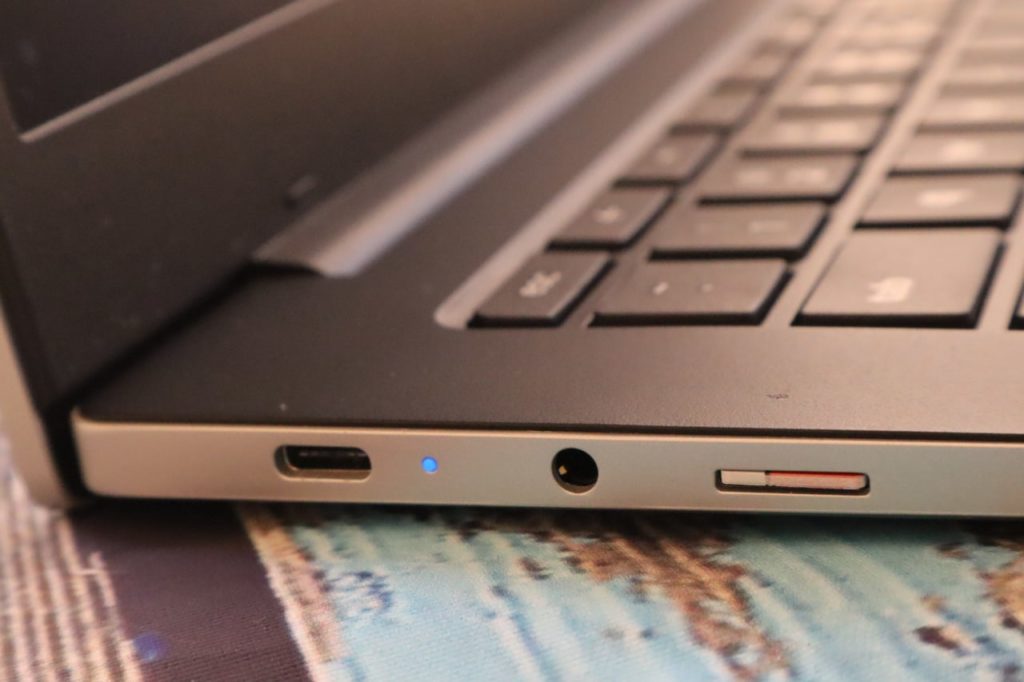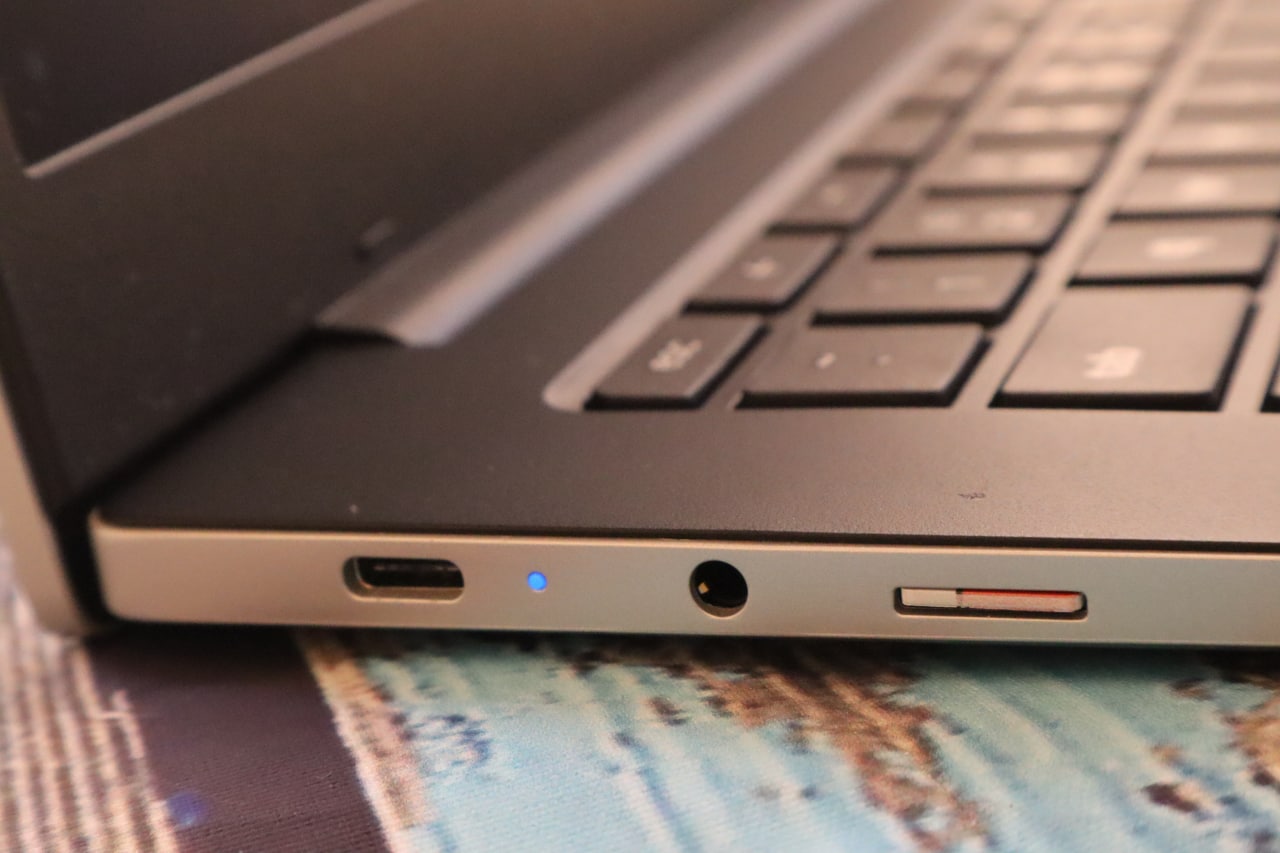 On the connectivity front, this laptop has two USB-C ports, one standard USB-A port, headphone jack and Micro SD card slot. The USB-C ports can be used for charging the Chromebook, data transfer and connecting to external monitors via an HDMI adapter. In the box, you get a 45W USB-C fast charger along with its cable which you can use to charge the Chromebook as well as other USB-C devices such as your smartphones or power banks.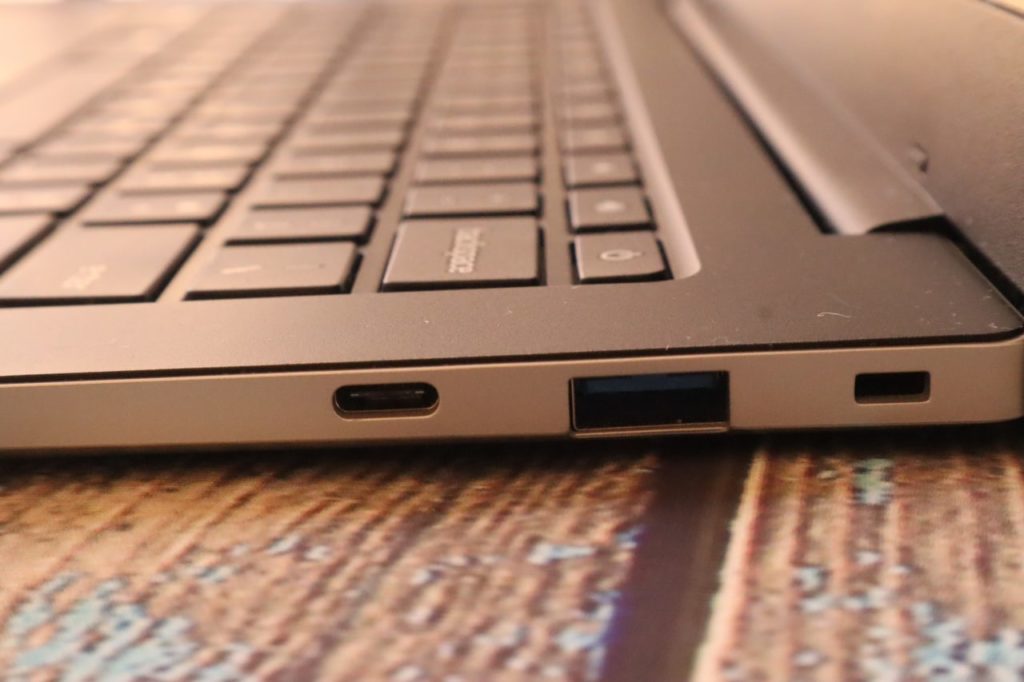 The rectangular-shaped USB 3.2 standard USB-A port is great for connecting to your flash disks or portable external hard drives or slowly charging your portable devices or external mouse and keyboards. However, the oval-shaped USB-C ports are now replacing the old standard USB-A ports. Budget chromebooks like this one come with eMMC 32-64GB of flash storage. But you can increase this storage using Micro SD/SDHC/SDXC card upto 2TB. Thanks to eMMC flash storage, this Chromebooks boot really fast typically less than 10 seconds and wakes up from sleep almost instantly. If you are transferring files from say your DSLR camera, you'll need a dongle to transfer phones from a standard SD card.
On the wireless connectivity front, you get WiFi 6, the latest WiFi standard and Bluetooth 5.1 on this WiFi model. You will only take full advantage of WiFi 6 if you have a compatible WiFi router such as the Netgear Orbi with Wi-Fi 6 (RBK852). WiFi 6 brings improved power management, better network congestion support and faster data transfer speeds compared to WiFi 5, its predecessor. With Bluetooth 5.1, you get a fast connection to your Android smartphone for fast file sharing using Nearby Share and audio devices such as headphones, TWS earbuds and speakers.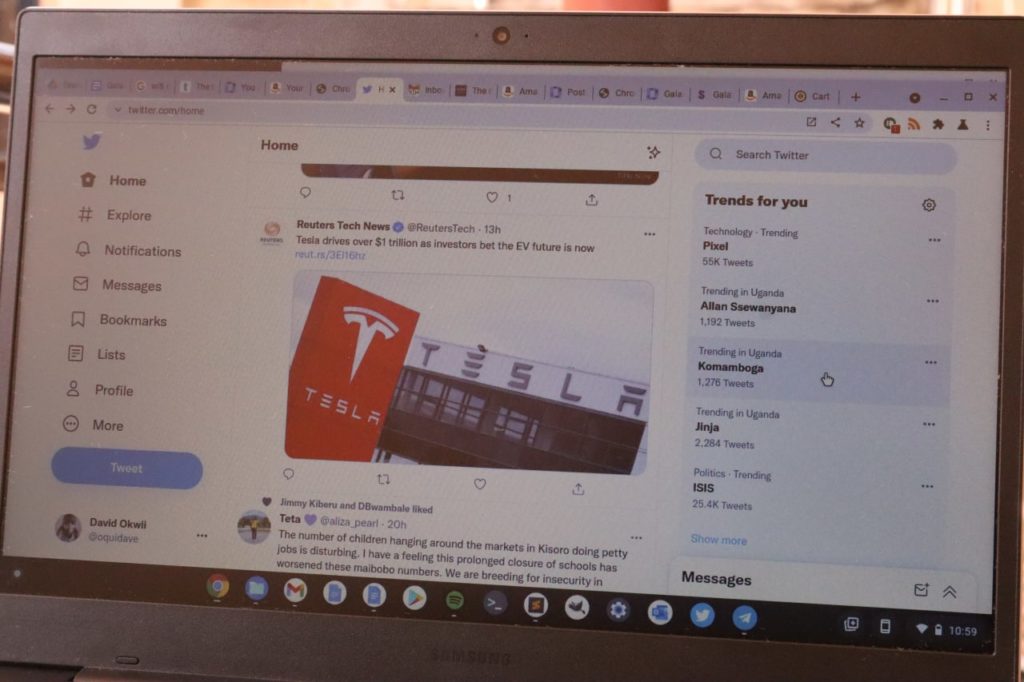 This Chromebook comes with a 2-cell 5480mAh Lithium Ion battery which according to Samsung gives you 12 hours of battery. According to my tests, I was able to squeeze out at least 6 hours of active usage browsing the web and occasionally playing music. This is still incredible performance which makes Chromebooks ideal for road warriors or students attending classes without convenient charging sockets.
Galaxy Chromebook Go Full Specs
Model: Galaxy Chromebook Go
Operating System: Chrome OS
Processor / Chipset: Intel® Celeron® Processor N4500
Processor Speed (GHz): 1.10
Turbo Boost (GHz): 2.80
CPU Cache: 4MB L3
Display Size: 14.0″
Display: Anti-Glare, 220 nits
Resolution: HD, 1366 x 768
Color: Silver
Memory: 4 GB LPDDR4x Memory (On BD 4 GB)
Storage: 32GB, eMMC
Graphic: Intel® UHD Graphics, Integrated
Multimedia: Stereo Speakers ( 1.5 W x 2 ), Internal Digital Mic
Webcam: 720p HD Camera
Microphone: Internal Digital Mic
Bluetooth: v5.1
WiFi version: Wi-Fi 6 (Gig+), 802.11 ax , 2×2 Antenna
Input/Output: Touch Pad / Track Point
I/O Ports:
2 USB Type-C USB 3.0
1 USB-A 3.2 port
MicroSD Multi-media Card Reader
1 Headphone out/Mic-in Combo
Advertisement - Continue reading below
Power:
Number of Cells/Cell Type: 2 cell / Li-Ion
Battery capacity: 5480mAh, 42.3 Wh
Battery Life: 12hrs
AC Adapter: 45W
For a laptop that gives you a whole day's battery and fast WiFi 6 connectivity for sub-$200 price point, I think the Galaxy Chromebook Go is worth your bucks. I would recommend this laptop to users who are versatile or don't have pre-existing workflows that require custom software apps that only work on Windows or Mac.
Price and availability
The Galaxy Chromebook Go WiFi model goes for $299 on the Samsung website. But this same product goes for a much lower price of $249.99 on Amazon. If you live in Uganda, this Chromebook will be listing on Odukar Store soon.