Samsung announced a couple of devices at the just concluded CES 2022: A new portable 'Freestyle projector', a 55-inch next-generation gaming screen called Odyssey Ark, a Samsung Home Hub, among others.
The Samsung Home Hub is a first of its kind from Samsung, and according to Samsung, this device will serve as a central hub and make it a lot easier to control the smart home devices in your home. This device is coming with a couple of interesting features that I think already established brands in this space (like Amazon, Apple, and Google's smart display) can adopt.
Advertisement - Continue reading below
Display and Design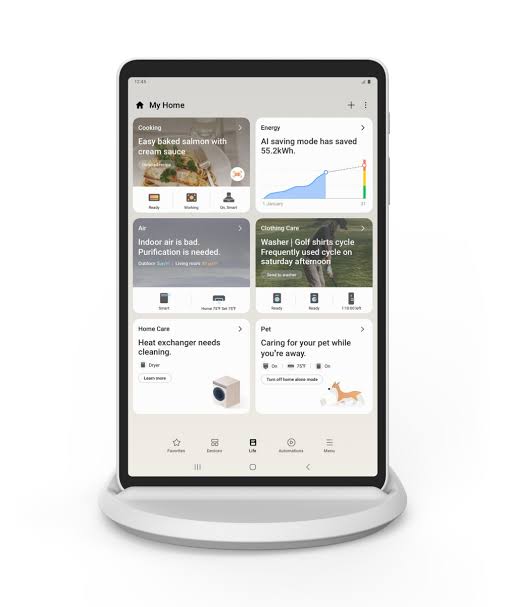 This device is a portable, 8.4-inch touchscreen tablet. And I think a large screen is the missing piece we've all been waiting for to communicate seamlessly with our smart gadgets. However, because of the share amount of tasks and controls placed on Smart displays with really small screens, like the Amazon Echo Show that serve as smart hubs, users require multiple swipes and taps to interact and get what they need from their smart devices. 
The Samsung Home Hub's larger screen makes interaction a lot easier. Shortcuts to control your smart devices can be accessed easily, you can view live camera feeds on a larger screen, more icons can be displayed on the screen.
Also, unconfirmed news suggests that the device will run on Android. From the images we've seen, it looks like it can be used both horizontally and vertically. It can, however, only be charged sitting in a vertical position. Furthermore, the portability of the Samsung Home Hub makes it an easy device to pick up and carry around your home.
Features
The device has got Samsung's Bixby voice assistant built-in, and it has two microphones and two speakers that'll allow users to easily hear notifications and use the voice command feature. It is said that the device will also use AI to "anticipate what you might need" (We'll wait to see how that pans out).
The Samsung Home Hub will be compatible with every product within the 'SmartThings' ecosystem, and that includes all your Samsung smart home appliances. Samsung also says that users will also have direct connectivity to other devices (lights, door lock systems, etc) in their smart home system.
The Samsung Home Hub will be available in Korea from March and will be shipped globally afterward.
Advertisement - Continue reading below