Finally, it looks like we are gradually moving away from projectors that we will have to hang and that'll sit endlessly in our basement theater or that'll have a permanent place in our living room or conference room in our work places.
Announced at CES 2022 (a yearly tech event that serves as a platform for for tech companies to unveil high-concept, futuristic tech products), Samsung is introducing an ultra-portable, versatile Freestyle HD projector. A device way more flexible and portable than the regular projectors we all know. Looks like portability is fast becoming a norm for gadgets and tech products.
Advertisement - Continue reading below
Samsung Freestyle Projector: Specs and Features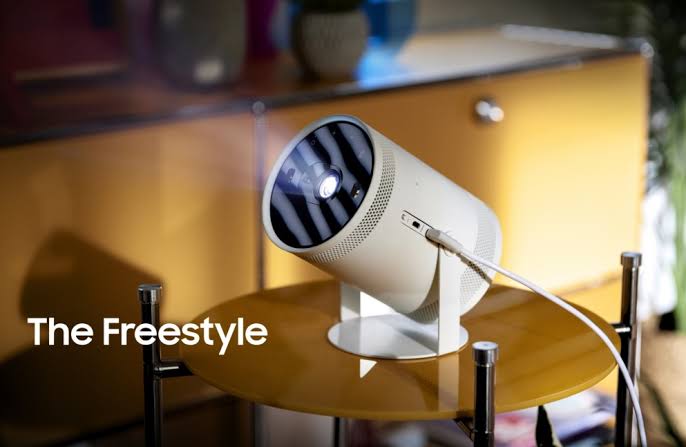 Design Color: WHITE
Video Screen Size:30~100 inches, Resolution: 1,920 x 1,080
Sound Output (RMS): 5W, Speaker type: 360 Degrees
Bluetooth: Yes
Wi-Fi: Yes (WiFi5), Wi-Fi Direct: Yes, Bluetooth: Yes (BT5.2)
Dimensions: Without Stand: 3.7″ x 5.3 "x 3.7 inches, With Stand: 4″ x 6.8″ x 3.7 inches, Stand Size: 3.9″ x 3.3" x 3.7 inches.
Operating System: Tizen
Let us begin with its looks. The Samsung Freestyle Projector is a 1.83 pound (0.83kg) and measures at just 3.7-by-5.3-by-3.7 inches. And unlike the traditional projectors we know, the Freestyle is a 180-degree vertically adjustable projector.
And, although it doesn't support 4K video (as you will find on some higher-end projectors), the 1080p HD can produce an auto-focused and auto-leveled image at different sizes, from 30 inches to 100 inches on any flat surface including walls, tables, etc. The device also features a 360-degree five-watt speaker, as well as an HDMI port and one USB-C jack.
The device is currently available for pre-order on Samsung's website for $899.99 and you get a free Freestyle case along with your order. Also, according to the website, this device will start shipping from the 8th of February. It is also currently available for pre-order on Amazon (to begin shipping on 14th February) for $897.99.