The newly-introduced HomePod offers both intercom and HomeKit support and many more.
In the recent Apple event, Apple introduced the latest version of the HomePod smart speaker among other new devices. The new smart speaker dubbed the 'HomePod mini' is a smaller, budget-friendly version.
Advertisement - Continue reading below
Unlike the oblong design of its predecessor, the new smart speaker is significantly smaller and is wrapped in a compact spherical mesh fabric. It measures 3.3 inches tall and 3.9 inches wide (84 by 98 mm) and weighs 0.76 pounds (345 grams).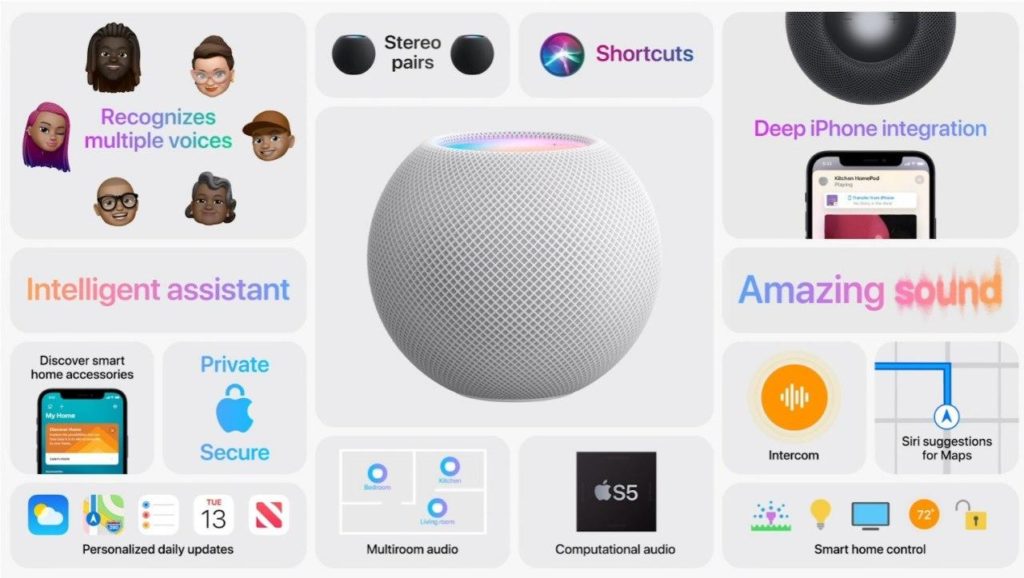 Standout Features
On top of the HomePod mini is a backlit touch surface that provides controls for volume, play/pause, and it even illuminates when you wake Siri from its sleep.
The HomePod mini features an "acoustic waveguide" on the bottom which, according to Apple, will deliver a consistent 360-degree sound experience that'll enable you to place the speaker anywhere in your home.
This smart speaker is powered by the Apple S5 chip which enables something Apple calls "Computational Audio" which gives you a balanced, fine-tuned sound at any volume.
Also, when you place two HomePod mini smart speakers side-by-side, they intelligently become a stereo pair.
Third-Party Music Services
In addition to Apple Music, the new HomePod supports third-party music services, podcasts, and radio stations including iHeartRadio, Radio.com, TuneIn, Pandora, and Amazon Music. Surprisingly, there's no Spotify support.
Advertisement - Continue reading below
---
Related Article: What's the best Mobile app for listening to Podcasts?
---
The New Intercom Feature
'Intercom' is a new feature designed for the HomePod mini. The feature lets you send messages and communicate with other people from one HomePod to another in different rooms or to multiple rooms in your home.
The Intercom feature will send voice messages to your AirPods, and Intercom notifications to connected iPhones, iPads, and Apple Watches.
Intercom helps connect your home in an entirely new way, and this will make a lot of sense if your household consume Apple products.
Homekit Support
The HomePod mini will automatically be added to your Home app (on Apple devices— iPhone and iPad). You can use it as a HomeKit center hub, letting you control your smart home accessories that are connected to the Homekit through the HomePod mini.
The HomePod mini is available in White and Space Gray color variants and it will retail for $99. Pre-order begins from the 6th of November and it will be ready for shipping from the 16th of November.