Apple has launched the long-awaited Apple Watch Series 7. It did this in a virtual California streaming event that happened on the 14th of September 2021. Apple Watch 7 is an upgrade to the Series 6 which was released in 2020.
Before the event, we wrote about what to expect from the Series 7 launch. Apple calls this smartwatch the "most durable Apple Watch ever". But, is it? You're about to find out for yourself as we run you through what Watch 7 is about.
Advertisement - Continue reading below
In this post, we're taking a look at the specifications, features, price of the Apple Watch Series 7. Read through and we'll see if you're impressed at the end of it. Let us know too.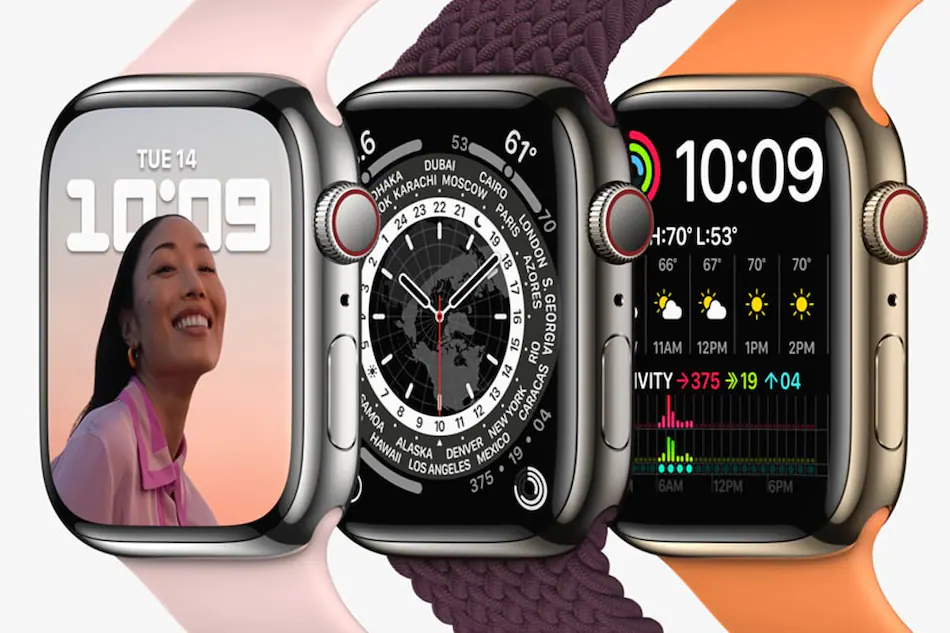 ---
READ MORE: Apple Watch: The Best Life-Saving Gadget Ever?
---
Apple Watch Series 7 Big Display
The Series 7 Watch, according to Apple, has the largest, most advanced display yet. This new display has more screen area – ~20% – than the Series 6. And compared to the Series 3 Watch, the screen area increases by over 50%. Now, that is one massive smartwatch.
Series 7, despite its bigger screen, has thinner borders than the Series 6 Watch at just 1.7mm. It also comes with a more refined shape featuring softer, more rounded corners.
There's an addition that makes your Series 7 watch 70% brighter when you're indoors and your wrist is down. With this, you can take a quick glance at stuff like what the time is or if you have any messages.
Generally, you'd see larger and redesigned buttons in the Series 7 to complement its size and display. On the plus side, this makes it easier to tap and work through. And you get to see even more text on-screen at one glance without scrolling.
Advertisement - Continue reading below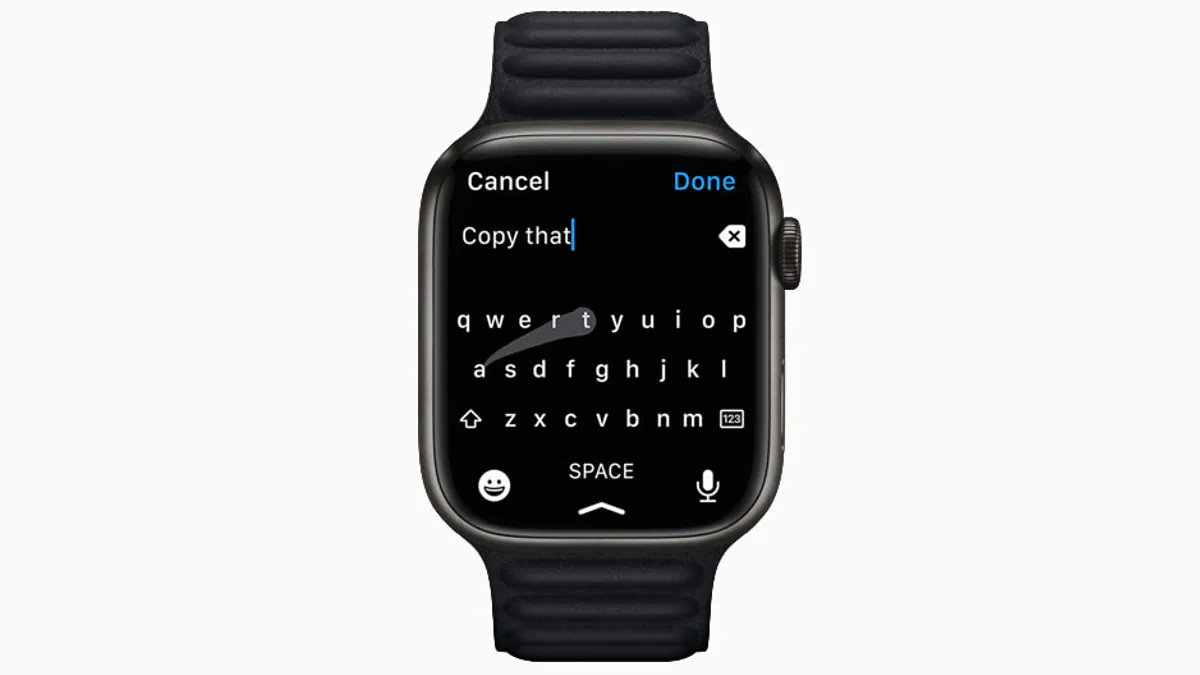 Design and Durability
Like you might have guessed, the Apple Watch Series 7 is crack resistant. It's also the first Apple Watch to have IP6X certification which makes it dust resistant. And it's also water-resistant, as expected. So yes, you can take your smartwatch for a swim.
The smartwatch will be available in 5 new aluminum colors – Midnight, Starlight, Green, Blue, and Product Red. They'd also be available in silver, graphite, and gold stainless steel. Also natural and space black titanium. The color options are a lot here, hence, lets users have their aesthetically pleasing pick.
You can go ahead to customize your Series 7 with bands as they are compatible with all existing bands.
Watch 7 For Bikers
For everyone who rides a bike, the Apple Watch OS 8 can now automatically detect when you begin riding/pedaling and remind you to start a workout. It also has the ability to pause and resume – automatically too – if you stop riding temporarily.
The OS also adds fall detection to cycling where it senses the unique motion and impact of falls. After you've taken a fall, calling emergency contacts is just a tap away, or you can say you're okay.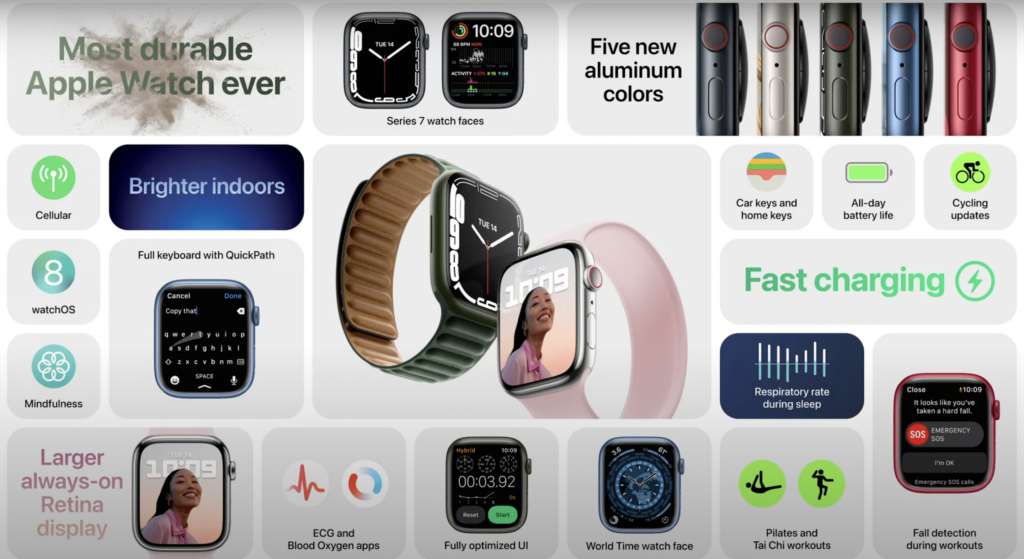 Even e-bikes are now supported with an improved algorithm that helps to calculate calories more accurately. The Watch OS 8 – which comes with the Apple Watch Series 7 – has some other nice additions like the Mindfulness app and Memories in Photos.
Other Features
Here are some very cool features that come with the Series 7 watch and you can use during your daily sports, health, and physical activities:
With SwingVision, Apple Watch 7 can calculate how fast your lawn tennis serves are.
Want to know how far your golf drives go? Hole19 on Apple Watch 7 is your guy.
Apple Watch 7 also does an electrocardiogram that checks for different heart conditions. Please note that Apple Watch NEVER checks for heart attacks.
Surfing? Yes, Watch 7 can tell you how many waves you get.
It also records how many hours you slept.
Blood oxygen: Yup, it tells you the amount of oxygen you have circulating in your blood.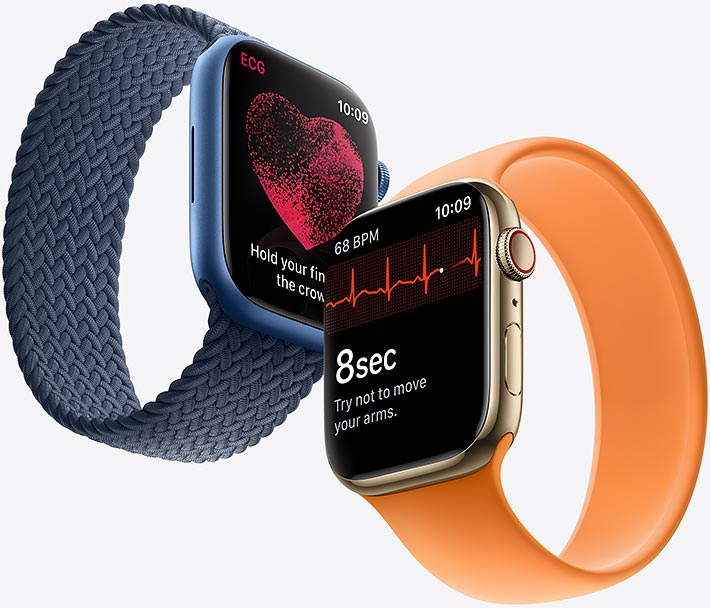 Battery
Just like the Series 6, the Series 7 Apple Watch comes with an 18 hours battery life and a well-improved charging experience. It charges up to 33% faster than Series 6 and takes 45 mins to go from 0 – 80% with the new fast-charging USB-C cable.
Apple Watch Series 7 Fun Fact: 8 minutes of charging is enough for 8 hours of sleep tracking.
Series 7 Price
The Apple Watch Series 7 price starts at $399. We'd say this is a fair price and puts it at around the starting price for the Series 6 smartwatch too.
Advertisement - Continue reading below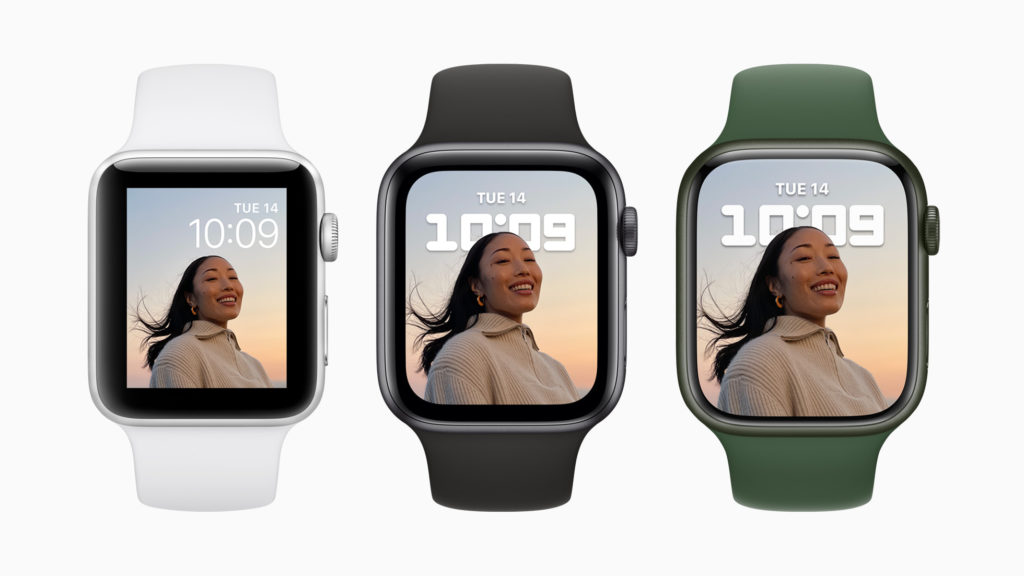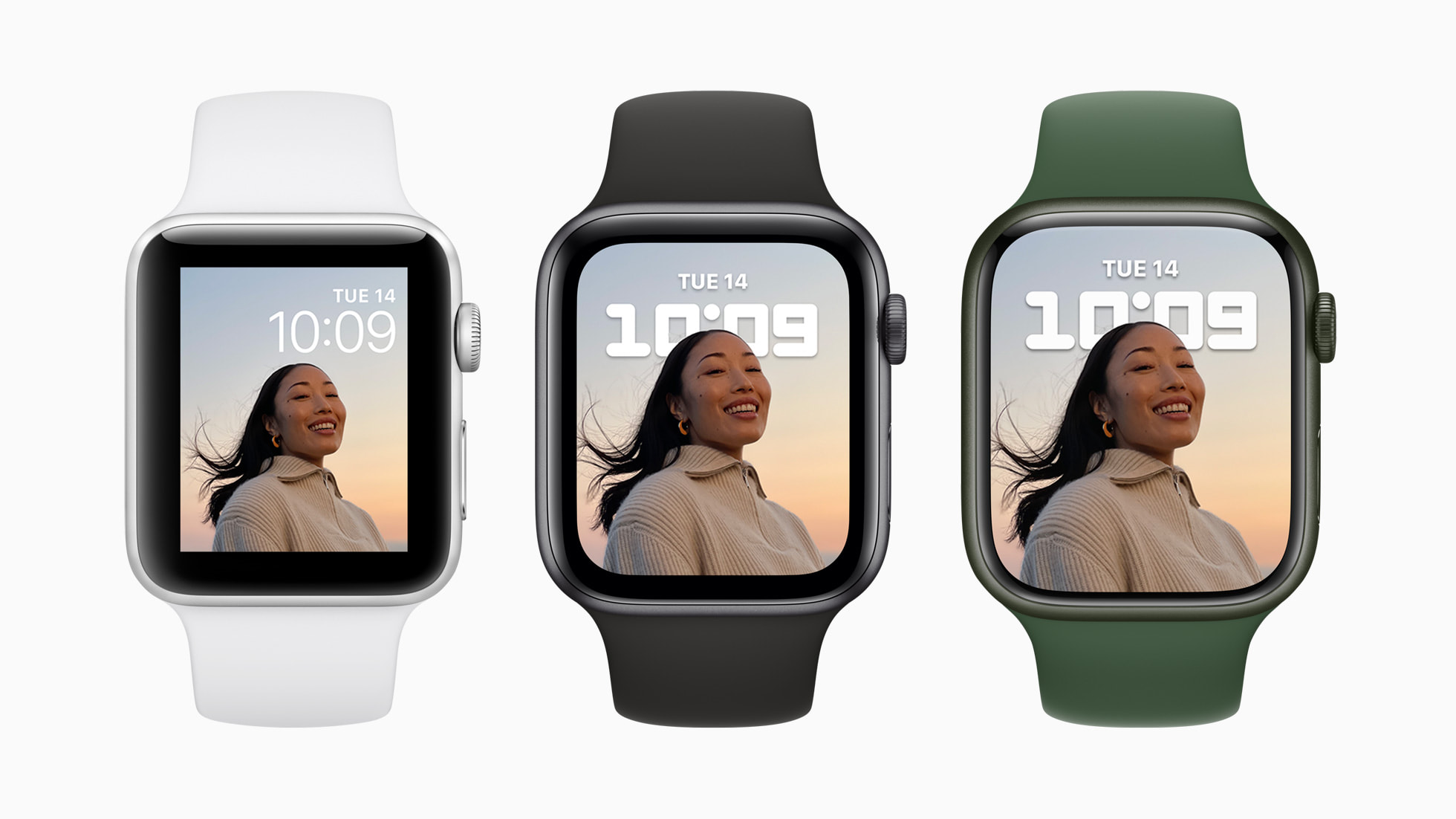 Looks like a couple of upgrades from the previous version of the Apple Watch. The big question, however, is is this enough to make you upgrade your smartwatch for the price?
Do let us know what your thoughts are about the Apple Watch Series 7 smartwatch. Want to get more information, ask us too, we're happy to help.