When Apple decided to eliminate the 3.5mm headphone jack from the iPhone 7 back in 2016, they called it "courage". Out went the wired earphones and in came the $150 wireless AirPods. These new true wireless "earphones" have proved to be a lucky bet for Apple, bringing in at least $8 billion in revenue since launch. Other smartphone vendors took note and now there are hundreds of fake clones and genuine alternatives to Apple's Airpods.
Xiaomi is no stranger to producing quality products for cheap. The Chinese company has not one but at least four alternatives to Apple's Airpods. And they're not just another wannabe's go-to option. Xiaomi's Mi True Wireless Earbuds – Basic also called Redmi Airdots are great option for those who who wish to experience true wireless audio.
Advertisement - Continue reading below
I have been using my Xiaomi Mi True Wireless Earbuds – Basic for over a month now. And honestly, I am quite impressed with what Xiaomi has done — although there are some quirks about them I will talk about later.
Summarily Here's what;
What we liked
– Good price point for the value
– Bluetooth 5.0 with True wireless stereo
– Reasonably good battery
What we didn't like
– Not so fitting ear tips. Easily falls off especially when walking.
– Bluetooth pairing issues with various devices.
– Can only pair with one device at a time.
– Not-so-great microphone.
Xiaomi Mi True Wireless Earbuds – Basic Specs
Color: Black
Model: TWSEJ04LS
Wireless Range: 10m (in an obstacle-free environment)
Battery capacity: 43 mAh (per Earbud)
Charging Time: Approx. 1.5h
Talk Time: Approx. 4hrs
Standby time: Approx. 150hrs
Input: 5V/500mA
Battery type: Lithium Polymer
Bluetooth version: 5.0
Bluetooth profiles: HFP/A2DP/HSP/AVRCP
Charging case
Input: 5V/500mA
Advertisement - Continue reading below
Output: 5V/150mA
Charging time: Approx. 2hr
Battery capacity: 300 mAh
Battery type: Lithium Polymer
In the box
Mi True Wireless Earbuds Basic, Charging case, user manual, warranty notice, ear tips * 3 pars(S/M/L, M installed)
Charging Storage Case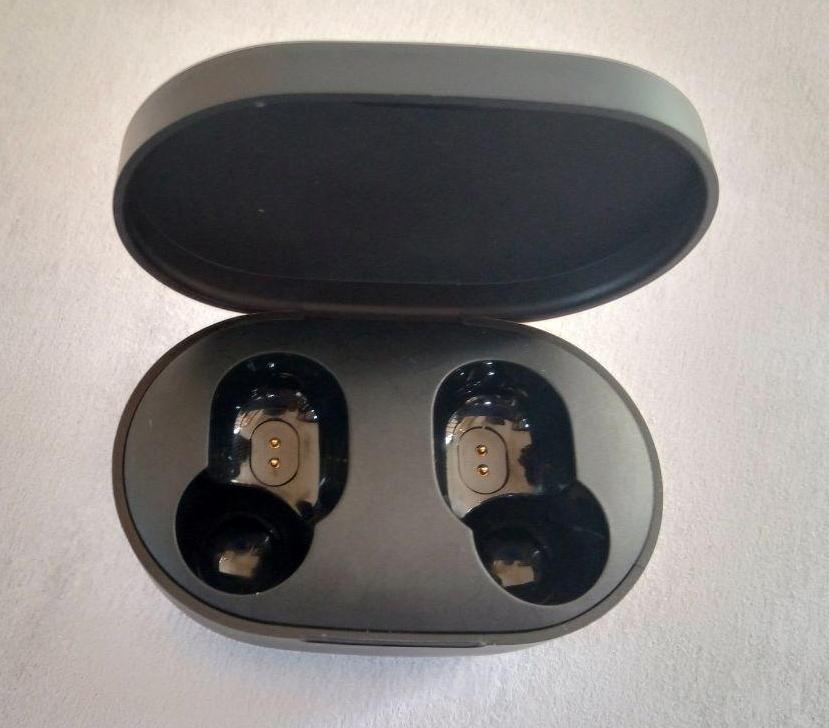 The Mi True Wireless Earbuds – Basic come in a round corned black multi-functional storage and charging case. The case houses the two wireless earbuds, right and left. When you put the earbuds inside the case, they automatically power off. When you remove them from their case, the earbuds will automatically power on and connect to the last device they were connected to.
The case has 300mAh Lithium Polymer battery which charges the wireless earbuds through the charging pins. The case itself is charged via Micro USB port. It takes about 1.5 hours to fully charge the case.
When the charging case is not fully charged, you'll see the indicator light blink red and when it's fully charged, it'll be off. The indicator light will show red while charging and white for about 1 minute when fully charged.
The Earbuds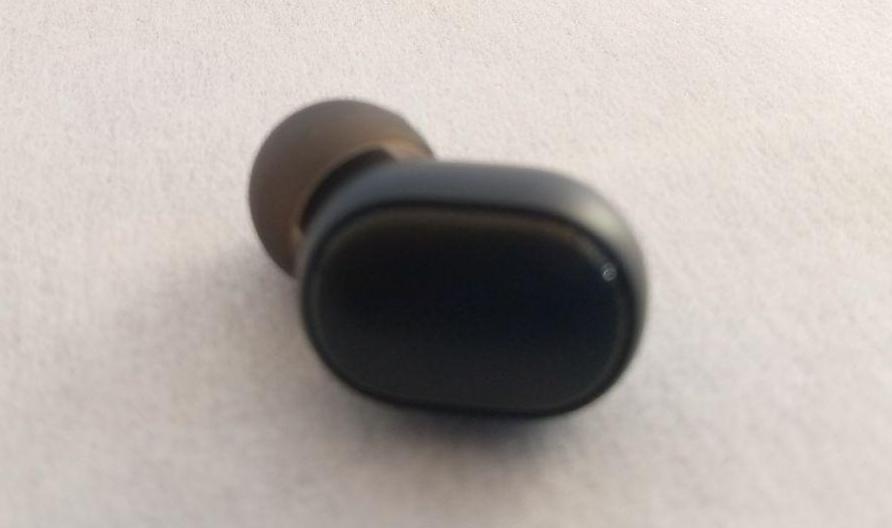 The Earbuds themselves comes in a pair of clearly-labelled Left(L) and Right(R) versions. Each of them has a multi-function big button for picking and ending calls, playing and pausing music, and starting Google Assistant.
Advertisement - Continue reading below
The Earbuds also have a built-in microphone, contact points for charging, ear tips that come in Small, Medium and Large sizes. Putting them in your ear is fairly easy, but you have to put the correct earbud in the correct ear. For instance the right earbud should be put in the right ear, otherwise it won't fit.
In order for the earbuds not to sway or fall down from your ear, you have to place them gently in the ear canal. To have clear calls, you have to point the earbud's microphone directly towards to mouth otherwise the other person will have hard time listening to you.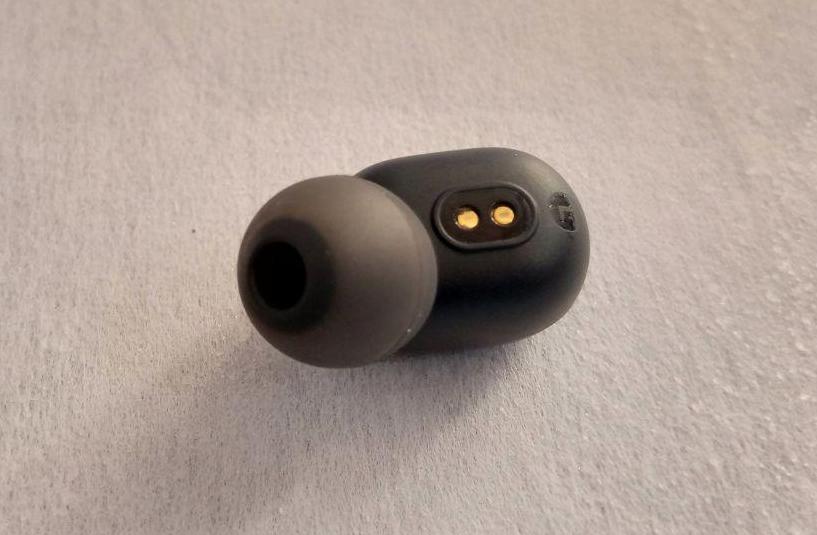 Each Earbud has 43mAh battery. Combined, I was about to squeeze out about 3-4 hours of calls and intermittent music playback. You can view the battery level of the earbuds from the Bluetooth icon on your smartphone. The earbuds will also give battery level voice warnings when you put them on.
Bluetooth Pairing
Perhaps the most annoying thing about wireless Bluetooth-anything is the pairing process. Even with Bluetooth 5.0 it's not always smooth process. The Xiaomi Mi wireless Earbuds are no exception.
In most cases while troubleshooting Bluetooth pairing issues, you'll need to know how to turn on/off the earbuds.
When you remove the earbuds from their charging case, they'll automatically turn on. If the earbuds are out of the case and are off, to turn them on, simply press and hold the multi-function button for 1 second until the indicator light turns white.
To turn them off, simply place them back to their charging case. Alternatively, you can simply press and hold the multi-function button for about 5 seconds until the indicator light turns red.
Now to pair the Mi Wireless Earbuds with your phone, remove both earbuds from the charging case at once and wait for about 3 seconds for them to turn on. You'll notice the indicator light of the right earbud blink white. On your phone, tablet or PC, go to Settings >> Bluetooth >> Available devices. You should see either "Mi True Wireless EB Basic_R" for the right one or "Mi True Wireless EB Basic_L" for the left one. Tap on either one of them and the other will automatically connect once pairing process is done.
Advertisement - Continue reading below
In my experience with my copy of the Mi Earbuds, this process sometimes doesn't go smoothly. If the pairing isn't successful, try putting the earbuds back into their charging case and remove them again. Then search for available Bluetooth devices and try the above process. You'll have better luck this way than manually powering them on and off in my experience.
Once the pairing process is successful with your phone, the next time you try to pair with them, it'll be relatively faster and automatic.
Sound Quality
The Mi True Wireless Earbuds excel at stereo sound. A little more bass would be welcome for those that love to listen to music. Otherwise, they have a good balance of stereo and bass making them mostly suited for taking calls, listening to news, podcasts and audio books. Those who expect a bit more bass might want to look at other options. But if you're not-so big on bass, then you'll find the sound quality from the Mi True wireless earbuds great.
Mi Wireless Earbuds Tips and Tricks
To Answer/End calls – Gently press the multi-function button to answer or end an ongoing call.
Reject a call – Press and hold the button for 1 second to reject an incoming call.
Play/Pause music – Gently press the multi-function button to play/pause music. A music player such as Apple music, VLC, Spotify, etc., must be running in the background.
Turn on Google voice assistant – While on standby, press the multi-function button twice.
Mute calls – During calls, gently press the multi-function button twice.
Switch between earbud and device – During call, press and hold the multi-function button for 1 second.
Earbuds don't fit firmly in your ear – This is a common one. Try out other sizes of the ear (small, medium and large) until you find one that fits into your ear well.
Price and Where to Buy
If you are convinced and excited about these Mi True Wireless Earbuds, you can get them for about $24 on Amazon.
If you live in Uganda though, you can get the same product at Ugx 140,000 from Odukar store. They deliver same-day or next-day around Kampala.
Whatever your choice, the Xiaomi Mi True Wireless Earbuds are worth your money for those willing to untangle themselves from wired earphones and headphones.