Apple launched the AirTag earlier in 2021 which was immediately followed by some sense of skepticism. The main concerns revolved around the misuse of the tracking device by some users. As a techie, I can most certainly appreciate the need for such a device. But that doesn't rule out the chances of the technology being abused.
There have been more than a few reported cases of such. Most cases having to do with stolen vehicles and people being tracked without their knowledge or consent. This begs the question, what can you do to avoid being a victim? But first, what is an AirTag?
Advertisement - Continue reading below
---
Also Read: Apple's AirTag vs Galaxy SmartTag+: How Do They Compare
---
What is an AirTag?
As part of the name suggests, this is a device used to tag items. It is slightly larger than a coin and can be attached to backpacks, handbags, keychains, etc. The AirTag will automatically notify you if it is not on you. Apple's AirTags use Ultra Wideband built in the U1 chip. This device can be paired with a variety of apple products including iPhone 11, iPhone 12, and iPhone 13. However, you have to be running iOS 14.5 or later.
---
Also Read: How to correctly wipe your iPhone before you sell it or give it away
---
How AirTags Work
This technology is capable of determining very precise distance and direction to a lost AirTag when in range. The user will be guided to their lost device using a combination of visual feedback, haptics, and sound. The technology uses your devices' accelerometer, gyroscope, camera, and ARKit to achieve its tracking capabilities.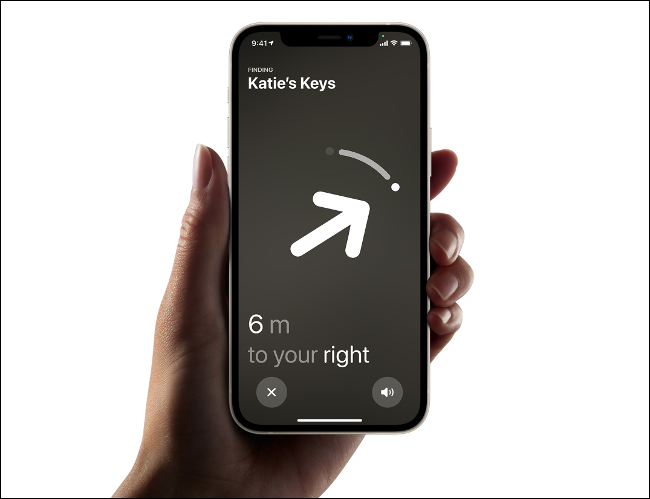 In cases where users misplace their AirTag, they can place it in lost mode and receive a notification when it comes within range. Apple also uses the vast Find My Network feature to locate and identify lost AirTags.
If you find someone's misplaced AirTag, you are able to tap on it using an iPhone or any other NFC-enabled device and be redirected to a webpage displaying the owner's contacts, if they had opted to provide one.
Advertisement - Continue reading below
---
Also Read: How Apple's AirTags work
---
How Can You Be Tracked Using an AirTag?
For Apple, this is a huge privacy and security concern. As earlier mentioned, AirTag makes use of the billions of devices on Apple's Find My Network to provide a relatively accurate location. This means that someone with malicious intent can hide an AirTag in your bag or car. That way they can receive your real-time location without your knowledge.
How To avoid Unwanted Tracking
From its inception, Apple had anticipated such abuse scenarios of their technology. This is why they built in several features to protect users against abuse. First, if you have an iPhone with you after someone tags you, you will get a notification on your iPhone that an AirTag is close to you.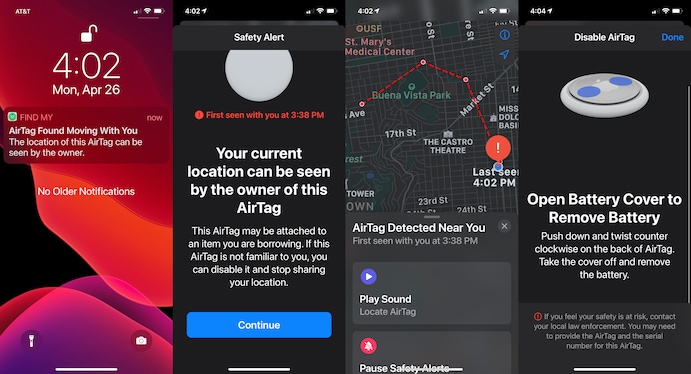 According to Apple, if you happen to find an unknown AirTag near you, you should tap it with an iPhone or any other NFC-enabled device. Here you will get instructions to guide you on how to disable it. But unless the AirTag is placed in plain sight, it is hard to tell if an unknown device is around or not.
If you get an alert and can't find the AirTag, the Find My app allows you to trigger a loud sound to help you locate it. You may also want to fully disable the AirTag after you find it. All you have to do is remove the battery by twisting the back cover counterclockwise and taking the battery out.
---
Also Read: How to Turn Off Find My iPhone (A Quick Guide)
---
How to Disable "Rogue" AirTags Using an Android Device
Just like all other Apple devices and accessories, the AirTag works best with iPhones. However, Android users can use Apple AirTags but with limited functionality. But still, AirTags can still be used to track Android users. This led to Apple having to provide an Android app just for this purpose. The app can be found on Play Store as Tracker Detect.
The Android Tracker Detect app will let you search manually for unwanted AirTags near you. The app is quite simple to use as all you have to do is tap scan and it will scan and display all nearby tracking devices. But you should know that the biggest loophole here is the lack of an automatic alert system. I don't know about you, but I'm very worried about privacy and security concerns that have to be fixed by buying an iPhone.
Advertisement - Continue reading below
---
Also Read: Tile Mate 2022 model review: Find anything easily