If you currently own a smart speaker like the Echo Dot from Amazon, HomePod from Apple, or the Google Nest Audio, you would understand how fascinating it can be to start off your day with your favorite song playing as your morning alarm or asking the virtual assistant (Siri, Alexa, or Google Assistant) to show you your day's appointments, weather forecast, scheduled meetings, or traffic update on your route to work. And even carry out simple tasks like turning off lights.
Now, imagine you have a Bluetooth speaker, a virtual assistant (Alexa, Google Assistant, etc.), and a tablet-sized interactive display screen all as one device? That's a smart display.
Advertisement - Continue reading below
What Can You Use it For?
Well, smart displays are very versatile. They can even be used to watch your favorite movies and TV shows or used as a karaoke machine to display the lyrics on the screen while you're listening to your favorite playlist. And like the best smart speakers out there, smart displays can be used to make audio calls. And if you purchase one with a built-in camera installed, it can be used for video calls too. Furthermore, the right ones can be used to control smart home devices; from smart lights to smart plugs, your home security cameras, and even smart locks.
As you would expect, there are loads of smart displays out there. You will find smart displays on the market made by popular brands like Google, Amazon, Apple, JBL, and even LG. Facebook also has something called Facebook Portal.
You're probably reading this article because you intend to buy one for yourself and because there are loads of smart displays on the market, choosing the right one can be confusing. So, to help, we have put together this guide to help you choose the right one.
Get the Right Model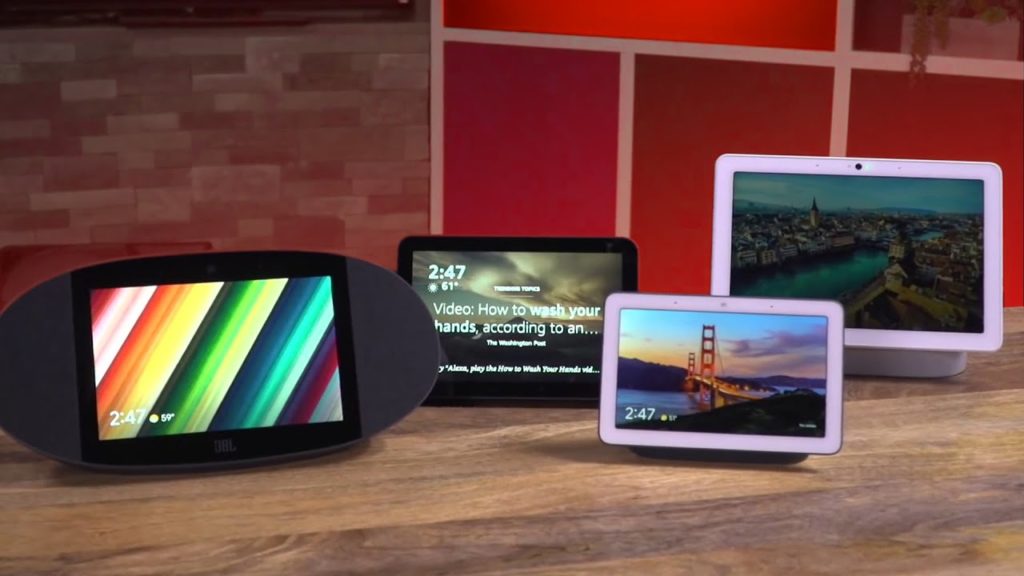 First, you need to consider where you want to put the display in your home. While you might be tempted to go for a small, portable model over one with a larger screen, you might want to purchase something with a large display if you plan to use it in a large space. For instance, if you're looking for a smart display that'll be perfect for your kitchen or living room, you definitely should go with one with a large screen (one that is easy to see from across a large room)
Sound Quality
The same thing applies here. While smart displays from the likes of Google and Amazon offer you decent sound, you still need to pay attention to sound quality – you should go for a speaker that can fill the space with a clear, pleasant sound. Smart displays from JBL are, for instance, come with really great speakers.
Features
The whole essence of purchasing a smart display as against going for a smart speaker is the interactive screen that lets you do a lot more than just talk to the virtual assistant. Google and Amazon are the best in the smart display business, at the moment. When considering a smart display, it's best to purchase one from either brand.
Advertisement - Continue reading below
All of Google's smart displays including the Nest Hub and Nest Hub Max, as well as other smart displays like the JBL Link View, all work with Google services, such as Duo, Photos, and YouTube. Amazon's smart displays, on the other hand, work with Amazon services like Prime Video, Amazon Photos, and Ring products.
Smart Home Controls
Just as we said earlier, We recommend that you purchase a smart display from either an Amazon smart display or Google's smart display. This is important if you own smart home devices from either brand. They come with control panels that let you access your smart home devices. It serves as a control center for all your smart home devices.
In conclusion, you should keep in mind that you will need an always active internet connection for the device to function effectively. Should you choose to buy one, you should prepare to increase your mobile data budget. If you'll rather purchase a smart speaker, you should check these cool speakers out.
Image Credit: CNET