The car industry has a hardtime keeping up with rapid consumer Tech advances. Bluetooth audio is now the de factor way of listening to music on headphones, earbuds and wireless speakers. Yet most cars' head units still don't have Bluetooth or even simple USB charging. This shouldn't be a problem though if you get Bluetooth receiver or Bluetooth car kit.
A Bluetooth receiver will bring wireless audio and hands-free calling capabilities to your car. Through the AUX port on your existing car's head unit or stereo, you can play music from your phone or tablet and take calls hands-free with your car's stereo. I have been looking for a capable Bluetooth receive for my Toyota RAV 4. The Comsoon J25 came in as a great recommendation, so I bought it and took for a spin.
Advertisement - Continue reading below
The Comsoon J25 is a sub-$20 Bluetooth receiver I have been using in my car to play Spotify, play podcasts, listen to audio books and take calls. It has an LCD screen which shows battery percentage of the device, volume levels and the name of the paired phone. It comes with a built-in Mic for taking calls and an AUX port which connects to your car's stereo. This Bluetooth receiver comes with male-to-male 3.5mm adapter and 3.5mm audio cable. You can use either of these to connect the receiver to the car's stereo Aux analog port.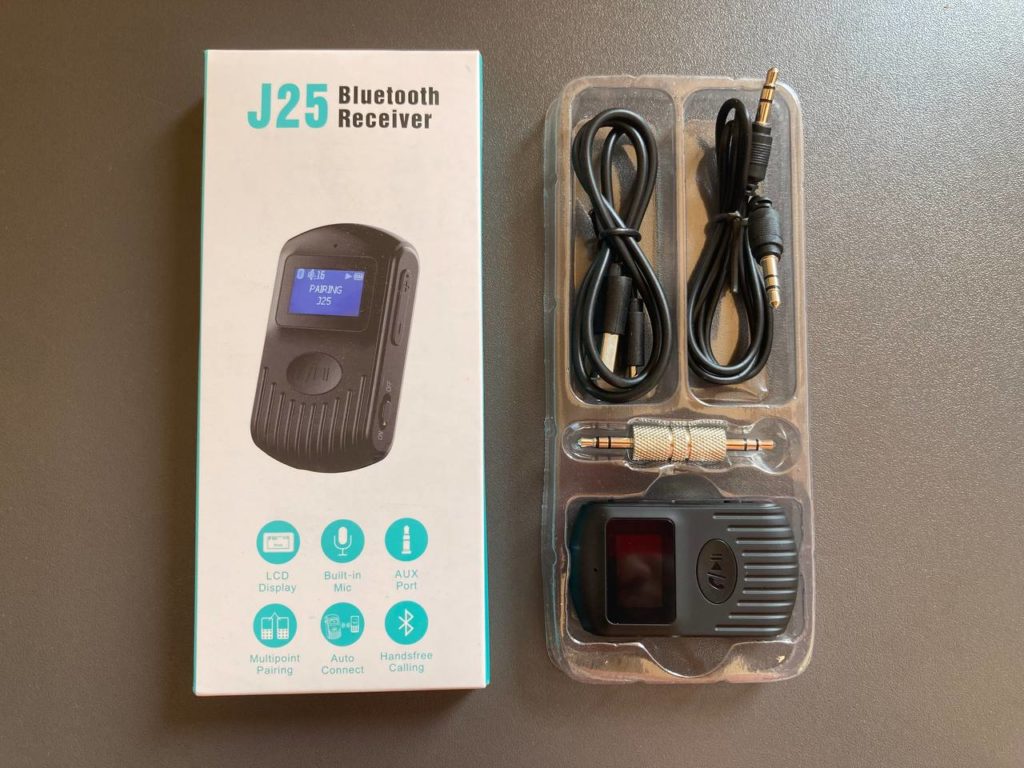 The Aux port on your car's stereo system or head unit is an analog interface you can also use to connect wired headphones using a cable through 3.5 mm headphone jack. Most smartphones nowadays lack a headphone jack, so this port is increasingly becoming redundant as Bluetooth wireless audio takes over.
This Bluetooth receiver has one/off buttons for turning on and off the device, volume up/down buttons and pause/play or answer/reject button also known as Multi-Function Button (MFB) right next to the LCD display. On the bottom is a USB Type C port for charging the device. You can charge it through your house's wall socket or you can use the car's USB ports if it has one. Alternatively, you can use a USB Lightning car adapter to charge the device. A single charge should take you at least 10 hours before you need a recharge.
Comsoon J25 Specifications
Bluetooth version: 5.0
Bluetooth mode: HFP/HSP/A2DP/AVRCP
Bluetooth range: 33 feet
Battery: 250 mAh
Charging port: USB-C
Working current: 30mA (When phone volume is 70%)
Charge voltage: DC 5.0V
Charge current: 150-170mA
In the box
– USB Type-C cable
– 3.5mm Audio cable
– 3.5mm Audio adapter
– user Manual
The Comsoon J25 supports Bluetooth 5.0 with HFP/HSP/A2DP/AVRCP profiles. So you can play music and take calls hands-free. It also supports Bluetooth multipoint, meaning you can pair with two devices at the same time. This is can be cool during a family trip where at least any two devices can take turns playing music to the car's stereo. Pairing this Bluetooth receiver with your android or iPhone is the same as you would pairing your headphones or speakers with your phone. The receiver auto-connects with your phone as soon as its within range and the device is turned on.
Advertisement - Continue reading below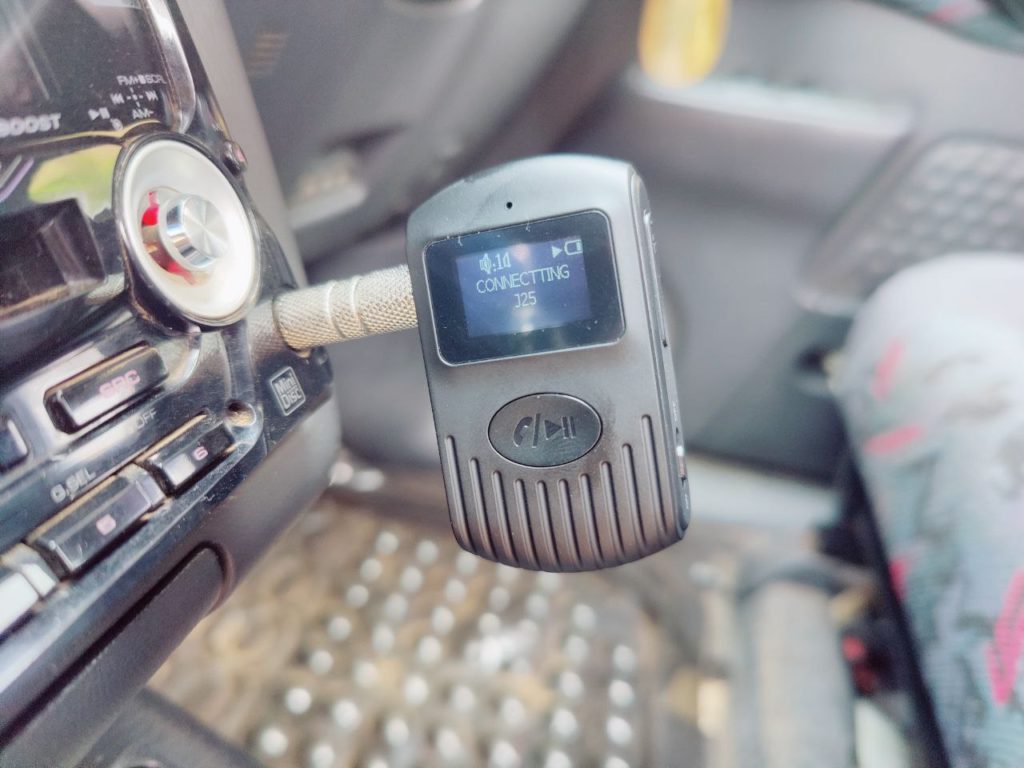 Tips and tricks
Power on/off: Slide the "On/Off" switch
Play/pause/answer/hang up: Press the Multi-Function Button (MFB) once
Reject calls: Long press the MFB
Redial the last number: Press the MFB twice
Volume up/down: Long press the +/- button
Next/Previous song: Press the +/- button once
This Bluetooth receiver isn't only useful in the car. You can also use it on your boat, an old home stereo system that doesn't support Bluetooth, wired headphones that don't have Bluetooth. Here's our video review of this Bluetooth receiver.
Price and availability
I really happy with this Bluetooth car kit. You can get this Comsoon Bluetooth Receiver with LCD Screen for $17.99 from amazon. You can also get the cheaper version without the LCD display for $16.99.