Just like every other industry, display technology continues to improve. In the year 2002, HDMI was first released. HDMI stands for High-Definition Multimedia Interface; a connection standard that aids the smooth transfer of media from a source (like a DVD player, Play Station, or Xbox) to a display like a smart television. According to the HDMI Forum (the organization in charge of improving HDMI technology), there are currently more than 8 billion devices that use the HDMI technology for media transfer. HDMI is used on variety of devices including soundbars, DVD players, game consoles, laptops, Projectors, etc.
The HDMI 2.1 is a version that was released to succeed the version 2.0. And as expected, it was feature-pack; supporting higher resolutions, faster refresh rates, a higher bandwidth capacity, among others. Because of its features, you will find it on the best TVs models and gaming consoles out there – from the likes of LG, Samsung, Sony, TCL, and on next-generation game consoles (PlayStation 5 and Xbox Series X). Here are the key differences between the HDMI 2.0 vs 2.1
Advertisement - Continue reading below
Related: Beginner's guide to HDMI: Features, Specs, speeds and release dates
HDMI 2.0 vs 2.1
| | |
| --- | --- |
| HDMI 2.0 | HDMI 2.1 |
| Unveiled in 2013 | Unveiled in 2017 |
| 18Gbps transmission bit rate. | 48Gbps transmission bit rate. |
| Support for 4K and 8K resolutions at 60fps and 30fps, respectively. | Support for 4K and 8K resolutions at 120fps and 60fps, respectively. |
| HDR support. | Dynamic HDR support. |
Data Transmission Capability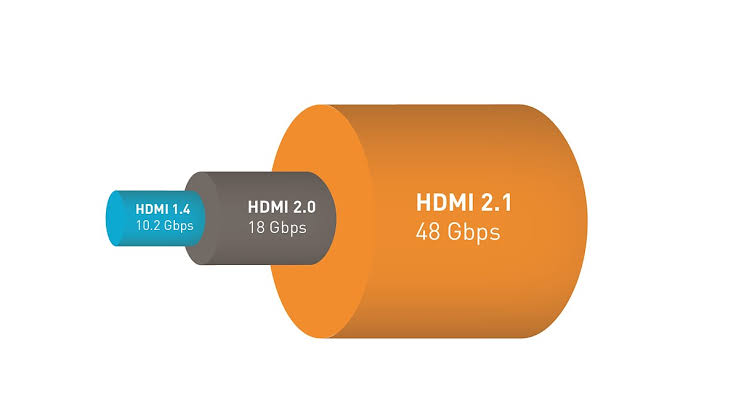 First up is data transmission speed. When compared to the HDMI 2.0, the HDMI 2.1 offers superior data transfer speed. The HDMI 2.1 offer a 48Gbps data transfer rate – a significant improvement from the 18Gbps data transfer rate on the HDMI 2.0. What this translates to is, on the HDMI 2.1, you get superior resolution and a higher refresh rate on your display. The 18Gbps on the HDMI 2.0 gives you an output in both 4K and 8K resolutions, and at 60fps and 30fps, respectively – which is still high picture quality for regular viewing. However, the massive 48Gbps on the HDMI 2.1 gives you even more: you get better video performance; 4K resolution at 120fps and 8K resolution at 60fps.
Dynamic HDR
Both HDMI standards (HDMI 2.1 and HDMI 2.0) support the HDR (high dynamic range) feature. What this feature does is, it increases the range of light and color that a video can display. With Dynamic HDR, the brightness and color capability of a video coming from your display can be adjusted frame-by-frame, which results in better picture quality – more life-like images.
Do You Need an HDMI 2.1 Cable?
If you already own next-gen TVs and gaming Consoles that are HDMI 2.1 compatible, then, yes, you should go for it. You are guaranteed of a superior video experience if you make that decision. However, you are still guaranteed of top quality imagery even when you connect a next-gen console to a TVs that HDMI 2.0. So, I really do not think it is a necessary feature you desperately need to go all out for.