It is Ubuntu time! Our favorite open-source Linux operating system is seeing yet another Long-Term Support version with Ubuntu 22.04 LTS. This means that this version will receive ongoing app updates and critical security fixes for the next 5 years.
This version will also receive periodical new Linux kernel releases and graphics driver updates. But that's all fine and all but for the average Ubuntu user that doesn't care about the under-the-hood stuff, what's new with the Jammy Jellyfish?
Advertisement - Continue reading below
Well in this post, we quickly go through the biggest changes in this release.
Gnome 42
Progress in the Linux quarters is rarely revolutionary. Oftentimes, we get little incremental refinement updates to systems and in Ubuntu 22.04 LTS, a big push is being made for the recently released GNOME 42.
Since GNOME Shell 42 is included in Ubuntu 22.04, users should expect to get an updated GNOME Shell desktop, its new screenshot tool, a backport of the new 'Privacy' panel in the Settings app, and the latest version of the Nautilus file manager.
New Dock
When Ubuntu moved from its in-house Unity desktop to adopt the Gnome Desktop, they had to build a skin on top of Gnome, a skin that stayed true to its roots, mimicking Unity. But Gnome's default dock looks a lot less than Unity's implementation. While Unity's spanned the entire left edge of the screen, Gnome's is a floating one.
With Ubuntu 22.04 LTS, Ubuntu adopts a Dock that is a lot more like Gnome's and less like Unity's. This means that you can have a floating Dock but you can also choose to remain with the one that spans the entire length of your screen.
Accent Colors and a Dark Mode
Android 12 has probably changed the game forever in terms of personalization. For the uninitiated, Android 12 brought with it Material You design. This design language enables the whole device's UI to adopt accent colors that are consistent with your wallpaper.
Advertisement - Continue reading below
Of course, the same has trickled down to other Android 12-based ROMs and desktop UIs are also copying this in some shape or form.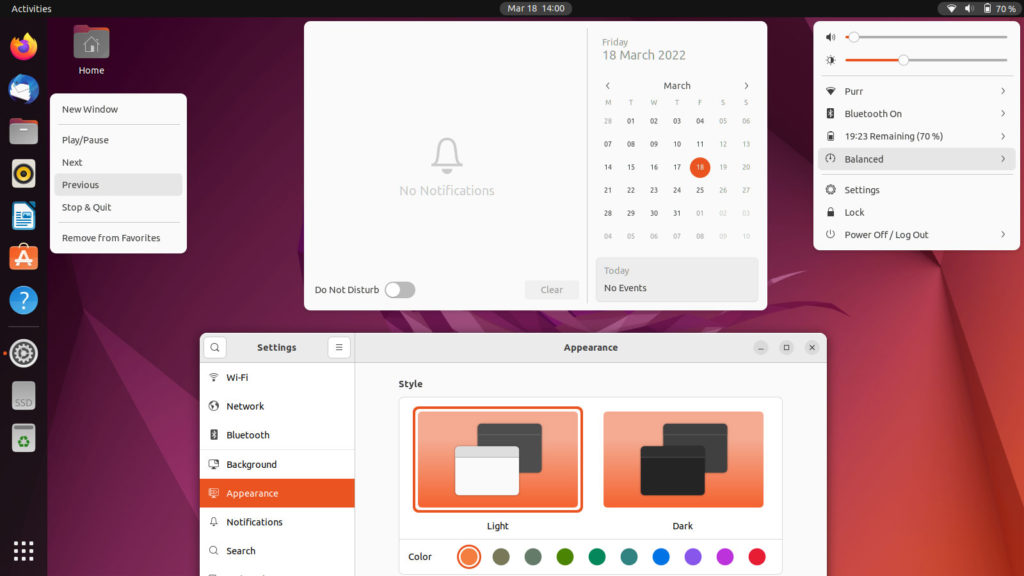 Ubuntu 22.04 LTS now features an option under Appearance Settings that allows you to pick an accent color that will be carried through your entire system. This means menus, settings, and even select apps that support this will be able to adapt to your specific preferences.
Also included is a built-in Dark Mode that will no doubt please the millions of geeks that like to work in dark rooms so they aren't blinded by their desktops. Good stuff Ubuntu.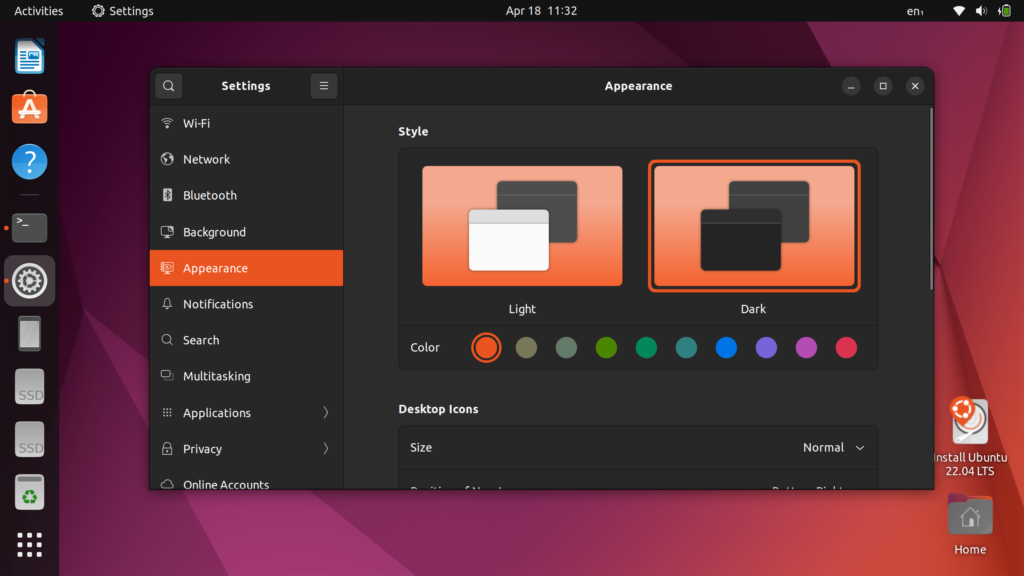 New Logo
Ubuntu 22.04 is the first release since we saw a new version of the Circle of Friends logo, one that Canonical says is an evolution rather than a revolution. The updated logo is already live for most Ubuntu online services and is visible all over the system UI from the boot screen to the About page and much more.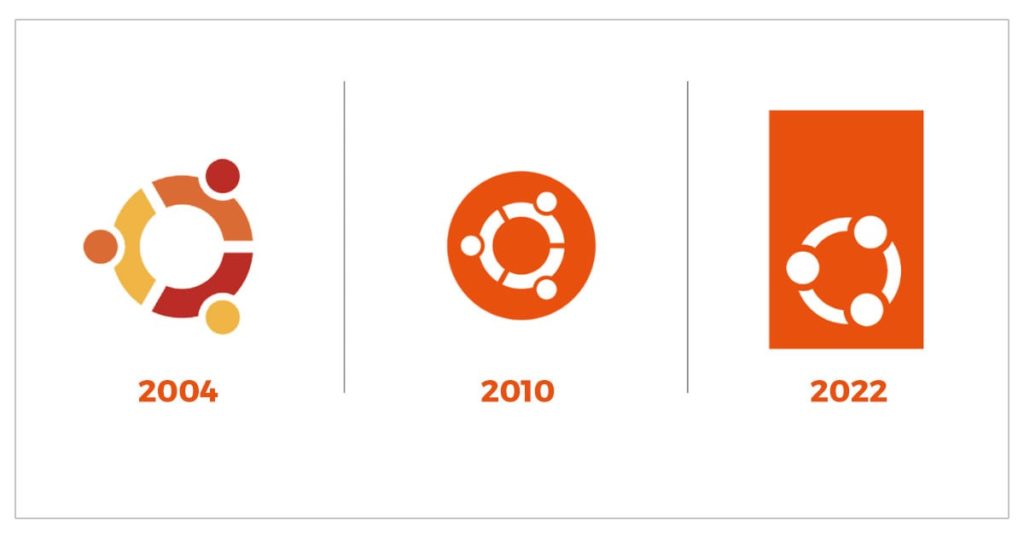 New screenshot tool
One of my personal biggest frustrations over the past year or so has been the Screenshot situation on Ubuntu and Pop OS! I often need to take screenshots and do markups right away, functions that the stock screenshot tool just doesn't allow for.
For a long time, I have been using Flameshot but that app doesn't work with higher resolution displays. This has sucked and I have been looking for a different solution ever since. With Ubuntu 22.04 LTS, the team at Ubuntu ports over the screenshot tool from Gnome 42 that is a lot more feature-packed and modern-looking.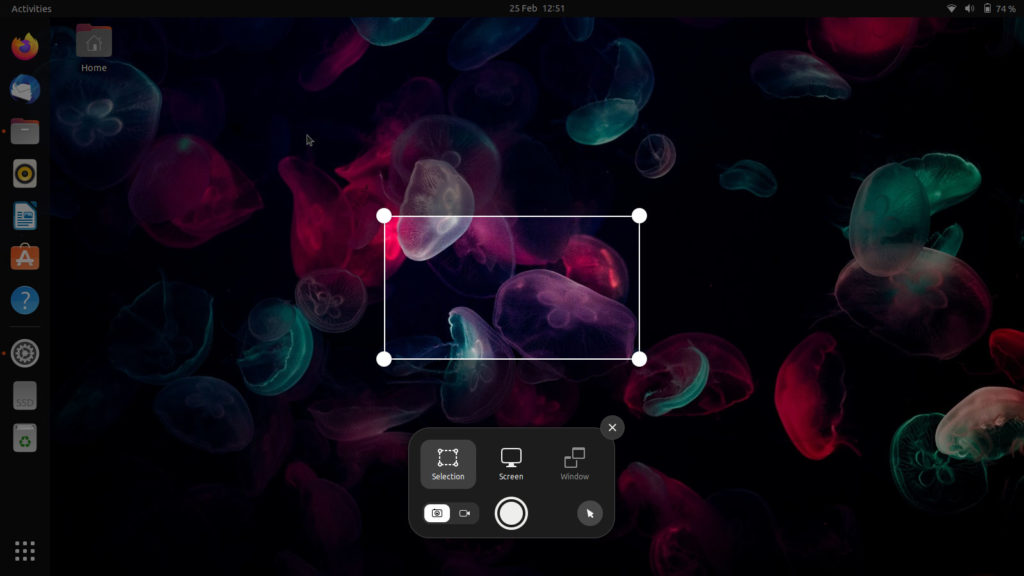 Still doesn't add as many new features and functions but it is a more elegant interface of performing one of the more mundane tasks on your operating system.
Conclusion
As has been the case with all previous Ubuntu iterations, this one is also a slight improvement from the previous build. However, this is a Long-Term Support version and as such, many people will be upgrading to this one from older LTS versions and staying on it for the next several years and in that sense, this is a pretty big release.
Advertisement - Continue reading below
The Dark mode and accent color support is perhaps the biggest cosmetic change coming with this one and should prove a little exciting.
Release Dates
The Beta version of this build is already out and should you be feeling a little experimental, you can update to this new version of Ubuntu today. However, we'd recommend that you wait for the stable version to roll out before diving all in.
The stable version of Ubuntu 22.04 LTS should be available from April 21st, 2022. Of course, users on 21.10 might have to wait a day or two for the OTA to show up on their system but this should be prompt.