Perhaps you haven't yet noticed but one of Uganda's leading online breaking news website silently rolled out a redesign at the end of last month (July).
In a bid to stand out of the quickly crowding online publishing sphere, Chimpreports has repackaged its content in a complete redesign.
Advertisement - Continue reading below
The state of web design in Africa, of recent, has been mostly abysmal. For example the site of Al-Ahram, Egypt's largest daily newspaper, looks like it was designed in 1996. The same goes for the websites of the leading traditional news publishers, many of them are so 2005.
But as the number of internet users grows, readers are demanding something better. The connectivity is getting better and the data costs are steadily going down, so the readers have all the reasons to.
A quick glance at Chimpreports' new website paints a hazed picture of theguardian and on a lower extent, The New York Times. Well, that was rather a quick and irrational judgment. Here is how I broke it down to reach an objective conclusion.
Aesthetics
Visually, it's appealing. The balance of any redesign is delivering to users something fresh and shiny. The site even has some icing on the cake, it's mobile friendly – it's responsive!
The landing page does a good job with presentation of content, with three columns that stretch below the fold. The main story having the biggest picture, it's closely followed by snippets of news stories that make it easier for a potential reader to quickly skim through.
The homepage is now much, much better signposted and easier to navigate. Above the fold is one headline piece, and scrolling down are clear, distinct sections entitled Home, News, Entertainment etc.
Advertisement - Continue reading below
Since the site uses a 960grid display horizontally, it fuses subliminal shades of gray together with the header that makes it look, in a playful way, like a paper. The content is layed out in categories thus giving direction to those interested in particular topics.
User experience
While before, reading Chimpreports on mobile was a tortuous experience of pinching screens and zooming in and out, the new mobile friendly site is one long scrollable joyride. Sharp text and unfussy navigation make the site a vast improvement on what went before.
What we didn't like
The logo
Besides the website redesign, the publishing site had another surprise for us – a brand new logo. However, it sadly didn't cut through for us. It blends a serif font tucked with a half cut globe illustration hanging on the corner to the right. In fact, it looks like Opportunity bank's logo, a locally based microfinance institution. After all, it seems like Chimpreports has jumped onto the wave of recently released terrible logos, yes, just like Airbnb's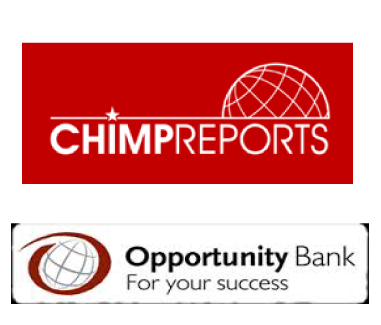 The Ads
You will always hear sentiments like "You're most likely to survive a plane crush than click through a banner Ad." Guess that is another viral joke. The banner Ad model is a tested one, at least on PC, and it works. But Chimpreports overworks itself on this. Upon every turn you make on the site, you will bump into a colourful Ad and that is bad for the overall user experience.
The typography
Advertisement - Continue reading below
Typography is 95% of web design. Well there are different schools of thought regarding the aforementioned but one thing for sure, the web designer used a tad too many typefaces. For example the header bar has the historic font; arial, the titles have a UnitSlab font, then Helvetica, then PTsans…err and many others. To a typography nerd, that is could get you killed. On a serious note, it's very disturbing and frustrating. It's in a principle to use at worst 3 type faces.
This isn't actually about fonts
Fonts are just a good proxy for displaying content on the web. Giving people highly specialized content—whether it's a font, software update, or search results—is now just a matter of changing a few settings. Readers are hungry for a better web experience. Companies that deliver one will be rewarded.
Feature request (data journalism)
The future of journalism lies in the embracement of technology to better tell the stories. The publishing houses that will win are those that crunch the ever increasing volumetric amounts of data to tell stories the readers are hungry for. Unfortunately, this redesign doesn't embody any aspects of specialized data journalism for example dedicated interactive pages of visualized data.
In conclusion, Chimpreports has clearly taken inspiration from the likes of theguardian and subtly the New York Times  – but one ting for sure, they didn't do their sources of inspiration justice. On the brighter side, the web redesign brings a fresh packaging to the content. And that's a plus.
Images via Chimpreports website | Logo comparison is a quick photoshop stitch of the two logos from Google images.
Advertisement - Continue reading below