Anker's Soundcore Mini 3 punches way above its diminutive weight. For a speaker that can comfortably fit inside of a coffee mug, the Mini 3 outputs well-rounded, bassy sound you wouldn't believe comes out of such a tiny speaker. Anker has cemented its place in my books for the quality of their products, not to mention their excellent pricing strategy.
In this review, we will touch on a number of features that make this $40 (on Amazon) Mini 3 stand out including true 360° sound coverage, customizable EQ via the Soundcore app and sound quality.
Advertisement - Continue reading below
What's In The Box:
Mini 3 Bluetooth speaker
USB-C to USB-A cable
Literature
Specifications:
Model number: A3119
Colors: Black, Blue, Gray, Red
Input: 5V/1A (USB-C)
Audio Output: 6W
Battery Capacity: 3.7V/1800mAH
Charge Time: 3~4hrs
Bluetooth Frequency Range: 2402-2480MHz
Sound Frequency Range: 90-20kHZ
IPX7 Waterproof
Design & Build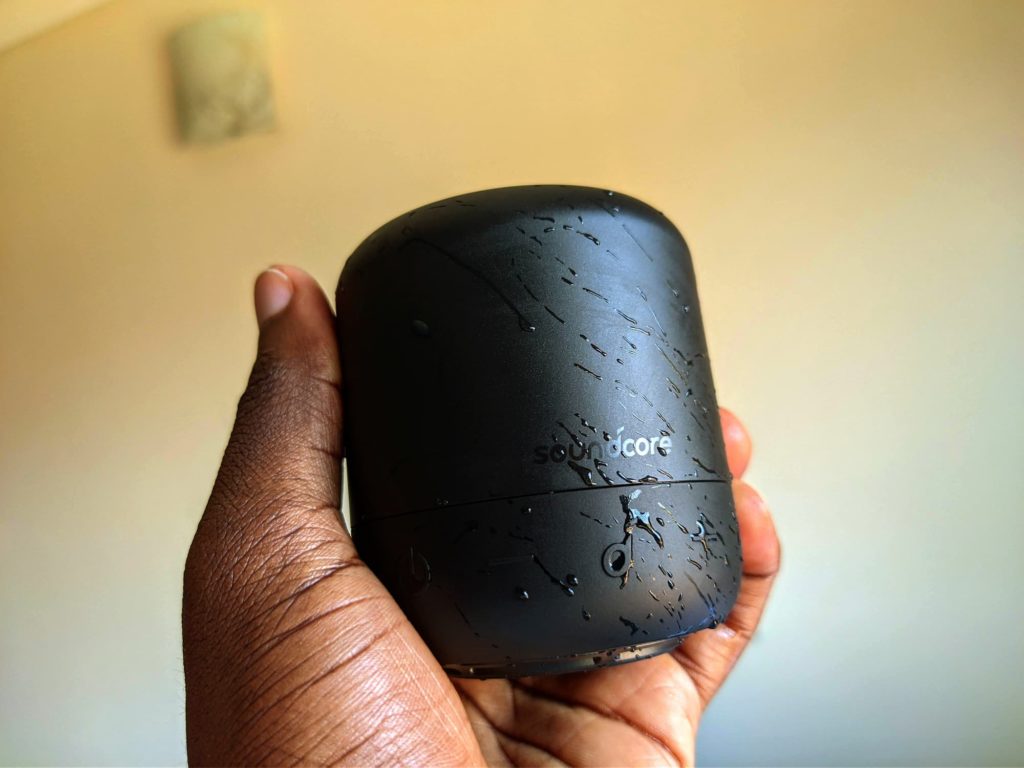 The Soundcore Mini 3 measures only 2.8 x 2.8 x 3.3 inches which is almost identical to the Mini 2 and only a smidgen bigger than the original Mini. It's made of sturdy material that will take a tumble or two without a scratch. A rubberized base keeps the speaker from vibrating to the edge and falling off although that can still happen on certain surfaces.
Some commendable engineering has gone into the cylindrical shape of the Mini 3 to achieve true 360° sound coverage via a top-firing 6-watt driver. It's complemented by a vented passive radiator at the bottom which adds a sense of bass depth that's amplified when placed on a surface.
The Mini 3 is IPX7 rated waterproof. It can stand splashes, rinsing off and even submersion up to 1 meter making it ideal pool side or in the bathroom although it does come with a strap to hang it someplace safe. Perhaps the only orifice, the USB-C port is protected by a thick rubber seal.
The placement of the controls is one of the few design choices I had some trouble with. The buttons for power, volume, Bluetooth pairing and the multifunction button for play/pause, track navigation, calls, assistant e.t.c. (with the Soundcore logo) are located horizontally near the base. Due to its design, it's nigh impossible landing on the button you wish to press without lifting up the speaker and giving it a spin. The original Soundcore Mini had the right idea using vertical controls.
Using the Soundcore App
Another feather in the Soundcore Mini 3's cap is that it get additional support via the Soundcore app (iOS and Android). It lets you update the firmware and adjust the sound equalizer from the default Soundcore Signature. Perhaps like me, customizable EQ isn't your cup of tea. In that case, the straightforward presets (Voice, Treble Boost, Balanced and the aforementioned Soundcore Signature) are more up our alley.
The more commonplace controls in the Soundcore App include the BassUp toggle (on by default), play/pause, and volume adjustment. You can also set auto power off (from 5minutes to 1 hour) or do it immediately if you so please.
Advertisement - Continue reading below
Battery Life & Charging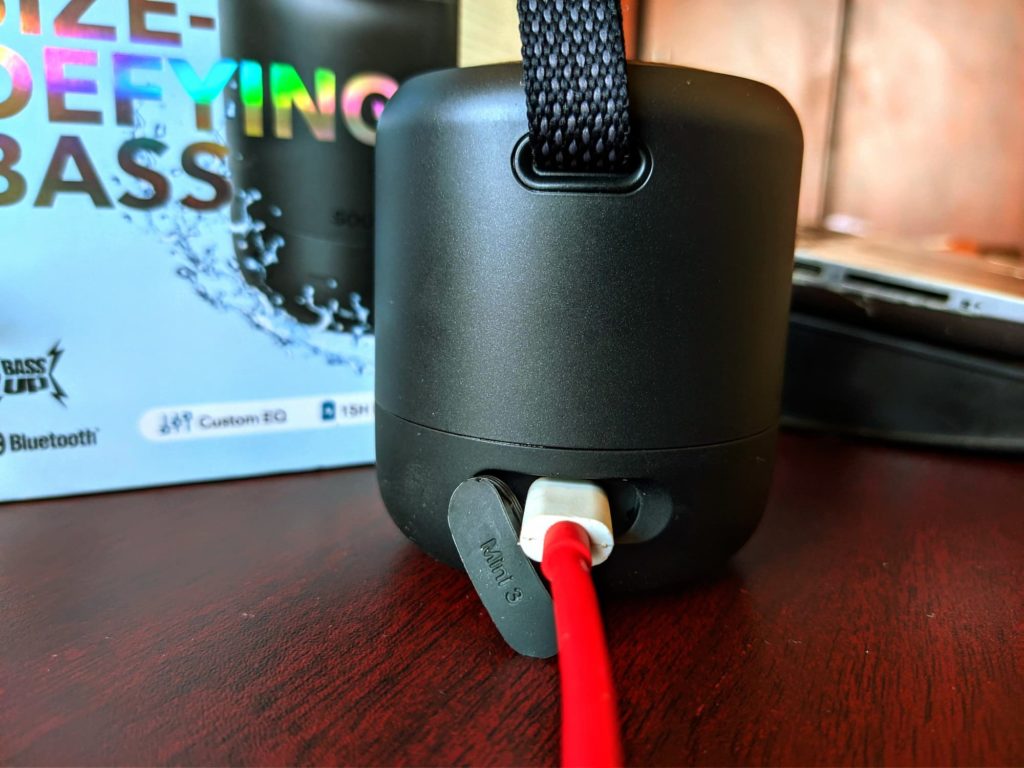 The Mini 3 goes the distance with its 1800mAH battery. A full charge gives you 15 hours of playtime. While I haven't played it 15 hours consecutively, the battery has lasted days of intermittent usage. That said, I noticed that the battery usage counter on phone and PC isn't always accurate. There were times I turned off the Mini 3 on 10% but when I turned it back on, it was 30% all without topping it up.
The addition of USB-C is much appreciated. I haven't even needed to use the USB-C that comes with, because I don't need to, for now. My OnePlus USB-C cable works just fine. Charge time is around 3 to 4 hours. The light turns red when the Mini 3 is charging and blue once it's done. The speaker works just fine while charging. I found it cute that the red charging light and the Bluetooth blue light made me think of a police car.
Sound Quality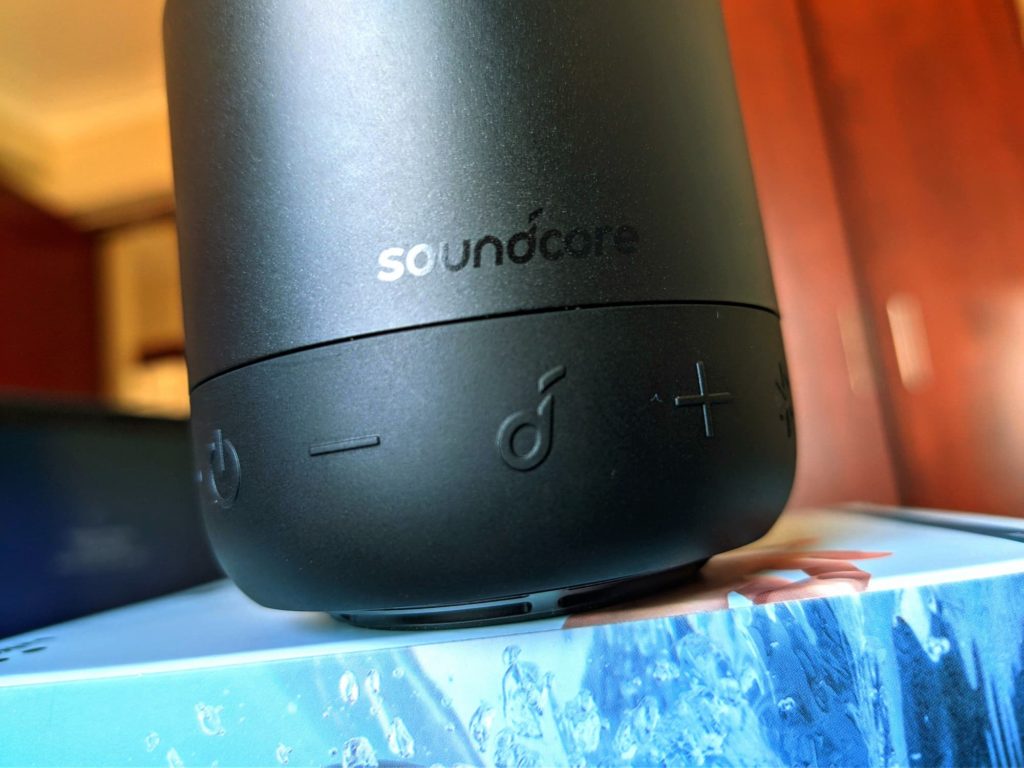 Given its size, the Soundcore Mini 3 sounds best at close range. You get to hear an impressively deep, and rumbling low bass that makes surfaces vibrate to the beat. From a distance, the sound is crisp and clean, but that bass doesn't travel as effectively.
Kudos to Soundcore for maintaining a semblance of clarity at full blast. But even then, the highs get a tad shrill and threaten to overpower the mids and the lows. The bass tapers off a bit as well but not so badly. We experienced this playing Kanye's Lock Lockdown. At full blast, you lose a lot of bass depth that you experience at half volume.
The Mini 3 struggles to play Black Eyed Peas' Pump It; those highs again overpower that tantalizing underlying repeating bassy beat. A few fingers can be pointed at the Bass-up feature. You can turn this off in the Soundcore App. 'It's Different for Girls" by Joe Jackson though slaps some kind of way. It fares better even with the sound tuning. The bass line perfectly complements the other instruments for a rich, crisp wholesome sound.
Outdoors, a single Soundcore Mini 3 outdoors is best suited for personal listening, but with Anker's PartyCast Technology, you can connect over 100 devices that support the feature (including the Mini 3) to pump that bass a hundred-fold.
---
Read more:
---
Pairing more than one device via Bluetooth
Bluetooth multipoint pairing isn't a new thing, but it isn't as widespread as we'd expect. We noticed that we can connect the Soundcore Mini 3 to a smartphone and a PC, but not to two smartphones or two PCs. We tried to pair a third device but that didn't pan out either. We've come to love this feature because it does away with the stress of always connecting the speaker to the device we're watching media on.
Advertisement - Continue reading below
The thing is, you can't play media on both devices simultaneously; once you play something on one device, playback is paused on the other device and vice versa.
Verdict
The Soundcore Mini 3 delivers a whole lot of feature for a modest price from crisp audio and respectable bass, to the ability to connect up to 100 supported device using the PartyCast technology. You get a speaker that doesn't skimp on build quality, is fully waterproof up to 1 meter all for $40.99 on Amazon US and if you live in Uganda, you can get it at UGX 230,000 on Odukar. The pros far outweight the cons and for that price, the Soundcore Mini 3 is a steal.