Consumers are always on the lookout for cheap true wireless stereo earbuds with active noise cancellation and top-notch sound no less. The balancing act is keeping the price low while not skimping on the features. Step aside Apple Airpods Pro, Anker Soundcore Life P2 might just be the thing for you. At $49.99 (slashed to $39.99), on Amazon and UGX 275,000 on Odukar, the Life P2 earbuds are $200 cheaper than the Airpods Pro ($249). Go figure.
Anker's Soundcore Life P2 earbuds check a lot of boxes from decent audio, excellent battery, stellar Bluetooth performance plus generous extras to impress anybody with ears. We won't sugarcoat the drawbacks though as no earbuds are 100% but it's something we found we could overlook due to the overall value for money.
Advertisement - Continue reading below
What you get
Soundcore Life P2 earbuds
Charging Case
Silicon ear tips (extra small, small, medium, large, extra large)
USB-C Cable
Design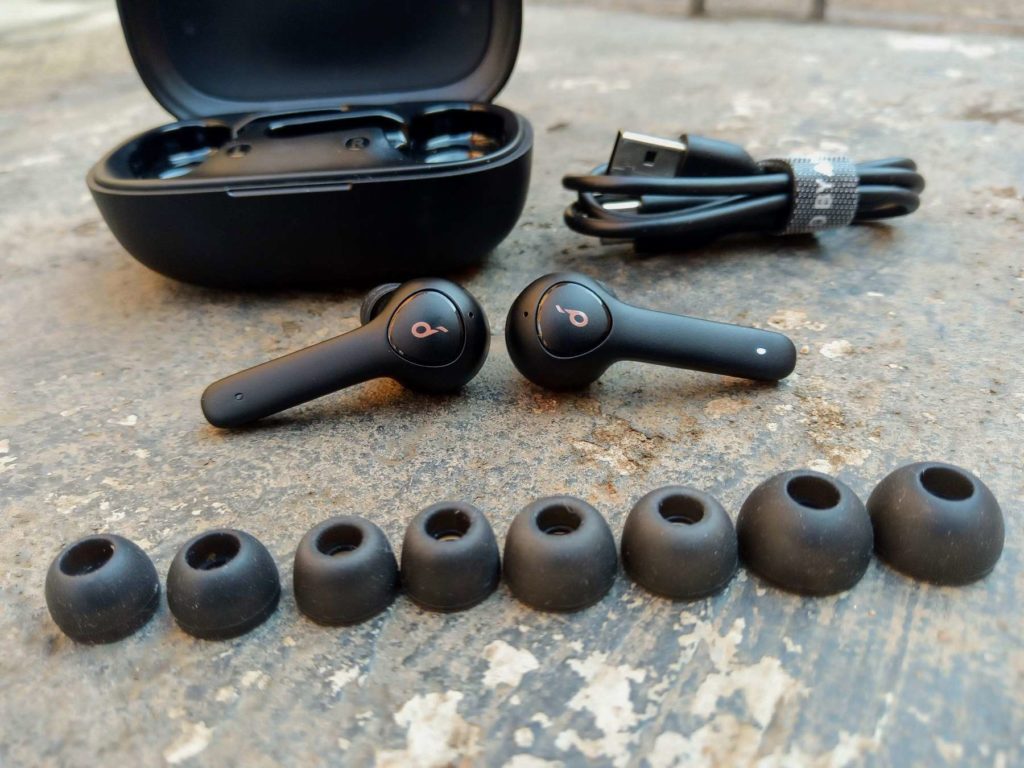 A lot of comparisons have been made between the Anker Soundcore P2 Life and the Apple Airpods family. From where I am standing though, I don't see much of a resemblance. The P2 Life are simply earphone shaped, by which I mean they look much like regular earphones, only without the wires.
Other than the shape, the P2 Life earbuds are longer than most other earbuds I have come across, ending up looking like Bluetooth earpieces of yonder year.
Each earbud has a physical control button and two microphones on either end. The physical controls grew on me, once I figured out how to press them without pushing the earbud into my ear proper. The only thing they don't do is control the volume, otherwise, they serve their purpose.
Anker includes 5 sizes of ear tips from extra small to extra large, but I had trouble getting the right fit. The extra-small ear tips did the trick for my ears and even then, prolonged usage led to itching. You have to shove them quite deep in there, something I found uncomfortable. Also, be ready to scoop out generous portions of earwax. In spite of that, the earbuds might still slip out when you tilt too far or make sudden movements.
Performance
The Anker SoundCore Life P2 support Qualcomm aptX, AAC and SBC codecs for wirelessly streaming high-quality audio. That paired with Bluetooth 5.0 creates a strong connection over greater distances with minimal interference. Between two walls though, the connection struggled at a mere 5 meters during our test.
Pairing is a breeze. The earbuds offer a seamless connection between devices, plus almost immediate connection to the last device once you remove them from their charging case. Once in a while, the connection stutters, but not enough to take away from the experience.
Advertisement - Continue reading below
Each earbud has two microphones on the top and the bottom for noise reduction and vocal enhancement.
Something I find annoying though was the pulsating light they give off when in use. It's not something you pay much attention to until you're in the dark, having a quiet moment and the lights are blinking on the side.
Control button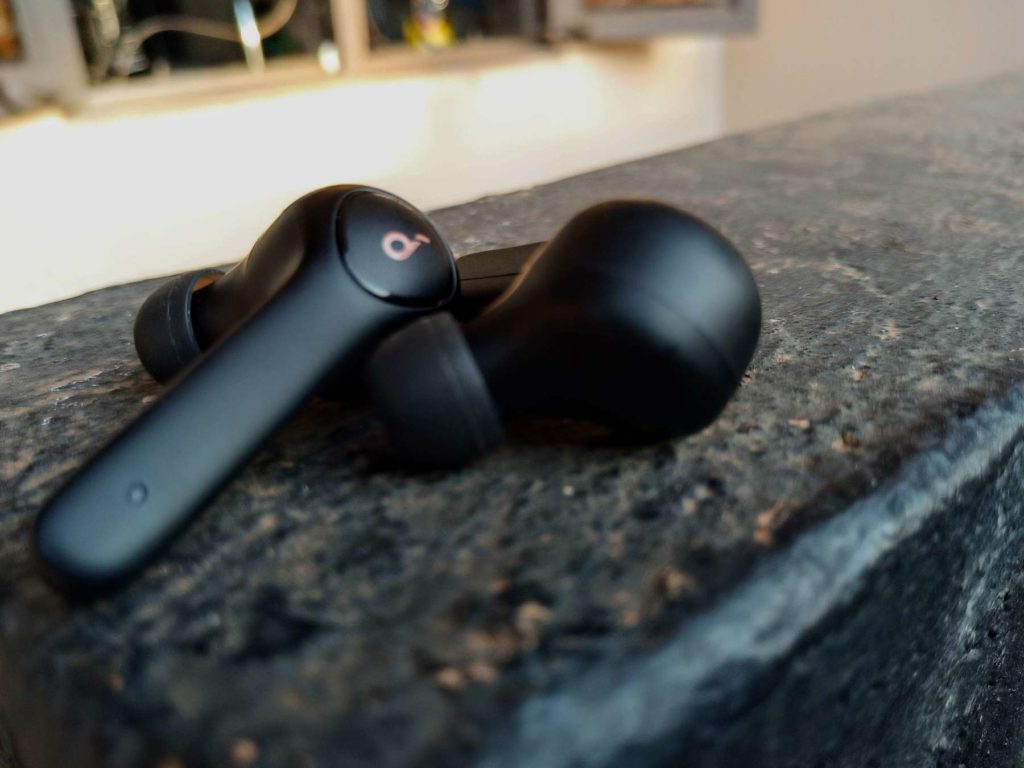 That said, I appreciated the simplicity of the single tactile button. Initially, I was reluctant to use it as you know, it requires a bit of pressure that I ended up pushing the earbuds further than in my ear. However, with some dexterity, I managed just fine.
One press (left or right earbud) plays/pauses media or pick calls. Press twice on the left earbud restarts a track although when you press twice again it goes to the previous track. To go to the next track, press twice on the right earbud. Press thrice to call up an assistant (Cortana, Siri, Google Assistant, e.t.c)
The Anker Soundcore Life P2 have an IPX7 water-resistance rating, which means they can be fully submerged in water to a depth of 3 feet and live to die another day. It goes without saying that they offer protection against rain, sweat, and water.
Sound & call quality
Properly inserted, the Anker Soundcore Life P2 output a robust fulsome sound. Noise isolation wasn't top-notch even with our best efforts. Louder sounds from your immediate environment still filter through. In a way, it's not all bad. At least I won't be jumped unawares.
The bass is punchy and it throbs as it should, counter-posed by rich enough detail and clarity of sound. Hell of a Life by Kanye West showcased Mr. West's production genius. More than that, the Anker Soundcore Life P2 truly reproduces the bombastic distorted bass along with the more detailed instruments. The sound feels like it's coming from somewhere in the middle of your head.
---
Related:
Advertisement - Continue reading below
---
Battery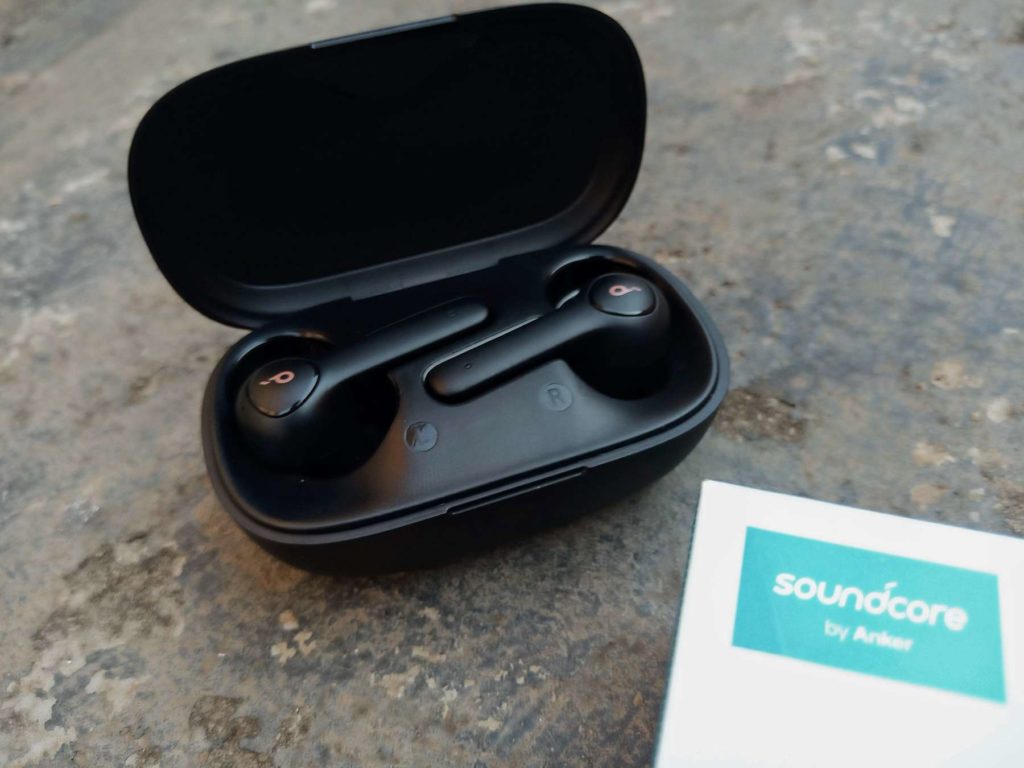 Battery life is pretty solid. The USB-C charging case offers 2-hour fast charge to get you juiced up. A single full charge gets you up to 7 hours of listening, 10 minutes of which give you 1 whole hour of playback. Periodical charging in the case can extend this playback time to 40 hours.
In the more than two weeks of testing the Life P2, we only needed to charge the case just the one time. This baby is a battery superstar. Despite the pocket-friendly price, the Soundcore Life P2 can outlast the best of them.
Verdict
I have used the good old fashioned wired earbuds my entire life. I will admit, I initially thought wireless earbuds were rather silly to wear and quite frankly irresponsible. Why throw money away on something so easy to lose in the course of the day. Earbuds like the Anker Soundcore Life P2 have given me reason to reassess my initial reluctance jump on the bandwagon.
The Anker Soundcore Life P2 won't cost you an arm and a limb but they will still deliver a stellar performance for a fraction of the price of $49.99 on Amazon. Contrary to what Apple fanboys/fangirls would have you believe, there are more options for true-wireless stereo (TWS) earbuds and active noise cancellation than just Apple's AirPods Pro.