Let's face the facts; your devices can never have enough power by themselves. If you're like me, I carry with me about four battery-powered gadgets including my smartphone, laptop, smartwatch, and sometimes an iPad. But even if you're not fully loaded in full armor like me, you'll still find yourself fidgeting for the nearest power source to juice up or better still a power bank.
The Redmi 20,000mAh is a power bank from Xiaomi, the Chinese company renown for producing premium products at unbeatable prices. Redmi is one of Xiaomi's brands targeted towards emerging markets such as India, Pakistan, Middle East, and Africa. Now Xiaomi already had the Mi Power banks in the 10,000mAh capacity category which I've also been using.
Advertisement - Continue reading below
What we liked;
Great build quality
Dual-output charging ports
What we didn't like
No LED display for battery percentage
Slightly heavy
USB-C port is not bi-directional
The Redmi is nothing more than just another name for the same product, although it's manufactured in India by Zimi Corporation—a Mi Ecosystem company.
With enough background and context, let's dive into this product. The Redmi 20,000mAh power bank is a powerhouse. It was released in 2020, comes in black, weighs about half a kilogram which is heavy as you would expect. It comes with one micro-USB cable for charging. It's 74Wh, 3.7V meaning you can take it on a plane without issues for those traveling. The Redmi power bank has 4 ports in total; 2 inputs and 2 outputs.
Redmi 20000 mAh Power Bank Specs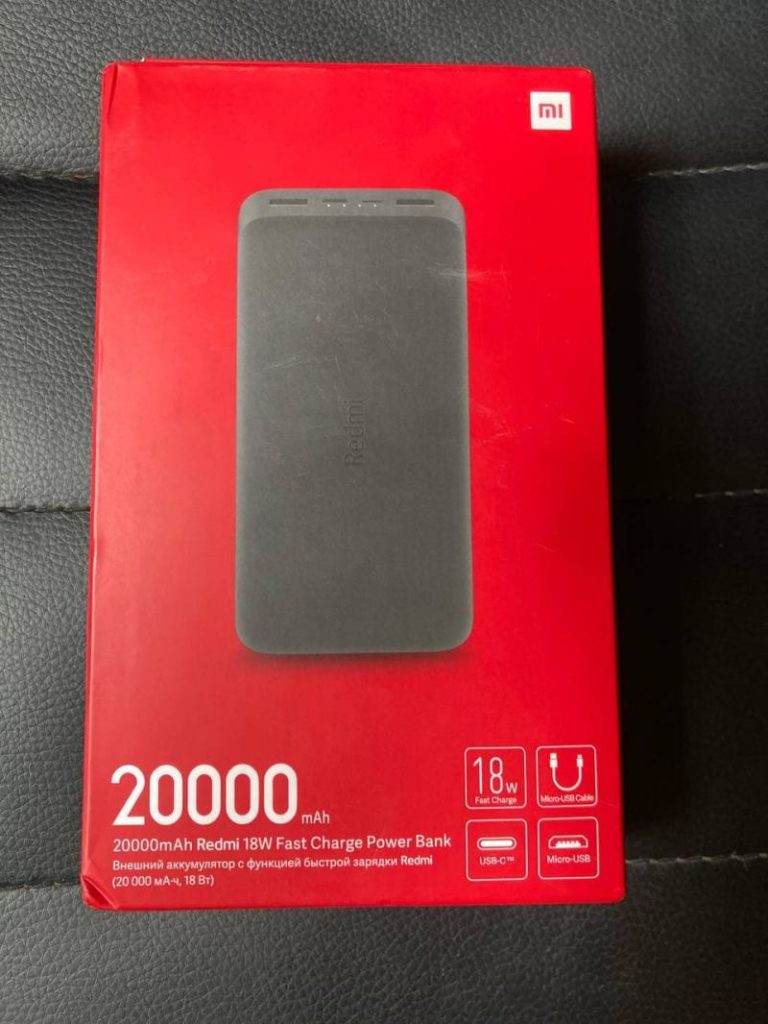 Brand: Redmi
Color: Black
Model: PB200LZM
Cell Capacity: 20000mAh (74Wh, 3.7V)
Rated Capacity: 12000mAh(5.1V/3.6A)
Battery Cell Composition: Lithium Polymer
Weight: 447g
Dimensions: 15.4 x 7.4 x 2.7 cm
In the box: 1 Power Bank, 1 USB Cable & 1 User Manual
Input: Micro-USB/USB-C (5V/3.6A, 9V/2.1A, 12V/1.5A)
Output: Single-port USB-A (5.1A/2.4A, 9V/2A, 12V/1.5A)
Dual-port USB-A(5.1V/3.6A)
You can charge the powerbank using Micro-USB or USB-C ports. They are rated 5V/2.1A, 9V/2.1A, 12V/1.5A which is between 10W-18W input power. If you want to charge faster, use the USB-C port with a compatible USB-C cable and wall charger rather than the slower and soon-to-be-obsolete micro-USB cable. Otherwise, charging this power bank feels like forever. It'll take you about 10 hours using a standard 10W wall charger and about 7.5 hours when using 18W charger.
Advertisement - Continue reading below
If you're charging the powerbank while at the same time charging one of your devices through only one USB-A port, then the powerbank takes 5V/2.4A (12W) and when both USB-A ports are being used, it takes in 5V/3.6A(18W) max power.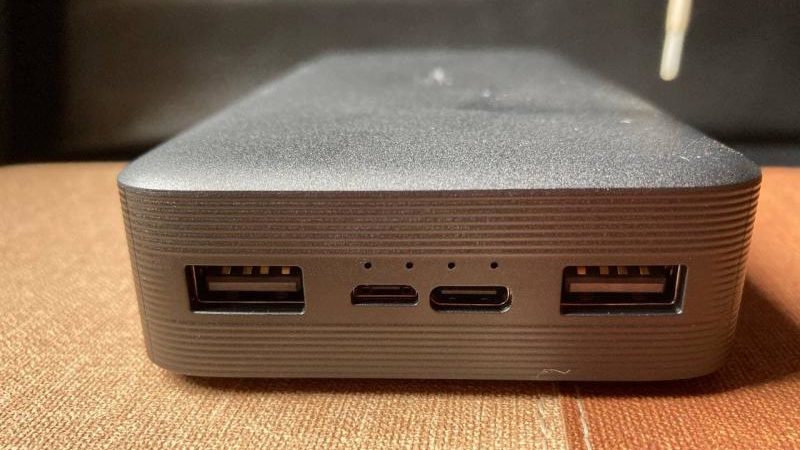 On the output side, the two big USB-A port output 5.1V/2.4V(12.24W), 9V/2V(18W), or 12V/1.5V(18W) output on a single port and 5.1V/3.6A on dual-port usage. It uses variable voltage meaning it will supply whatever amount of power your device takes—up to 18W.
Even though it takes long to fully charge, you'll be rewarded by how many times it'll charge your typical smartphone. This powerbank will recharge a 4,000mAh smartphone about four times and still have some juice left.
Finally, a few things I would like Xiaomi to improve about this powerbank. The first is definitely weight. If they would reduce it by a few more grams, that would great. Secondly, I would prefer an LED display showing the battery percentage of the power bank. The LED lights don't give much information about how much charge you have. Thirdly, I would like to see a torch/flash-light feature. That comes in handy when you're in the great outdoors. Lastly USB-C port could be made bi-directional, both used for charging the powerbank and charging devices. iPhone users with USB-C to Lightning cables or android uses with USB-C to USB-C cables would appreciate this.
Here's our Youtube video review;
Price and Availability
The Redmi 20,000mAh powerbank is available on Amazon.com for $34.99 or on Amazon India for ₹ 1,999. For our Ugandan readers, you can get it on Odukar store for Ugx 195,000 and enjoy same-day delivery around Kampala.