The Ugandan police recently introduced express ticket system. With this new system, offenders are issued instant tickets attached to their vehicle's number plates. If you drive your own car, you probably already know whether you have a police ticket. But if you have a shared car, then you might not know that your partner or family member was issued a ticket. So here's how to check if you have one.
Using SMS Shortcode
The easiest way to know whether your car has a traffic ticket attached to it is through SMS. You simply have to send a message in the format of EPS [space] your car's number plate to 8888. For instance to check if a car with number plate UBA 123A, simply open the SMS/Messages app on your phone, then text EPS UBA123A and send to 8888. This message will cost you Ugx 220. When I tried to check for my car, I didn't receive a message back, so I guess that means I don't have any running traffic ticket.
Advertisement - Continue reading below
Using the UPF Mobi App
Another way to check if you have a traffic ticket is through the UPF Mobi App. This is a new application developed by the Uganda Police Force. I downloaded this app from the Google Play store. I didn't see it on the Apple App store though. Create an account. You'll be asked for you full names, phone number and email. Once logged in, click on EPS tickets on the home screen, then enter your car's number number in the search box and tap on the search button.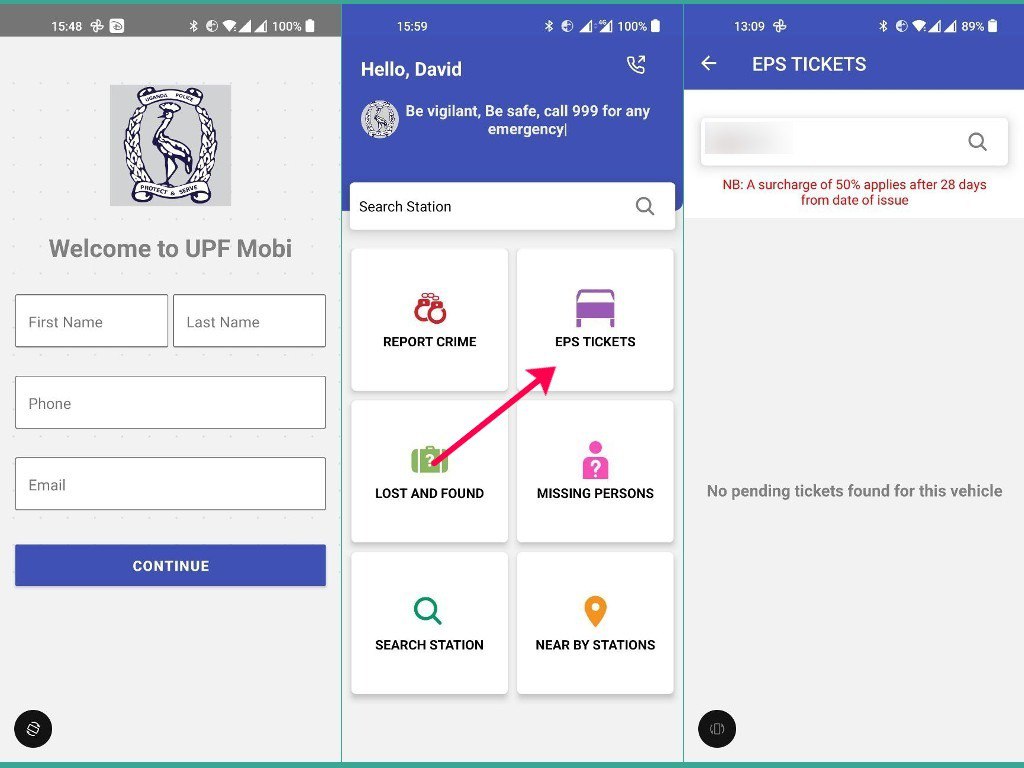 If you have don't any tickets, you should see a message "No pending tickets found for this vehicle". This is more helpful than the SMS option. It's also Free. If you have a ticket, you should see the traffic offense, ticket number, location ticket was issued, date, the amount and the PRN. Now that PRN number is very important because you'll need it when paying for the ticket. A so called "surcharge" of 50% applies after 28 days from the date of issue. So to earlier you clear the ticket, the better to avoid your vehicle from being impounded.
How to pay for the traffic ticket
You can pay your traffic ticket through a number of ways. The most important thing you should have is the generated PRN number. These numbers are used to clear Uganda Revenue Authority(URA) taxes. You can pay by doing to the bank specifically DTB bank. That's the manual way. But who has time for that nowadays. You can clear your bill through digital banking channels through you phone. You can use your bank's mobile app, MTN or Airtel Money.
Using MTN Mobile Money
Dial *165# OK
4) Payments
5) Fees and Taxes
1) URA
1) With PRN Payments
Enter "Payment Registration Number"
Enter "PIN" and tap Send
Using Airtel Money
Advertisement - Continue reading below
Dial *185# OK
4) Pay Bill
7) URA
1) Pay Registered
Enter "Payment Registration Number"
Enter "PIN" and tap Send
Using your bank's mobile App
You can also use your bank's mobile app. Chances are that they have a provision for paying URA taxes. I am a Stanbic bank customer and it's super easy to pay taxes through their mobile App. If you're a Stanbic bank customer, login to your account, then tap on Buy, then URA taxes, enter the PRN number and the amount you pay.