Corona Virus (COVID-19) continues to cause panic across the globe as it spreads further and deeper into Africa. To help curb this spread and contain the virus that still doesn't have a cure, many Governments are urging behavioral change.
One of the ways that COVID-19 is transmitted is by handling contaminated surfaces and infecting oneself. People across the globe have been advised to practice social isolation and self-quarantine.
Advertisement - Continue reading below
Other stake-holders in many economies have gone out of their way to help people have a smooth experience during this period of social isolation. We have seen everything from ISPs doubling bandwidth for its customers to TV providers allowing access to some channels even to users without a subscription.
In line with the Central Bank of Kenya directive for mobile money operators to help in combating this Pandemic, we have seen players in the industry waiver their transaction charges in a bid to encourage cashless transactions among the people.
Today, NCBA Loop, a branch of NCBA Bank that is more popular among the Kenyan youth and the relatively savvy demographic in the country has come out to further help in this situation.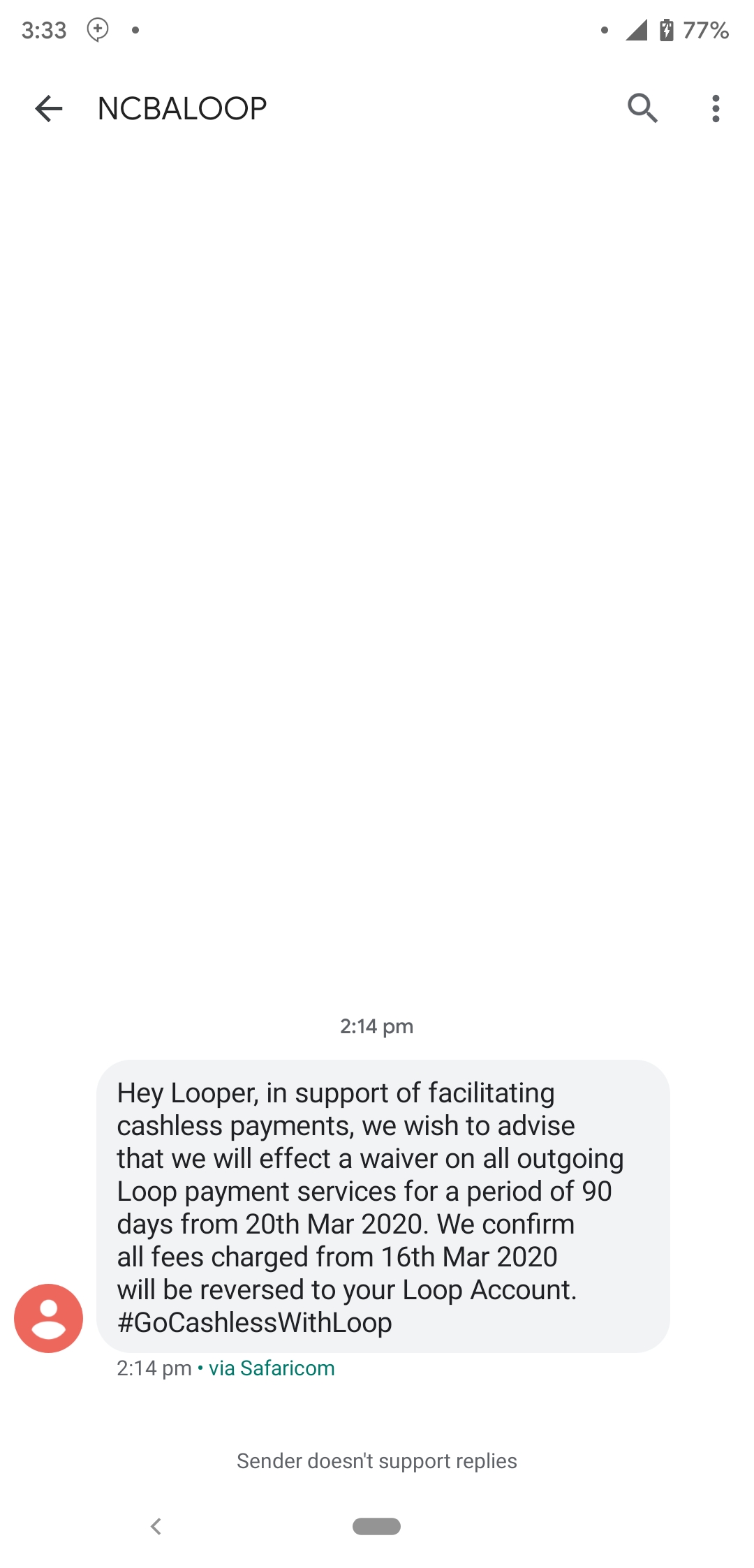 NCBA Loop has waived all transaction charges for all outgoing Loop payment services for 90 days. The company further says that all fees charged from March 16th will be reversed to the respective Loop accounts.
The amount of goodwill from various quarters within this Coronavirus fracas is very commendable. We have also seen employers encouraging their employees to work from home to avoid unnecessary interactions.
We have seen churches come out to cancel congregation meetings in response to this Pandemic. Schools have closed down and in the coming few weeks, we are bound to see even more effort from more quarters.
Advertisement - Continue reading below
In the meantime, citizens are advised to stay away from public places, wash their hands properly with soap for at least 20 seconds and most importantly, avoid touching their faces.
Stay safe y'all.