Coronavirus (COVID-19) continues to cause a lot of panic and anxiety in many quarters. After wreaking havoc in China and much of Europe, a number of African countries are beginning to report their first few cases.
As expected, Africa might not be as equipped as say, the western countries, in dealing with the pandemic. As such, these African countries could use all the help they can get.
Advertisement - Continue reading below
In Kenya, we recently saw Safaricom, the biggest carrier and operator of the region's biggest mobile money platform, M-PESA, come out to waiver transaction charges below Ksh 1000.
This, the company says, is in a bid to deepen the penetration mobile money usage. This is in the hopes that this would reduce the risk of spreading of COVID-19 by handling of physical cash among the people.
In a bid to further reduce the movement of physical cash, especially in these COVID-19 times, the second biggest player in the country's telecom industry, Airtel Kenya is also offering users the same perks.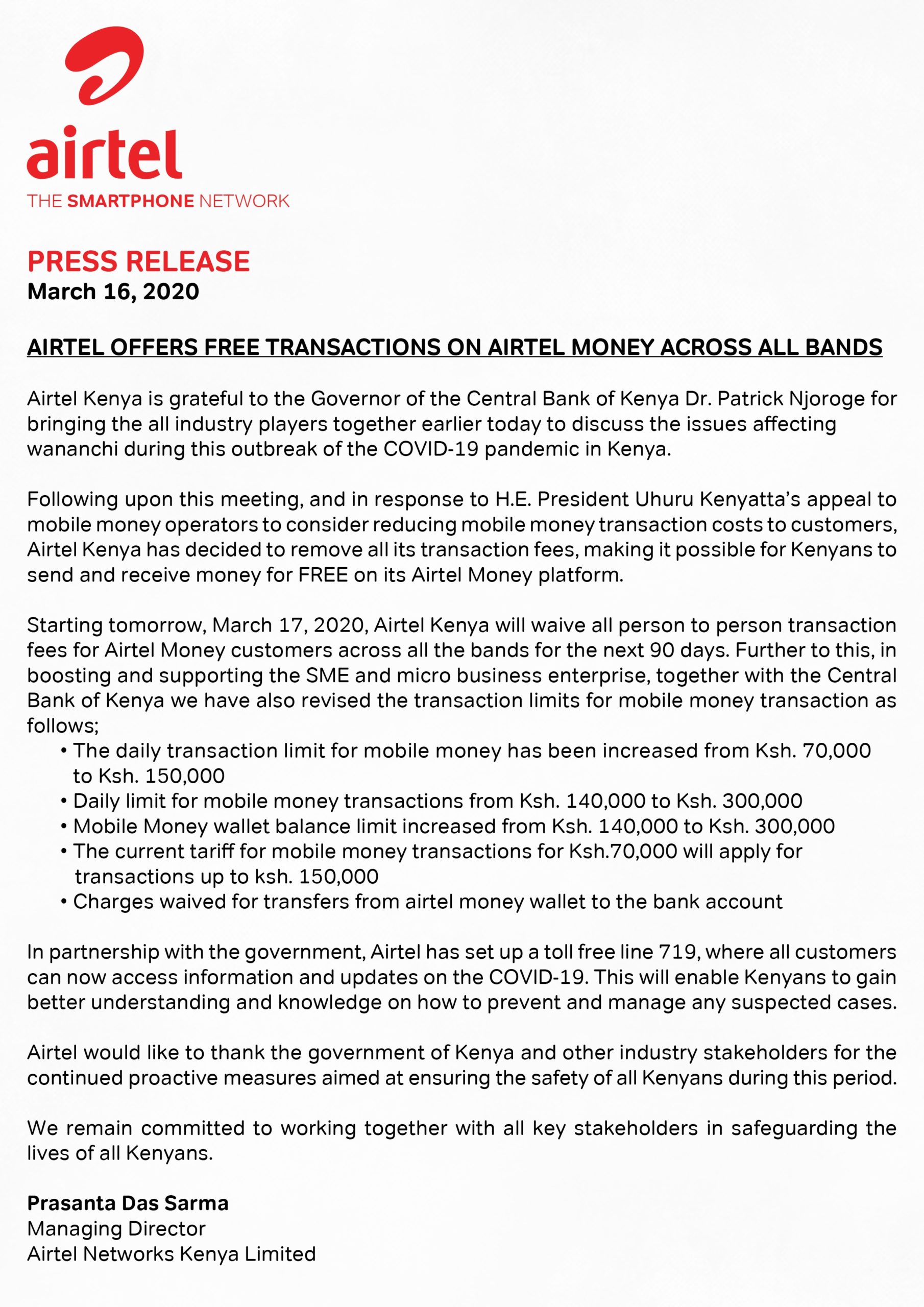 Airtel Kenya is offering its users free transactions on its mobile money platform, Airtel Money. Unlike Safaricom's offer which only applies to transactions below Ksh 1,000, Airtel Kenya's covers all bands.
Additionally, the company is increasing the daily transaction limit for Airtel Money customers from the current Ksh. 70,000 to Ksh 150,000. This new headroom will no doubt be a welcome move for the people who felt limited by the transaction limit.
Advertisement - Continue reading below
COVID-19 is spreading fast and many governments, both at the National and County level, are aggressively sensitizing citizens through various platforms on ways to keep themselves safe from the virus.
Most recently, we have seen the Kenyan government close down schools across the various stages of learning, from the Primary schools to Universities in a bid to reduce transmission and #flattenthecurve.