Apple has announced their latest wearables in an event that had a whole range of new products a few hours ago. The Apple Watch Ultra was the star of the show because it isn't something that has been there before. It's got a big honking 49mm rectangular display. Apple also announced the new watch series 8 which was slightly smaller than the Ultra.
In this article, we are going to see the main differences between the two watches, compare prices, technical specs, and the respective release dates for these watches per their announcement.
Advertisement - Continue reading below
Apple Watch Series 8
Apple Watch Series 8 was unveiled today at the company's "Far out" event. The latest hardware adds a new gyroscope for enhanced fall detection and it will even detect if you were in a car accident and notify the authorities.
The rumored redesign has once again failed to arrive, the Apple Watch Series 8 looks identical to the Series 7. The aluminum model is available in four colors: midnight, silver, starlight, and red. Opting for the stainless steel Series 8 limits you to silver, gold, and graphite.
The Apple Watch Series 8's temperature sensor is the biggest upgrade in this year's watch.
Apple Watch Ultra
After over a year of rumors, Apple has finally announced the Apple Watch Ultra — a rugged, premium smartwatch that now sits atop Apple's smartwatch lineup. The watch introduces a new design with a bigger display as well as a new design for exploration and outdoor activities.
This watch is the biggest and brightest Apple has ever made, it is available in three bands.
These three new bands are; Alpine, Trail, and Ocean. They cater to different environments and are meant to endure "long runs, hard falls, and rippling currents." The Trail loop is designed for runners and is made of a lightweight textile with a tab to help adjust fit easily. The Alpine Loop has two layers made of high-strength yarn to provide adjustability and security via a G-hook fastener. Meanwhile, the Ocean band is designed for water sports since it stretches and uses tubular geometry for a better fit.
Advertisement - Continue reading below
The Apple Watch Ultra marks a new chapter in Apple's smartwatch journey. So far, Apple Watches have been more general use devices with great connectivity, smart features, and advanced health alerts. But the Ultra is an explicitly fitness-first device that's meant to compete with the likes of Garmin and Polar.
---
Also Read: Apple Watch Series 8 vs Apple Watch SE 2022: Specs and features comparison
---
Apple Watch 8 Vs Apple Watch Ultra
To help us grasp, compare and see the main differences between these two watches, I have designed a table for that.
Despite the design differences, outside of their fitness tracking services the Ultra and Watch 8 share the same core DNA. Both run using the same silicon and WatchOS 9 software.
Unlike the Watch Series 7 which had S7 SiP  as the processor, both Series 8 and Ultra have an updated processor as we can see from my difference table;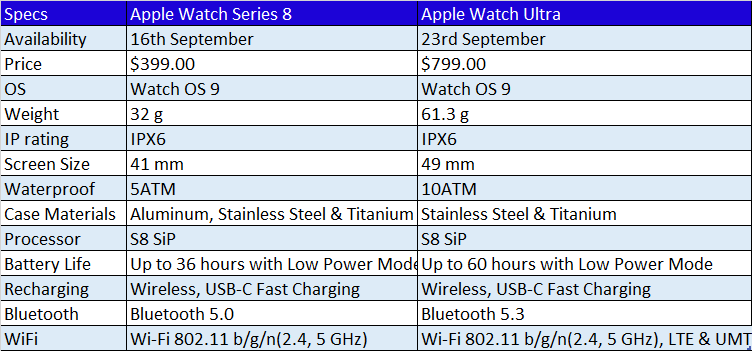 Their Dust Resistance which is basically the IP rating is at 1PX6 and both devices have Health Sensors that can;
Third-generation optical heart sensor
ECG
Blood oxygen sensor
Temperature sensor
Fall Detection
Crash Detection with watchOS 9
---
Also Read: Apple Watch Series 8 launched with Crash detection, advanced cycle tracking, and much more
---
Conclusion
Crash Detection is one of the features I have personally loved and this will be an enabler and an aide in regards to its related use case.
Advertisement - Continue reading below
All these watches are available for preorder since they began immediately after the event. The Series 8 and SE will ship on September 16, with the Ultra shipping on the 23rd. Visit the official page here for more information on the Watch 8 Series and this for the Ultra.