The smartwatch market has grown immensely over the past few years and at the bleeding edge of this advancement has been Apple with its Apple Watch series of devices. The American company has just held its Fall event and announced a new addition to its lineup.
The Apple Watch Series 8 has just been unveiled and in true Apple fashion, this new smartwatch packs everything but the kitchen sink in terms of features and new innovation. So what does the Apple Watch Series 8 have to offer?
Advertisement - Continue reading below
Well first, it is going to be a little disappointing for users who hoped for a drastic new redesign of the Apple Watch. The company is sticking to the exact same look and feel that the Apple Watch has been known for even in this generation.
Design
Apple Watch Series 8 carries the same body style, design, and even display dimensions as the Series 7. The Apple Watch Ultra is the redesign that users might be looking for. But the Series 8 still packs quite the design. It sports narrow borders that push the screen right to the edge, resulting in a pretty cool ntegration with the curvature of the case.
WatchOS 9
The Apple Watch Series 8 comes with WatchOS 9, the new operating system that promises a lot including a new workout view, a better always-on display with detailed watch faces that are easy to read, personalized training and heart rate zones, customized workouts, running form metrics and much more.
Temperature sensor and Advanced cycle tracking
Apple is pioneering a set of new integrated fertility features, which include body temperature-based ovulation tracking using a brand new sensor baked into the new Apple Watch Series 8. These, the company adds, are part of its new commitment to women's health.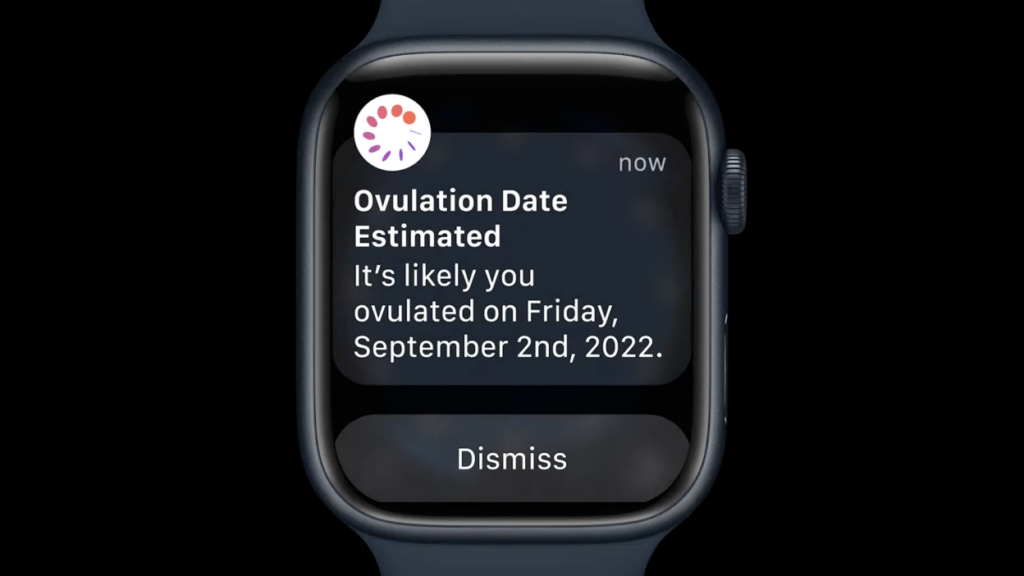 Apple says that this should offer women a more hands-on experience with reproductive and personal health monitoring. To detect the hormonal changes during ovulation, the Apple Watch detects nighttime wrist temperature, taking a digital reading every five seconds. This allows it to detect minute changes while at rest or sleeping, which Apple explained is a reliable indicator for overall body temperatures and an insight into their reproductive health.
---
Related:
Advertisement - Continue reading below
---
This data is then used to provide retrospective ovulation estimates and the Health app will automatically alert users to predicted fertility windows and menstrual cycle deviations. Game-changing stuff here, and we cannot wait to see how these work in the real world.
Fall Detection, Crash detection, and Emergency Calling
Crash detection has been pretty commonplace in the smartphone industry for the past few years with players like Google and Apple building this feature into their devices. Fall detection has also been around for some time, allowing your phone to detect when you've taken a hard fall.
The Apple Watch Series 8 now comes with a 256G accelerometer that is able to detect these instances pretty accurately. Additionally, this allows the watch to detect when you have been involved in an accident. The watch will then automatically call emergency services via SOS or call up yypur emergency contacts to get you help when you need it the most.
Apple made a big deal out of this on stage at the launch and if indeed these features are proving as useful as Apple claims, then this has the potential of being a true lifesaver in those situations.
Battery
The Apple Watch Series 8 should boast of all-day battery life, even with all these bells and whistles making your life better throughout the day. Also included is a low battery mode. This, Apple claims should give you upto 36 hours of juice on your watch.
This can be particularly useful in cases where you forget to carry your charger with you but still don't want to be wearing a dead device on your wrist. At least with this mode, you still retain some functionality even as the watch goes on to limit certain functions in order to save your battery.
Pricing and Availability
The Apple Watch Series 8 is available in 4 color options, Midnight, Starlight, Silver, and Product Red. These will run you a cool $399 and $499 for the GPS and Cellular variants respectively
Advertisement - Continue reading below
The Apple Watch Series 8 will be available starting September 16. Should these be a little steep for you, Apple also announced the Apple Watch SE with similar features and specs, more on that here.