You must have, at one point, made purchases and payments on a local or international platform with your Naira debit or credit card. Paying bills, renewing subscriptions, purchasing food and groceries, hailing taxis and motorbikes, buying airtime, and shopping for fashion items, are some things you can do online with a virtual debit or credit card. Unsurprisingly, virtual cards are becoming popular in Nigeria because it allows for easy and convenient payment.
What Exactly is a Virtual Card
Virtual cards (also known as "Disposable cards",) are randomly generated temporary cards that you can use for purchases and payments online, just like your regular physical credit and debit cards from your banks. The only differentiating factor is that, unlike your regular debit card, you cannot hold or swipe it at point-of-sale (POS) terminals – it isn't handy, basically.
Advertisement - Continue reading below
GTBank Virtual MasterCard: How to Get One
GTBank – just like other financial service providers in Nigeria – offers virtual card services to its customers. The GTBank Virtual MasterCard is a digital payment card designed to aid frequent online shoppers with a secure and flexible alternative to physical payment cards. The virtual card is instantly issued via Internet Banking and as a customer of Gtbank, you can apply for a Virtual Mastercard. Here's how to apply for one: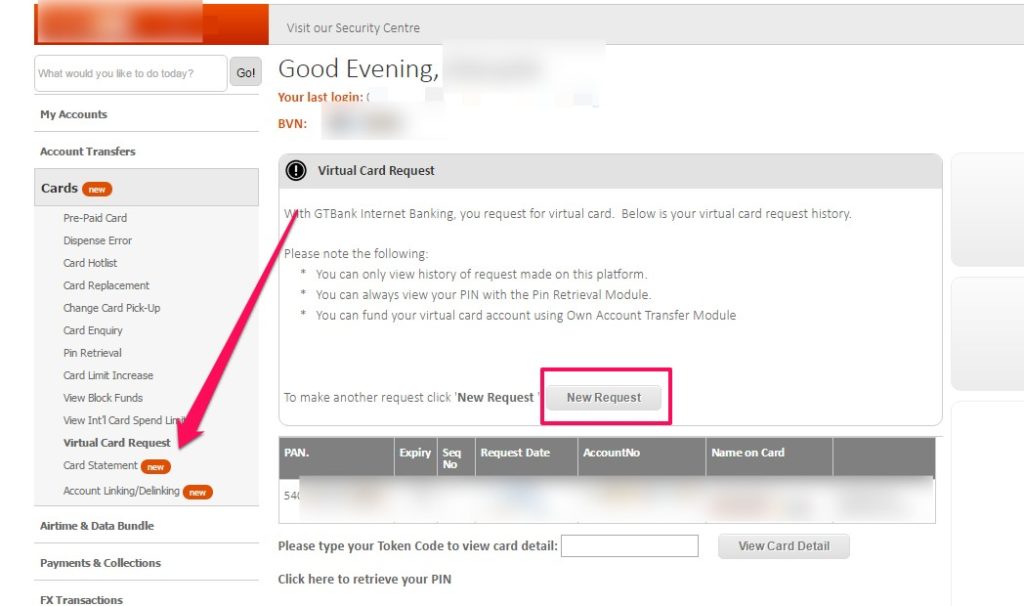 Log in to the Internet Banking Platform
Select Cards from the left-hand panel
Tap on the Virtual Card request menu and fill in the displayed form.
Tap the New Request Button to request a new virtual Pre-paid card
Next, click on the 'Account to link' and click the "Terms and Conditions" checkbox.
You'll then need to generate a 6-digit code from your hardware token device
Input the generated 6-digit token code on the confirmation page and click the 'Submit' button
If successful, Internet Banking will display the details of your virtual card.
In conclusion, you should note that all GTbank virtual cards are valid for 3 years. You would need to reapply for a new one after 3-years. The daily loading limit on the GTbank virtual Mastercard is N100,000, the Daily maximum card balance is N500,000, and local web transactions is N500,000 daily.