The FIFA World Cup tournament is the world's largest sporting event and it happens every four years. 32 footballing nations come together to compete for the world's biggest football trophy. This year, Qatar is hosting the tournament (the first time it'll be hosted in an Arab nation) and it will kick off on Sunday, Nov 20, 2022, with the host nation, Qatar, taking on Ecuador at 7 pm local time.
For football lovers in Sub-saharan Africa, Showmax has announced that it'll be showing all 64 matches of the FIFA World Cup on its platform, furthermore, Showmax users can stream all matches in 4K. In this article, we will show you how to watch all 64 matches of the FIFA World Cup 2022 on your Showmax app in Nigeria.
Advertisement - Continue reading below
Stream all Matches in 4K
According to Showmax, the 4K stream will have up to 50 frames per second (fps), double the standard 25fps currently offered on the platform. The ultra-high-definition screen resolution that comes with 4K is 3840 by 2160 pixels. Users can, however, choose their preferred data streaming option other than 4k and High Definition (HD) mode. There are other low, data saving options (300MB, 100MB, and 50MB/per hour) to accommodate every user.
Who Qualified for the FIFA 2022 World Cup?
Let me remind you that participating teams have been grouped into eight groups with four teams in each group. Here's a breakdown of all teams and their groups:
Group A: Qatar, Ecuador, Senegal, Netherlands
Group B: England, IR Iran, USA, Wales
Group C: Argentina, Saudi Arabia, Mexico, Poland
Group D: France, Denmark, Tunisia, Australia
Group E: Spain, Germany, Japan, Costa Rica
Group F: Belgium, Canada, Morocco, Croatia
Group G: Brazil, Serbia, Switzerland, Cameroon
Group H: Portugal, Ghana, Uruguay, Korea Republic
---
Related: How to Add Showmax to Your DStv Bill
---
How to Watch the FIFA 2022 World Cup on ShowMaxHow to Watch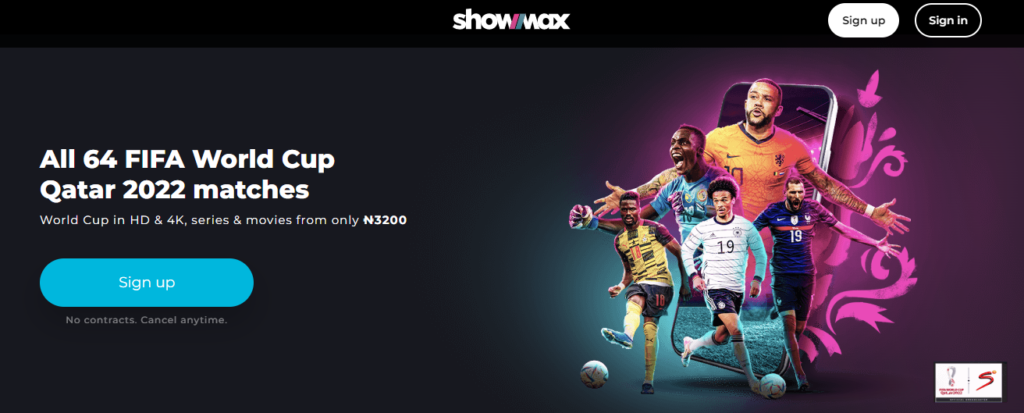 To stream all 64 matches of the FIFA World Cup from your Showmax app, all you have to do is visit Showmax's official website, and subscribe to the 'Showmax Pro' plan. All matches will be covered, courtesy of SuperSport.
With the Showmax Pro plan, you can register up to five devices – including smart TVs, media boxes, and other mobile devices – and stream simultaneously on two devices at the same time.
Advertisement - Continue reading below