With music streaming becoming the primary mode of media consumption for many today, Spotify has positioned itself strategically to cater to the needs of almost all audiophiles. Perhaps it is the mammoth music library, the fact that it is available across many regions, or the inclusion of podcasts and Audiobooks
Towards the end of each year, Spotify treats its subscribers to personalized analytical details on their listening habits with fun statistics on metrics like minutes listened, favorite acts and artists, most listened to tracks, and so on.
Advertisement - Continue reading below
For music lovers, this is a rather interesting experience and Spotify usually makes quite the experience out of it. As such, Spotify's annual Wrapped has become many users' favorite bit about the platform especially as the year comes to a close
Well, 2022 is drawing to a close and as expected, Spotify is here with 2022 Wrapped.
2022 Spotify Wrapped Highlights?
Along with the personal playlists, Spotify has released some stats, and here are some of the highlights. The platform has confirmed that Bad Bunny was the most-streamed artist globally in 2022. He managed to snag up this slot thanks to more than 18.5 billion streams around the world this year. The second most-streamed artist was Taylor Swift, followed by Drake, The Weeknd and BTS. 
Harry Styles' "As it Was" was the most-streamed song on Spotify around the world. The Joe Rogan Experience was the most popular podcast of the year globally on the streaming platform. 
Part of what makes Spotify great is the algorithm. The platform is known for its near-insane ability to help you discover new songs, songs that you will actually like. This same engine is used to create this Personalized 2022 Wrapped experience show and also allows users to show it off to the world.
Advertisement - Continue reading below
The personalized experience is unique to individual users so you're sure you're getting the most personal touch from Spotify.
Creator wrapped
Creators should also get a personalized experience with their 2022 Wrapped based on their specific metrics and listenership. This should apply to podcasters and artists alike, something that was missing from previous Wrapped experiences.
How to get your Spotify 2022 Wrapped Playlist
Well, you will need to be running the latest version of Spotify on your iOS or Android device to get this. These personalized experiences are currently rolling out and you should see a banner on your Spotify homepage on mobile.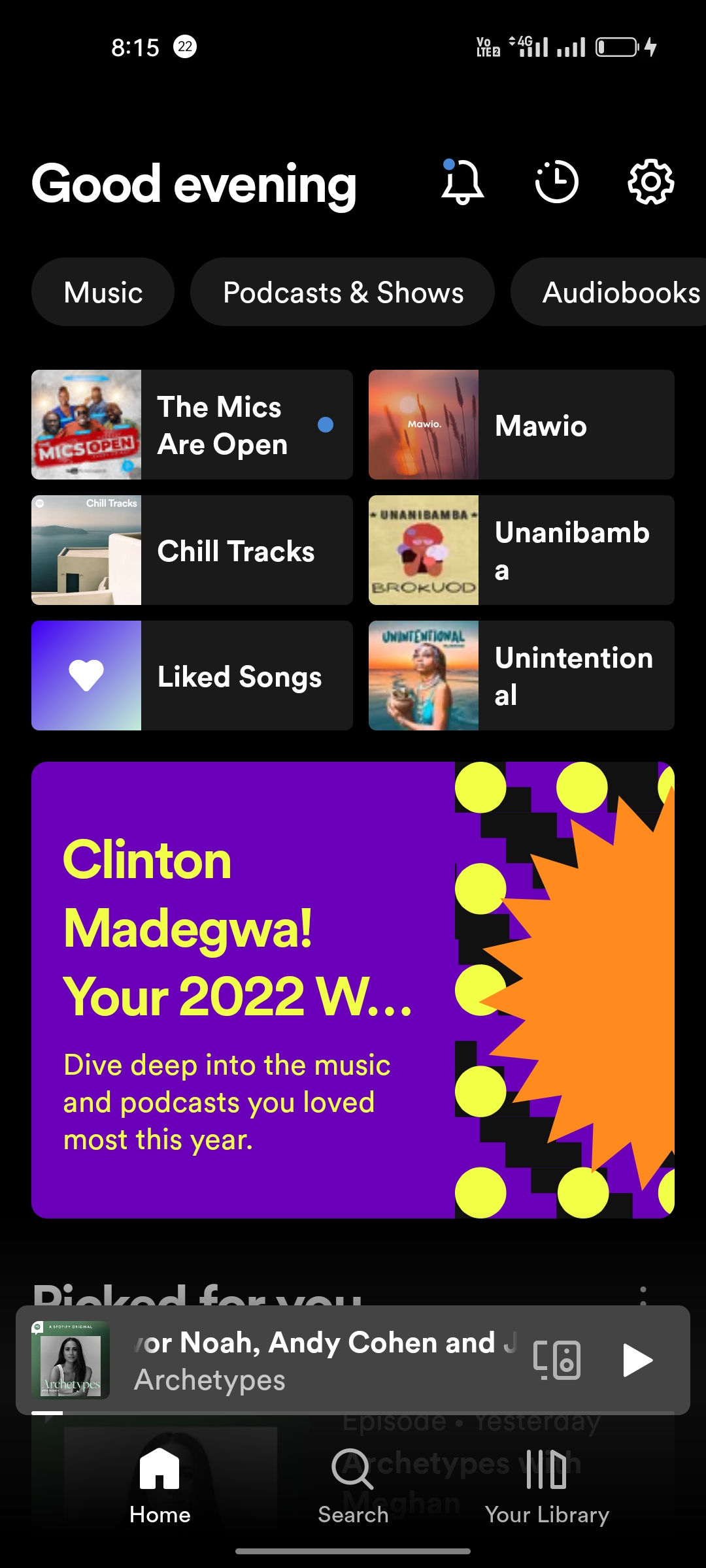 Clicking on this will bring you to a Snapchat-like, Instagram-Stories-like experience that takes you through the stats, metrics, and highlights of your listening for the year that it's been.
You also get a playlist with all these songs featured in Spotify Stories. While you cannot get the 2022 Wrapped experience on PC, you can still listen to your Spotify Top 2022 Playlist on other platforms like you would any other playlist.
You should also get options to share and lowkey brag to your friends on the socials about your awesome music taste. Over the next few weeks, you should be coming across many of these shares from your friends on social media platforms and it offers some insight into your friends' music taste.
I for one am stoked to explore what Spotify has been learning about my listening over the past year. what have you been listening to? Let's share.
Advertisement - Continue reading below