Update:
Orange has currently fixed the problem though some people continue to experience some difficulty loading bundles.
Advertisement - Continue reading below
For the last 24 hours, Orange Uganda customers have not been able to load data and call bundles via USSD. Orange hasn't responded officially to the issue or  alerted its customers about any efforts being made to rectify the problem like they usually do except on Twitter. Orange Uganda best known for its fast internet serves a sizeable portion of the urban population with fast and reliable internet. To this end they have popular data and call bundles like the famous "Tokota", "Super Combo" and "Happy Hour" which customers have been accustomed to.
The current issue is such that anyone who wants to load a new bundle gets an error message and  cannot load a data or call bundle. Those who had previously loaded can continue to use their bundles but anyone who hadn't loaded has to use their airtime to make calls and access internet. This can definitely cost you a lot of airtime.
We made a few calls on how to resolve the issue and If you are in dire need of data or a call bundle, you can visit a customer service centre near you and they will load data or call bundles using their systems until the USSD codes are restored.
Good Morning. We apologize for the problem with loading data bundles. Our technical team is working to restore the system.

— Orange Uganda Ltd (@orangeugandaltd) November 7, 2014
Advertisement - Continue reading below
As always, customers took to Social media to complain about the issue and we saw a couple of complaints on Facebook and Twitter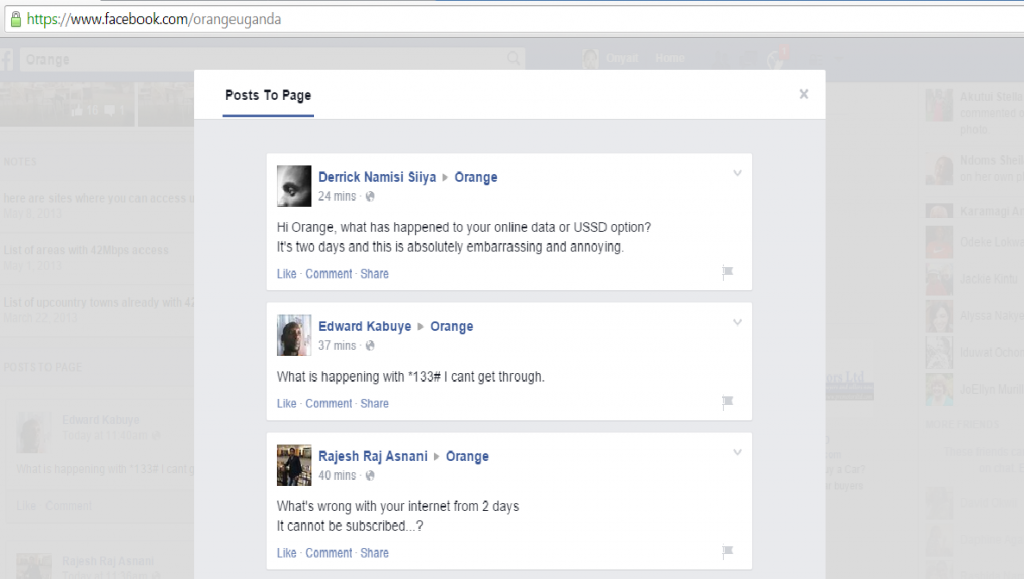 Unfortunately this comes at a time when Orange has been sold to Africell and confirms many peoples doubts and fears about the possibility of deteriorating quality of service when Africell finally takes over. Over the last few months many customers have complained about dropped calls, slow internet and misappropriated data. UCC (Uganda Communications Commission) the governing body on communications in Uganda never seems to respond to issues of this nature. We shall keep you updated on any new developments on the issue.