Canva is a popular graphic design platform that is now leveraging artificial intelligence to make it easier for users to create written content. With the introduction of Magic Write, Canva users can generate text for various purposes including social media posts, blog articles, and even entire books.
This GPT-3 powered AI writing tool helps users generate content effortlessly and quickly. In this article, we will take a closer look at Canva's Magic Write and how you can use it to create written content.
Advertisement - Continue reading below
What is Magic Write in Canva?
Firstly, it is important to understand what and how Canva's Magic Write works. The Magic Write feature uses an open-source GPT-3 algorithm to generate text based on the user's input.
It operates on the principle of predictive text modeling and can learn from vast amounts of existing text data to generate accurate and contextually relevant content. This means that the more you use it, the better it becomes at understanding and generating text in a way that is aligned with your preferences and style.
---
Related: How to use Canva's new Free AI Image Generator
---
How to use Magic Write
To use Magic Write, you need to first log in to your Canva account,
Method 1: Using Magic Write within Designs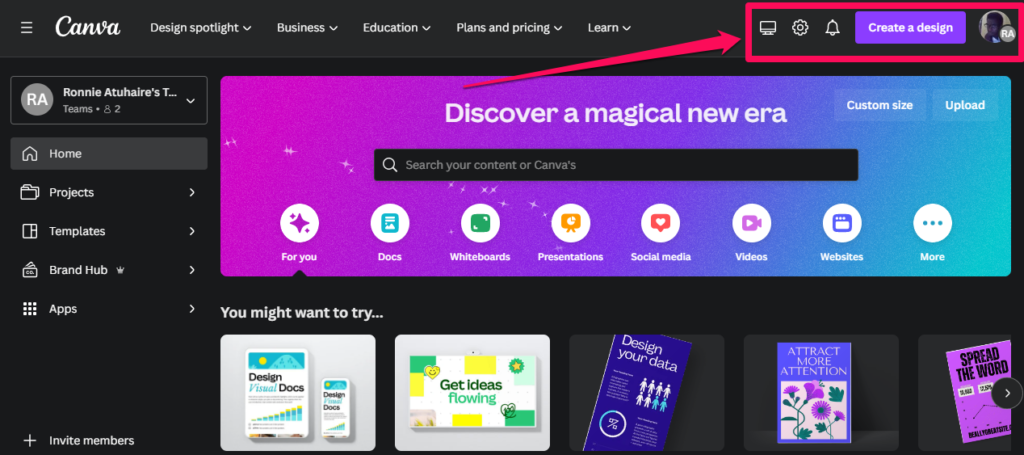 Select the floating button as highlighted below in the screenshot.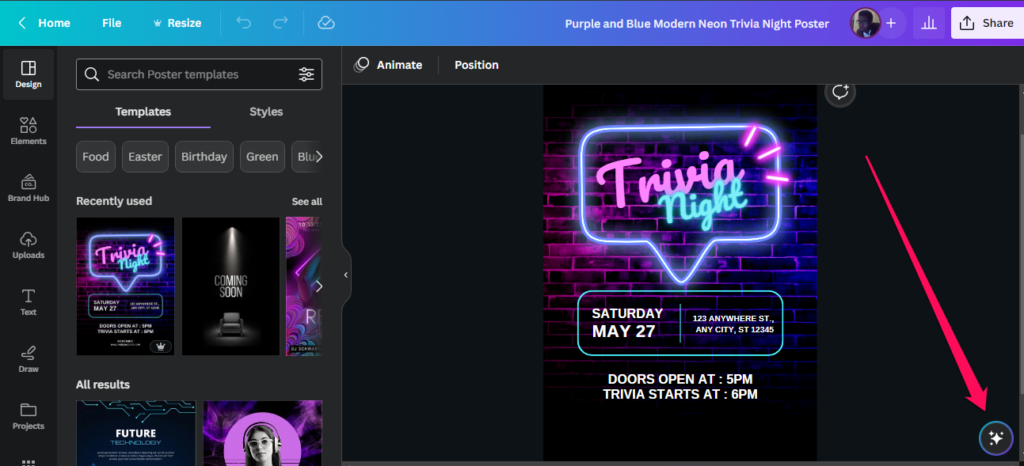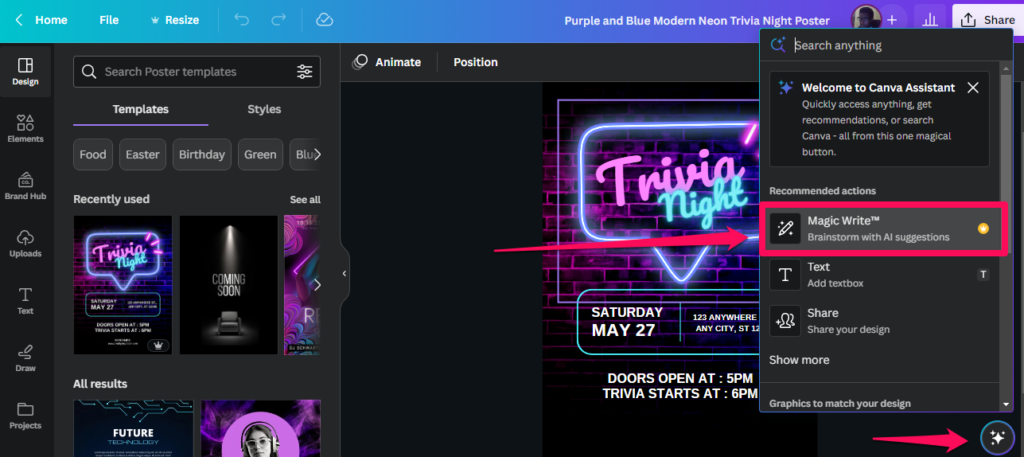 You can now write your prompts within the design.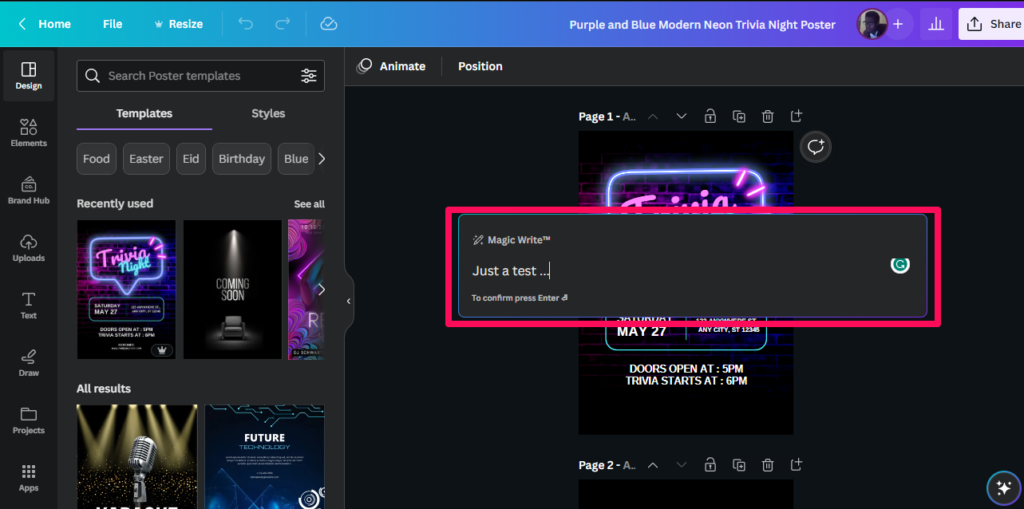 ---
Related: Here's How to Build a Live Website on Canva
Advertisement - Continue reading below
---
Method 2: Using Magic Write with Docs
Alternatively, you can test the Magic Write within Canva Docs by visiting this site;
Hit the Try Magic Write button

This will open a new tab with the editor
Press the Plus round-bordered button.

Now select Magic Write from the dropdown options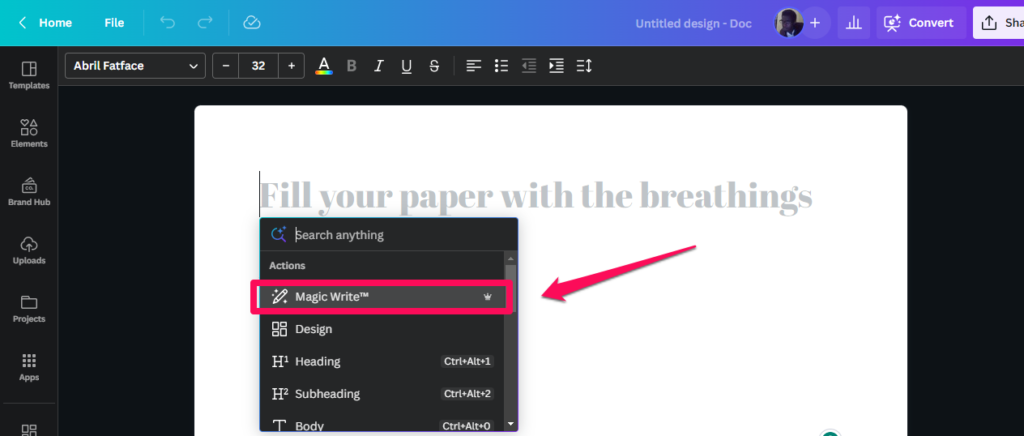 You will then be prompted to enter the content topic you wish to write about and Magic Write will generate suggested text for you.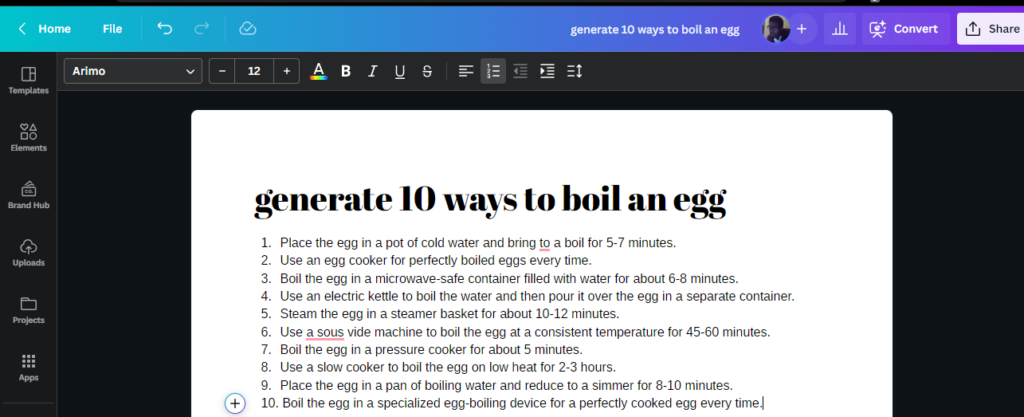 You can then edit the text, save it or export it to a document format of your choice, such as a PDF, Word document, or HTML file.
One of the biggest advantages of Magic Write is that it can save content creators a significant amount of time. You can generate text for various purposes within seconds, without having to spend hours typing on a keyboard. This is especially useful for those who create content frequently, for social media, blogging, or other purposes.
However, it is important to remember that Magic Write is not a substitute for human creativity or critical thinking. While it can help you generate text quickly and easily, it is still up to you to review and edit the content to ensure that it aligns with your purpose, style, and audience.
Conclusion
In conclusion, Canva's Magic Write is a powerful AI-based tool that simplifies the process of creating written content. By leveraging the power of GPT-3, Canva is helping to democratize content creation and reduce the barriers to entry for aspiring writers or content creators.
If you are a Canva user looking to streamline your content creation process or an aspiring writer looking for a tool to help kickstart your writing, give Magic Write a try and see how it can enhance your creative process.
Advertisement - Continue reading below