Are you tired of spending hours reading through long PDF documents, trying to find the information you need? Say hello to ChatPDF – the AI PDF reader that answers your questions. ChatPDF uses artificial intelligence to understand the context of your questions and provide accurate answers from any PDF file.
ChatPDF is a revolutionary tool that enhances the way you read and understand PDF documents. It can comprehend textbooks, handouts, research papers, and academic articles effortlessly. ChatPDF allows you to unlock a wealth of knowledge, from historical documents to poetry and literature, and expand your horizons by providing you with accurate answers to your questions.
Advertisement - Continue reading below
---
Related: Top 15 New AI Cool Tools to Try Besides ChatGPT: Part 1
---
How to Get Started with ChatPDF AI
Using ChatPDF is simple and straightforward. Here's how to get started:
Visit the ChatPDF website.
Upload your PDF file by clicking on the "Drop PDF here" button.
You can alternatively search for a pdf online or use a URL with the respective buttons in the drag area as shown below.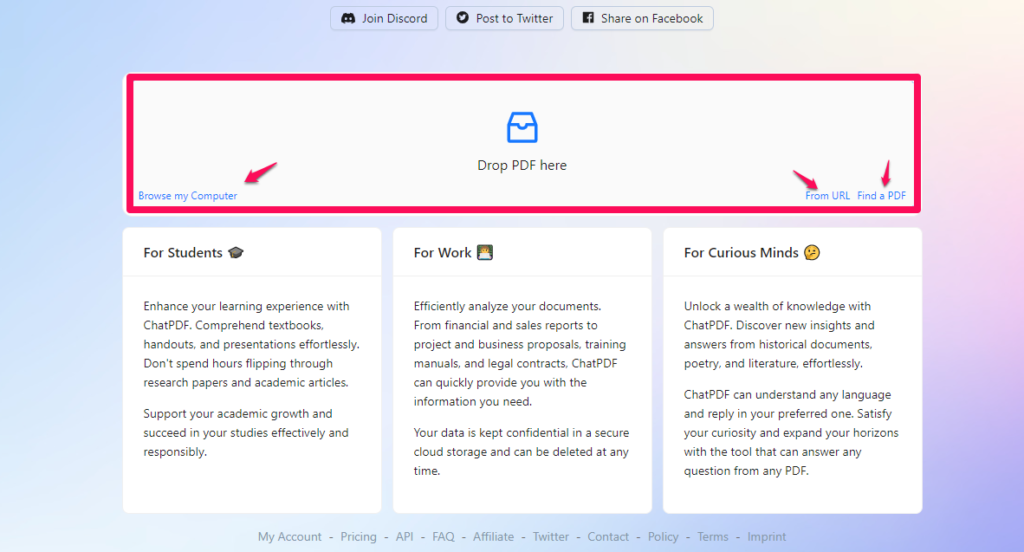 This will auto-load your pdf in the chat area.
You can create an account to save the sessions from the bottom left-side panel.
There are some accessibility tools on the right at your disposal.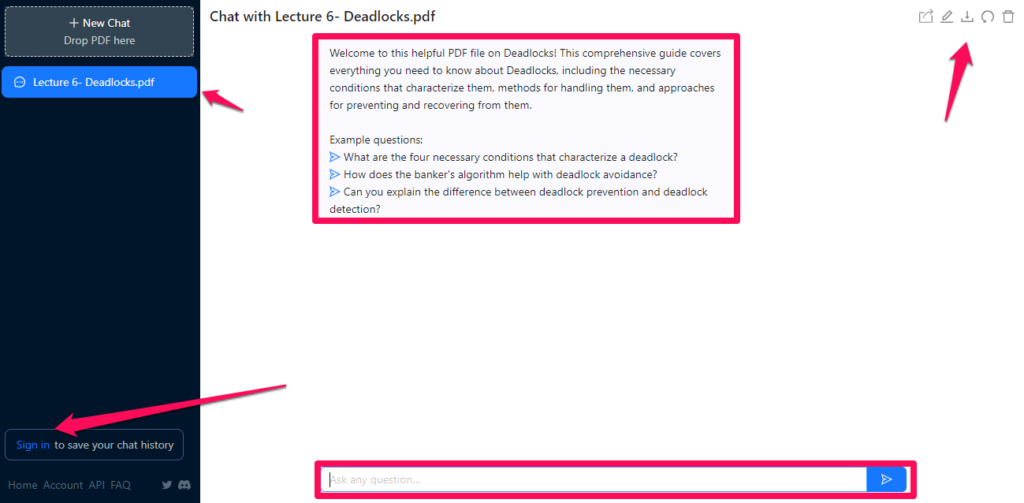 Ask your question in the chatbox and ChatPDF will provide you with an answer from your PDF.
Your files are stored on secure cloud storage, and ChatPDF will never share your files with anyone. You can delete your files at any time.
---
Related: What is Auto-GPT AI: Getting Started and How it Differs from ChatGPT
---
Pricing and Availability
ChatPDF offers a free plan that allows you to use the tool for free with three PDFs every day, each up to 120 pages. For more, you can upgrade to the Plus plan for $5 per month. The Plus plan allows you to use ChatPDF for an unlimited number of PDFs, each up to 1,000 pages.
ChatPDF is available online, and you don't need to sign up to use it. It works on any device with an internet connection and can read PDFs in any language.
Advertisement - Continue reading below
---
Related: How to Send PDFs, EPUB and More Files to Kindle
---
Developer Section
If you're a developer and want to integrate ChatPDF into your website or mobile app, you can use the ChatPDF API. To get started, fill out the API registration form on the ChatPDF website, and the team will get back to you shortly.
My Mini-ChatPDF Review So Far:
It's worth mentioning that although ChatPDF is a promising tool, it is still in its early stages of development. I tested its ability to provide a summary of a page and was shocked with the result. However, I'm unsure whether it sources information from the internet or reads the entire PDF itself.
I attempted to rename a PDF to see if ChatPDF relies on the file name to generate its answers, similar to how ChatGPT uses URLs to provide information as if it is reading the internet. However, I was pleasantly surprised to find that ChatPDF actually reads the entire PDF, as it was able to provide an overview of the contents of the renamed file.

Why is it that ChatPDF is unable to detect the number of pages available when it is capable of reading the content of a PDF file? Nonetheless, a comprehensive review will be available soon, so stay subscribed to receive updates.
Conclusion
With its artificial intelligence capabilities, you can comprehend textbooks, handouts, research papers, and academic articles effortlessly. ChatPDF is a promising AI tool, you can unlock a wealth of knowledge and expand your horizons by providing you with answers to your questions.